Guide to Wind Resistant Awnings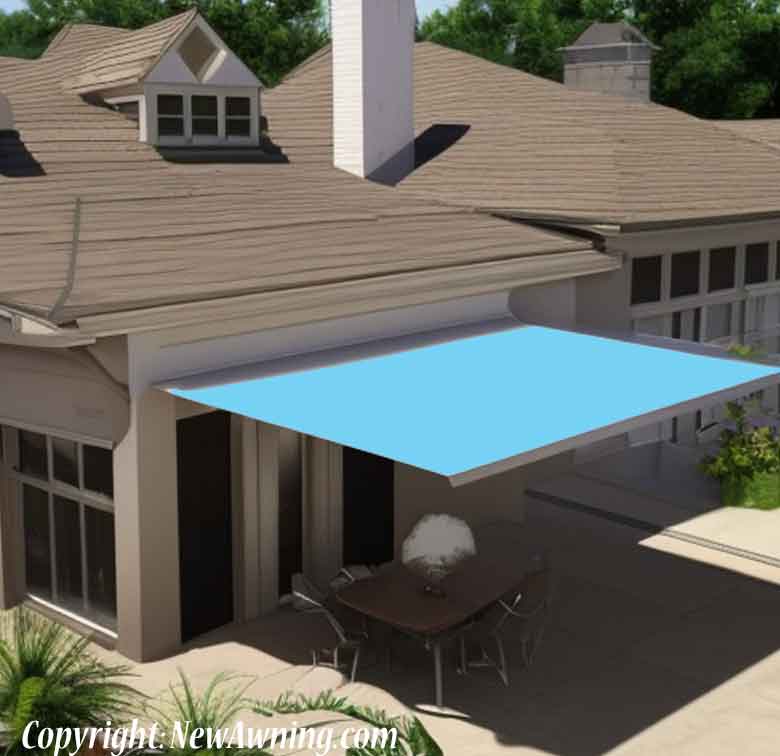 Want to have shade for your patio, but concerned that it's too windy?

Fortunately, there are many wind resistant awnings and alternative. We'll share our research on the topic, and the industry metrics so you can evaluate awnings even if they didn't make our list.

Hopefully, our top 4 models will help you decide which one will be best for you and your home.


In a hurry?

If you don't have much time, you can use the links below to quickly find the best wind resistant awning for you on Amazon. You can be assured that we've spent hours researching the top retractable awning.


Scientific data on wind resistant canopies
A lot of companies toss out the term "Wind Resistant" awning and even cite independent tests, but what does it all really mean? We are not a manufacturer and are here simply to present the information we have learned from our research.

All data listed below will be company neutral, and we will not list any specific brands or products. Our goal is simply to share our take on the topic and leave you with some questions that you can ask your salesperson.

When it comes to evaluating an awning, you need to understand what the manufacturer lists for their product. There are four classes of canopies which are:
Class 0 – This group has not been tested or and cannot be guaranteed to be wind resistant at all.

Class 1 – This group can withstand sustained wind of 12 mph with gusts of 15 mph. (Level 4 on Beafuort Scale)

Class 2 – This group can withstand sustained wind of 20 mph with gusts of 25 mph.

Class 3 – This group can withstand sustained wind of 30 mph with gusts of 38 mph.
These classes are numbers based on how products perform in the real world. Occasionally, we will see companies produce videos of their product in a wind tunnel with 80+ mph wind and come out undamaged. While these videos are impressive from an engineering perspective, the homeowner should not leave their awning up during hurricane force winds simply because one stood up in a video.

The The wind tunnel is a controlled example that has the wind hitting the awnings in a specific direction. Additionally, the components are new with fully tightened hardware.

Finally, there is no debris flying through the air that would cause incidental contact that leads to a catastrophic collapse.

These videos measure the best case scenario of the wind hitting the fabric face on, and the are usually placed with multiple fans that push the air from roughly the same height as the frame.

Strong winds in real life are simply differnt than wind tunnel videos.

The wind can swirl and change direction. It can come from the side which will create an immense pressure difference on the fabric, and flying debris is a major reason for one or more arms of the frame to fail.

Once of-of the arms breaks, the amount of energy generated by the loose awning grows exponentially. Imagine a set of nunchakus in which one-half the frame is one stick, the awning canvas acts as the chain, and the broken loose pole is able to whip around until the canvas tears.
Best wind resistant awnings for the home
If you live in an area with considerable wind, then we highly recommend either a metal awning which can withstand wind of 80 mph. We have created a full guide to metal awnings here or get a motorized, retractable awnings.

There are two primary types of fabric awnings which are loose frame retractable awnings and permanently closed frame awnings. The close frame canopies have a steel or aluminum metal frame that is covered on all sides with either canvas of vinyl and attached through the grommets in the material.

These are the absolute worst option when it comes to being the wind resistance as the wind can get caught under the fabric and putting immense pressure on the joints. The loose frame awnings are superior because they are only connected a the front bar and at the residence. This allows the wind a release at the open sides.

The reason we are such fans of motorized, retractable awnings is because many manufacturers offer an automatic wind sensor that will retract the awning when wind speeds hit a predetermined amount. This creates the best case scenario for the homeowner as they can virtually live without fear of having the wind impact their awning.

There is some risk even when it's fully retracted; however, many tests have been done demonstrating no damage even with winds of 100 mph.
Best wind resistant awnings for the businesses
For retail and commercial establishments with a considerable wind, we have a slightly different recommendation. The reason is that you cannot simply take down the shade if it becomes windy.

A restaurant with dining patrons cannot take down the cover halfway through a meal without impacting the dining experience. While most patrons won't want to be sitting outside during extremely high winds, gusts of 25 mph would be acceptable to many people when they start their meal. It's, therefore, imperative that any canopy or awning be incredibly wind resistant.

A single failure could result in a lawsuit which ould place the entire financial well-being of the establishment at risk. Our first suggestion for commercial patio covers is to use a galvanized steel awning that is covered with an adhesive vinyl. This will create far more contact points than the simple grommet option that's used by most residences.

Additionally, there are many options that are left completely uncovered with the bare metal simply painted rather than being covered by any fabric. For the times that a metal cover isn't an option, we recommend using a sail shade which used vertical metal supports. These can provide the open feel of a loose frame awning while having no customers head except for the canvas. If one of the connectors does fail, there is only a piece of cloth coming down rather than a heavy metal frame.
When you are considering adding an external canopy in a high wind area, we highly recommend using a licensed, insured and bonded contractor. There are specific construction codes for any external shade, and it's very important to ensure the contractor's insurance covers projects in this area.

Construction Specifications Institute (CSI) in 1995 had a single category for all external shading which was 10530. The 2014 version of the CSI MasterFormat divided these external awning and canopy projects into four categories which we have included below.
10 73 13 – Awnings

10 73 16 – Canopies

10 71 13 – Exterior Sun Control Devices

10 71 13.43 – Fixed Sun Screen.

10 73 00 – Protective Covers (Generic)
When speaking with a potential contractor, I usually ask if they are comfortable if I record their conversation so that I can share it with my spouse later when deciding who to pick. This creates an amazing evidence trail if there are any failures because I always ask about what warranties there are on the work and the product.

Another time I video record is the day they complete and I ask them to walk me through the entire project ensuring that I have both the person doing the construction and the finished canopy. This creates a wonderful timestamp that creates irrefutable proof of what it looked like when it was new. You can then use this to demonstrate the impact of wear of weather.

Wind Resistant Awnings – Product Reviews
Manufacturer
Diensweek
Artouch
Best Choice Products
Size
12' x 8'
10' x 13'
8.2' x 6.5'
Frame
Aluminum
None
Aluminum
Fabric
Polyester
PVC
Polyester
Brackets
Chrome Steel Grade
Stainless Steel
Not Specified
Weight
56
4.5 pounds
36.5 pounds
Mounting Hardware
Included
Not Included
Included
Price
$899.99
$29.99 ($0.23 / Sq Ft)
$299.99 ($5.48 / Sq Ft)
Brackets
Chrome Steel Grade
Mounting Hardware
Included
Mounting Hardware
Not Included
Price
$29.99 ($0.23 / Sq Ft)
Diensweek Retractable Awning
This is our second favorite for the best wind resistant awning. It is a commercial grade awning with 280g polyester. This is thicker fabric than many awnings designed for the home. This makes it less likely to tear during strong wind.

This awning is rated class 4 on the Beauport scale which means it can stand up to 17 mph winds. The awning has a many features including a double metal cabling in the extension arms. The brackets always stay at a slight bent to prevent against snap back where the joint is pushed backwards.

The awning has reinforced joints and a gasket to prevent fabric pulling and slippage from heavy gusts of wind.

All mounting brackets and hardware are included in the box so there' nothing additional that you would need to buy to install this.
Pro
Meets Beauport level 4 ( 17 mph winds)
Certified CE, GS & ROHS
Available in 5 sizes
3 color options
280g/m2 spun polyester fabric
Waterproof
80UV+ solar protection
100% money back guarantee
T5 aluminum frame
Corrosion resistant frame
Double cable internal support
Chrome steel screws
Double springs for additional support
Our pick for best value & most effective
Easy to install
Our pick for best value
Con
Difficult to find replacement parts
May sag in heavy rain
Many people use a standard spray bottle instead
Frequently out of stock
BCP Budget Retractable Awning
The Best Choice Products retractable awning is a fantastic balance of quality and cost. Their company has been around for more than 15 years. The fabric is a water-resistant polyester fabric.

It has an aluminum frame and has some UV protection. Additionally, the frame can be easily angled to provide the best protection from the sun at any time of day.

This is a cost effective awning that can be retracted before wind storms. It is nothing fancy, but rather a budget friendly option for home owners who want a true awning.
Pro
2 color options
Water resistant
UV resistant
Powder coated aluminum frame
Established manufacturer
Con
Hard to find replacement parts
Requires assembly
The Artouch sail shade isn't technically an awning. It's a sail shade that attaches to your home via brackets. There is no metal frame and it's held in place by tension. A sail shade is a simple piece of fabric that has a D ring on each corner.

This kit doesn't include the brackets for your home so you will need to get a sail shade mounting kit. '

This is a lower weight fabric at 185g / m2. It is water and UV resistant. This is our budget pick for wind resistant awnings because it be taken down within a few minutes before any wind storm.
Pro
Not an awning
Easily to setup or taken downw
Lightweight without a metal frame
Works over a pool or in hard
Can be installed by one person
No additional equipment eeeded
Our budget pick
Con
Requires external supports or posts
Very lightweight material
Small shade area
Requires bracket kit purchase
This used to be our Editor's choice for best wind resistant awning, but it has been out of stock for over a month. The company uses premium components on ever aspect of this. If this is available as an option, it's definitely something to consider. It only moved down in our rankings because of the stocking issues.

It comes in a wide variety of sizes and colors to perfectly match the outdoor decor of your home. There is also a manual and electric option.

The size start as small as 56 sq/ft and go up 160 sq/ft with 6 color options at each size creating 60 different combinations.

The frame is a T5 grade aluminum that is corrosion resistant. The fabric is solution dyed acrylic which is both the longest lasting and most durable. It also has UV 80+ sun protection.

The arms are 316 marine grade stainless steel with internal stainless steel cabling. If you need something that is built to last, this it an absolute Cadillac for wind resistant awnings.
Pro
***Editor's Pick*** Best overall awning
Available in 6 colors
Available in 6 sizes
304 Marine grade stainless steel arms
100% solution dyed acrylic fabric
Fully assembled
Double stainless steel internal calble
5 year warranty
Our Final Verdict
Based on more than 100 hours, we spent researching wind resistant awnings, we believe that Advaning Awning is the best choice. Most of the awnings available online don't list their wind rating or simply suggest they be taken down before any gusts. The Diensweek has been tested to level 4 force winds on the Beafuort scale.
Changes Over the Years
In the years since we've written this post, we've seen many awning companies come and go. Many of the companies that we recommended a few years ago for having strong shades that stood up to high winds are simply no longer in business. When we first created the post, there was an amazing awning with a galvanized steel frame which had 320gsm acrylic fabric, and it came at the astounding price of less than $400. This was smoking deal, but the company simply didn't last because they were selling awnings below their cost.

This led a lot of customers to buying awnings in which there are no longer parts available. Due to this, we've taken a more conservative approach and now limit our top recommendations to companies that have been in existence for years. This greatly increases the likelihood that you'll be able to find replacement parts and that there will be an active group of local workers that can address any repair issues that you would have.

People looking for weather proof and wind resistant awnings are really seeking the durability, and there's normally a reason that people are searching for this specifically. As such, we take care to have product recommendations that will stand the test of time. If you have questions about awnings or sun shades in high wind areas, we'd love to hear from you. We do our best to respond to all emails within a few business days, and you can contact us here.

Last Updated:November 24, 2023