Sunrooms: A complete Guide (with Pictures)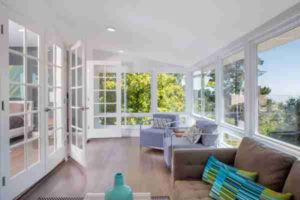 Sunrooms are a great way to get the sun in your home without having to put up with the sun's more extreme weather. They can also provide a boost to your home's usable square footage at a lower cost per square foot than a fully built out home. Finally, they can also lower your homes energy bills.

We'll cover all the information you would ever want to know about sunrooms in our exhaustive guide below.
What is a sunroom?
A sunroom is an extension of your house that faces south, allowing you to enjoy sun exposure without being too hot or cold. A sunroom can be used for many purposes, but they're most often used as living space during the winter months when it might not be nice enough outside to sit on the porch. Sunrooms are also good for dining and entertaining because they don't have any windows so there won't be any glare from natural light coming in through them.

Sunrooms are typically built with large glass panels which let in lots of sunlight and provide a really pleasant environment inside which will always feel sun-filled and bright.

A sunroom can be a great addition to your home and will serve as a bright and sunlit room, especially during the winter months when it's cold outside. So if you're considering adding sunroom cabinets to your sunroom furniture, there are definitely some things you'll need to consider before making this big purchase.
Are sunrooms worth it
Sunroom are a great addition to many homes. They will add useable square footage to the home. As someone who was a licensed realtor for many years, this isn't something I'd recommend for a home that has a dated bathroom or kitchen. These are going to be the first place that potential buyers will look so adding a super nice sunroom to a home that needs a remodel won't produce nearly the same return it will on a fully modernized home.

Another perk of sunrooms is that they are a differentiator when potential buyers are deciding between similar properties. Additionally, there are some people who specifically seek out homes with a sunroom.

When adding a sunroom to a home, I think you should look at the addition shouldn't be more than 10% of the value of the home. If the home is worth $300k then $30k is the absolute most I'd consider investing into a sunroom.
What's the difference between a sunroom, Florida room or a solarium?
These terms all apply to the same structure. These are just regional words for the same type of room. Additionally, the terms solarium, garden room or conservatory may also be used. These are all rooms with glass or screen windows on three sides with a roof. For this article, we use the terms completely interchangeably.

The term patio enclosure does mean a specific type of sunroom. To explain exactly what it means, we've created a guide on the difference between a sunroom and a patio enclosure.

Also, while we use the term sunroom and conservatory interchangeably, we received a comment from a couple members of our community to let us know that a conservatory can mean a very precise type of sunroom. For the sake of completeness, we've written a guide explaining the differences between a sunroom and a conservatory.
What are sunroom roofs made of?
Sunroom roofs are either glass or a standard roofing material. They are most commonly flat or single sloped to allow for better rain runoff. Glass roofs are the default option for sunroom kits and custom built sunrooms will sometimes have a more traditional opaque roof.

The advantage of the glass roof is that it will allow more sun into the room. The advantage of the traditional roof is that will will last longer, be stronger, and it will also be able to carry more lead if you have a lot of snow in the winter. Another perk of the traditional roof is that it can more easily be used to install a ceiling fan. This will conceal the wiring, and it will also provide an easier way of connecting the brackets.

Both types of roof have their own advantage, and this is ultimate a decision for the individual homeowner.
What are sunroom floors made of?
We've written a full guide on all sunroom floor options. We'll cover a brief overview here.

The most popular types of flooring for a sunroom are tile, vinyl plank, cement slab, laminate or carpet. There are advantages of each type of flooring. Bare cement floor with strategically placed area rugs will be the lowest cost option whereas tile will normally be the priciest option.

Carpet is a far more popular option for sunrooms in the midwest and northern states whereas southern and southwestern states will tend towards the tile, laminate or vinyl planks.
What are sunroom walls made of?
The frame for the sunroom is normally steel or aluminum, and the walls are composed of tempered glass. For the wall between the sunroom and rest of the home, you will also want to have a good amount of foam insulation.

The insulation will have a large impact on the overall energy impact of the addition. An improperly insulated room will result in the heat from concentrated in the room in the summers driving up the overall energy costs.

In the winter it will have the opposite effect of creating a heat sink that will drive up heating costs. The sunroom will provide a lot of surface area for the cooler area which will constantly pull the warmer temperatures from the room adjacent to it.
What type of windows are used in a sunroom?
Sunrooms can have casement windows, awning windows or even sliding windows. They may even have a combination of stationary windows and ones that open to provide a mixture of airflow options while also increasing the structural integrity of the overall glass walls.

Regardless of style, we strongly recommend choosing a windows with multiple pains of glass with a small gas barrier in between. Double pain windows can save between 18-24% energy over single pain options (source)

Because so the room is composed entirely of glass walls, it's crucial to get as much insulation as possible to maximize your energy savings. This can be a major selling point for someone considering your home.

If you have a home with single pain windows, I don't suggest replacing them as this can be fairly costly. The better approach will be to really increase the amount of insulation used between the sunroom and the rest of the home.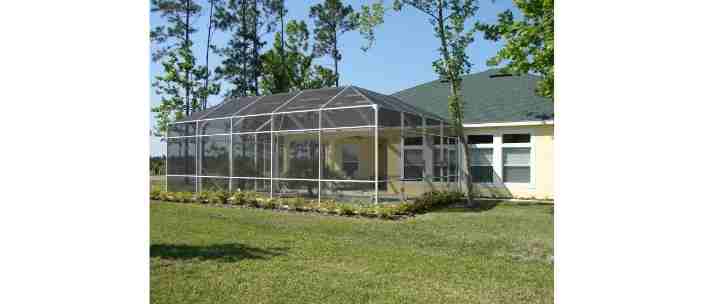 How much are sunroom additions?
Sunroom or solarium kits will cost $2,000 to $5,000 with a lot options around the $3,000 price point. Custom built sunrooms will cost between $10,000 to $70,000 depending on the size and construction materials chosen.

Another big factor in the cost will be labor and whether or not you have a existing concrete slab. As of 2021, it costs between $8-10 per square foot to lay a concrete slab. (source) This means a 10'x10′ concrete slab will be between $800 and $1000 as an example. This would be in addition to any of the other sunroom costs above.
Can sunrooms be painted
Definitely! The interior of the wall can certainly be painted as well as any non-glass roof. When you paint your sunroom, we recommend a shade color such as white. This will create a cooler and more open feeling space.

It isn't required that you go with white, but we strongly suggest sticking with light colors and avoiding dark colors. These hues will absorb extra heat, and make the room less comfortable.
Can a sunroom be a bedroom
Yes, you can use a sunroom as a bedroom, and we've created a full guide for converting your sunroom to a bedroom. In a nutshell, you will need to choose furniture that fits the shape of the room, add some manner of wall coverings to create privacy, and ensure there is a way of keeping the temperature constant at all hours of the day.

This is a much bigger topic than we can cover in our overall guide so you can checkout our guide to converting a sunroom to a bedroom here.
Can a sunroom be included in square footage?
This depends on two factors. The first is whether the sunroom is cooled/heated by the same HVAC system as the rest of the home. A sunroom that has a separate room heater or air conditioner won't be included the the home's total square footage. The second requirement is a little more ambiguous. The sunroom must blend into the house. This could include sharing a roof, having an interior style door and a matching floor. If you have an obvious stepdown to a concrete slab from an interior carpeted home it could be a strike against the room blending in.

Ultimately, this is something that you should work with the realtor when selling your home to take the necessary steps to get it included. If you are using a contractor or other construction professional, I recommend working with them on this to make sure your addition meets the criteria for your specific area.
Can a sunroom be used as a greenhouse?
Certainly. If you have a sunroom and want to use it as a greenhouse, it will certainly be able to serve that purpose. If you want a greenhouse though, it's typically far cheaper just to build out a greenhouse from scratch.

Greenhouses require far less temperature regulation than a sunroom so they can use less efficient windows, and there's also more placement options whether it's having a stand alone greenhouse or one that only has an exterior door and placed against a solid interior wall to minimize heat transfer.
Can a sunroom be built on a deck or patio
Yes, a sunroom can be built on a deck or patio. You will want to make sure you get a building permit and follow the local rules regarding the construction, but this is a viable option as long as the deck can support the additional weight from the sunroom.

We'd recommend this for decks on concrete slab foundation. I'm not sure an elevated wood frame deck would be suitable, but this is going to depend on many factors beyond an overarching general guide.

If you are considering this, we highly suggest hiring a licensed contractor or construction professional in your area who can help you determine exactly what you'll need to add a sunroom to your deck.
Can a sunroom be built on a car port?
Yes, you can convert a carport to a sunroom. Carports are designed to support the full weight of a car for extended periods of time so they should be able to hold the extra weight from the glass walls and roof.

Growing up the first sunroom I ever saw was our neighbors who converted their carport to a garage. This quickly became a favorite hangout for their teenage sons and me. We had a TV and super Nintendo setup in the room, and I spent so many hours after school in their sun room.

As an after school hangout, it was perfect as we would just hang out there, and there was no need to tromp through the whole home. It was a nice way of separating us teenagers who I'm sure were loud away from the adults in the rest of the home.
What's the best size of a sunroom?
We recommend sun rooms be 8'x10′ on the small end or 18'x18′ at the large end. An 8'x10′ room would be 80 square feet and this is the size of a small bedroom. An 18'x18′ sun room 324 square feet. As a reference, my first studio apartment was only 400 square feet.

An 18'x18′ sunroom would be used mainly for someone that plans to do a lot of entertaining. In college my friend's home had had a 14′ x 14′ sunroom with a hot tub, couches and a large screen TV.
What's the difference between a three season room and and four season room?
The biggest difference between a three season room and a four season room us whether or not it has the ability to be heated and cooled. Three season rooms have limited heating and cooling options meaning they can't be used on the hottest or coldest days.

If you want your sunroom to be counted as part of the home's square footage calculation you'll want to get it classified as a four season room.
Can you replace sunroom windows?
Yes, you can replace windows in a sunroom. This makes sense if a window breaks, cracks or in some cases is just drafty. If you believe you need to replace one or more windows, we recommend calling a local company.

They will be able to help you decide which windows will work best for your current sunroom. This is *NOT* something recommend for the average DIY homeowner. Removing and replacing windows have a lot of items that are fairly complicated, and mistakes can be very costly.

You want to make sure the windows are installed and insulated properly. Additionally, you want to make sure the sunrooms frame isn't damaged. For this reason, we are going to recommend hiring this out to a professional.

I think it's also impossible to recommend a universal best window replacement.
Who invented sunrooms?
Sunrooms date back to 6000bc in China. The concept of a southern facing room that is heated by the sun that has existed for thousands of years. It was also present in Greek and Roman architecture. Source
What is the best furniture for sunrooms?
This is a topic is far too large to do it justice in an overall guide. For this reason, we've created a guide for the best furniture for a sunroom. (link). We'll continue to update this as new products or styles change.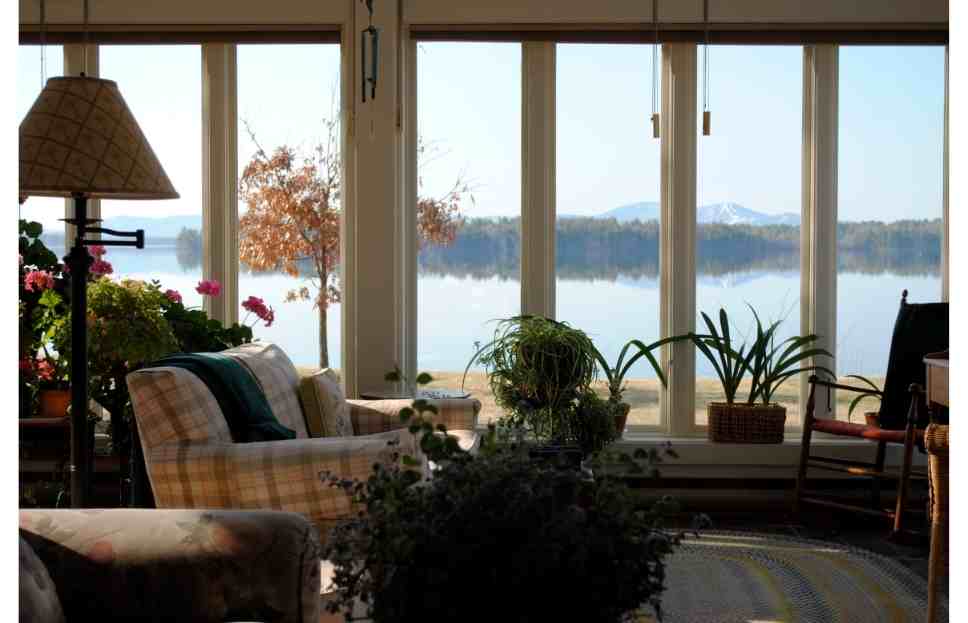 Why do sunrooms smell musty?
Sunrooms smell musty because the windows collect condensation. This creates a well let damp environment in which mold and mildew thrive. This will have a musty smell or foul odor.

The best way to get rid of the the odor is to fully clean the room which we'll cover in the next section. Once you clean it out, you can open the windows and get a box fan to get more fresh air back in the room.
We will be creating a long guide for this, but until we publish that we'll give our overview now. Once we complete that post, we'll link to it and move the information from this post to that one.

There are four main components to cleaning a sunroom. The windows need to be cleaned with Windex or other cleaner. You want to generously spray the windows making sure to get in the corners.

For the non-glass walls, you want to wipe them down with warm soapy water. Make sure the soap you are using is approved for your wall surface. After you wash the walls you'll want to rinse them with a damp towel and then I use a dry towel to git ridding of any moisture or residue.

When it comes to the flooring, tile, concrete and laminate won't get smell. The biggest smells will be coming from homes with carpet which are just a paradise for growing mold and mildew. I recommend renting a carpet shampooer from either Walmart or Home Depot. This will cost about $30 for 24 hours. Growing up my parents owned rental homes, and you'd be amazed at how you can change the smell of rooms by taking the steps listed above.

Last, furniture can have a lot of mold/mildew growing on it. If you find mold on a piece of furniture we recommend getting rid of it. Breathing mold can be very dangerous, and I would always choose to live in a place that will be safe for me. If you are renting a furnished home, you should contact your landlord or PM company immediately.
How do make a sunroom less hot?
Sunrooms allow the sun's UV rays to pass through the glass which will heat up the room. This is one of the main reasons people get sunrooms, but during certain times of the year when the temperatures are already warm this extra heat can make the room feel uncomfortable. In this case, you'll want to find a way to mitigate some of this heat.

First, add some sort of window coverings. Whether this is blinds, shades or even just some adhesive window tinting. Blocking the sunlight from entering the room will vastly slow the rate at which the room heats us.

Second, open the windows and use a fan to increase airflow. When the room is sealed tight all the extra energy from the UV rays just keeps raising the temperature inside the sunroom. If you open the windows with fans going, the median temperature inside the sunroom will be close to the outdoor temperature.

Third, consider adding some sort of heat sink to the room. This way if the sunroom heats up, there will be an some aspect of the room that can absorb the excess heat. One really awesome heat sink for a sunroom is a hot tub with the heater turned off. A 6 person hot tub will have between 300 and 500 gallons of water, and this will draw a lot of energy to raise the temperature even one degree.
Can you put a hot tub in a sunroom?
Yes, you can put a hot tub in a sunroom and many people specifically build a sunroom because they want to add a hot tub to their home. Hot tubs can be used year around in a sunroom, and they can be used regardless of whether it is raining or snowing.

Another benefit to using your hot tub in a sunroom is that it creates a bit privacy from nosy neighbors. In college my friend had a large sunroom that had a hot tub, and this was one of our favorite hangout spots for weekend parties.

I suggest opening up the windows of the sunroom when the hot tub is in use to limit the amount of condensation. Otherwise, it's a perfect fit.

We have received so many questions on this topic, that we wrote a full guide on having a hot tub in a sunroom. If you're question isn't answered in that post, we'd love to hear from you so that we can make our post even more complete.
Do sunrooms require a building permit?
Every state requires some sort of permit or approval to add a sunroom. The approval process can take 30-90 days. If you get a kit, the manufacturer may be able to help. If you are getting a custom built sunroom, they will definitely have someone on staff who can help you with this process.

Under no circumstances should you build a sunroom without pulling the appropriate permits. An authorized addition could result in a monetary fine. Additionally, it could require a full evaluation of the home to get a certificate of occupancy. If you aren't aware of this before you try to sell the home, it can quickly lead to complications where loans don't get approved.
Can you add a ceiling fan to a sun room?
You can install a ceiling fan in a sunroom that has a non-glass roof. There is nothing special about this, and it can be done by the average homeowner who is comfortable with DIY projects. We've included a video showing how to install a ceiling fan.



If you have a glass roof/ceiling in the sunroom, we recommend just using stand fans or window fans.
Can you use a sunroom as a home office?
Sunrooms can be used as a home office, but it is far from ideal. The temperature will be less regulated than in other areas of the house. You will be in the bright sunlight coming from many different angles which would cause glare on the computer screen.

This could be an option for a seamstress or a fabricator. The extra light from the sun would be great for many professions. Additionally, sunrooms also have great ventilation if you are going to be working with chemicals like paints that would leave a smell. I think a sunroom makes a far better studio for creating rather than an office, but it can be made to work.
Wrapping up
So that's our complete guide to sunrooms. These are a new product area for us. We will continue to add more content on these. If you have any questions or comments, we love hearing from our readers.
Last Updated:September 25, 2023