Complete Guide to Awnings, Residential, Commercial for Home or RV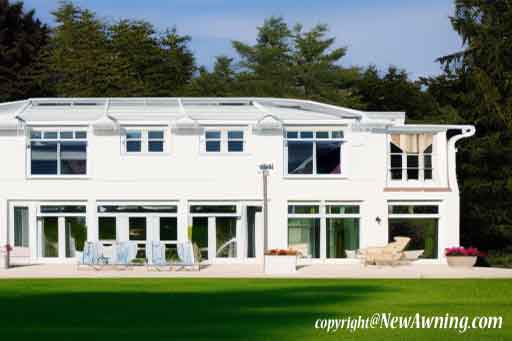 Awnings can have a variety of uses and material depending on where they are to be used. They are quite popular throughout the entire US although their purpose varies depending upon which region they are being used. In the Southwestern states like Arizona and California, they are usually composed of a light fabric such as canvas. The goal of these awnings is primarily to provide a bit shade. In the Northwester states such as Oregon and Washington, you will see a lot of awnings on commercial buildings. These awnings will be constructed of a heavier canvas or vinyl that is watertight. Additionally, the structure will be of heavy aluminum or iron to handle the strong winds and rain. In the midwest and New England, awnings are composed of iron/steel frame with an aluminum shell. The metal awnings are far more resistant to the elements and can hold up the weight of the snow without having any issues.
Residential
The most popular type of awning is the residential retractable composed of a two tone striped fabric with a medium grade aluminum structure. This style is perfect for a deck, patio or porch, and it is versatile enough to stand up to weather throughout most of the US and because it is retractable, can be taken in before large storms which greatly increase its life. In terms of appearance, the cloth striping is usually about 8″ to 16″ per stripe with a pattern of one white tone and one dark or vibrant color. The vibrant color can really bring out the accent colors that appear around windows or other accents of the house. Residential awnings are an amazing way to bring a slight facelift to the exterior of the house for a few hundred dollars.
Commercial
These have a base that is usually constructed of weather resistant steel, and a heavy grade water resistant canvas. The awning serves as branding for associated business allowing customers to easily identify the entrance to the building. In terms of appearance, these are usually one strong color such as dark blue, forest green or crimson. Additionally, there is frequently writing on the front so that customers can easily identify which business is inside. Prior to buying a commercial awning, it is strongly advised to check with the property manager to confirm any restrictions about either size of the overhang or other requirements. Many retail establishments will have set guidelines and a short list of approved vendors.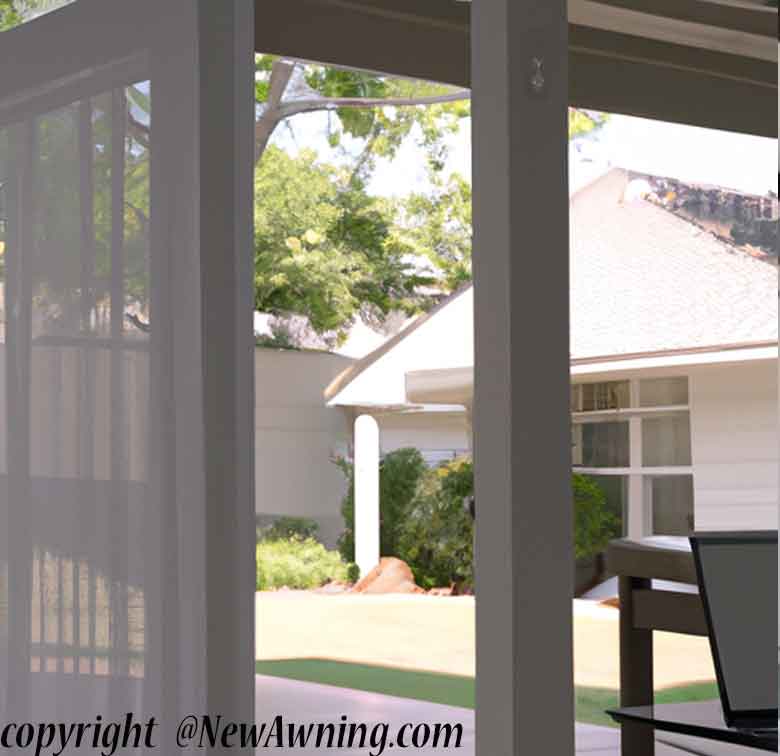 RV
Canopies on an RV are always either retractable or detachable with most being the latter. Awnings are a fantastic way to increase the usable living space around the vehicle as it will provide a nice shaded area to get out of the sun. Additionally, the variety of colors makes it fantastic to support a local sports team if you are going to use the RV for a bit of tailgating or merely want to show some college pride the next time you are at the campgrounds.
Custom Build
A custom awning is a great way to add a lot of value to a home or make your business stand out at a reasonable cost. The awnings will usually cost about $100 to $200 for a window and closer to $1000 to cover a larger area like a patio or deck. The custom awning really helps bring a level of sophistication to the outdoor space and can be the focal gather point for family gatherings.
Retractable
These are gaining in popularity especially in states that have wide swings in weather. The awning can be extended during the hot months and taken down for the winter months to avoid the cold weather. This will greatly lengthen its life. Retractable awnings also work fantastically well for campers or RVs as they can be set up after the vehicle is in place.
Window
These are smaller usually around 36″ that cover the top portion of an exterior window. Their length can range from a small 6″ that is mainly used for decoration to an 18″ that will work to block the sun from going inside the house. By stopping the sun rays from entering the house, window awnings have been shown to lower the costs of cooling in the summer.
Patio
Used correctly, this can be a very fashionable method of extending the living area of a home. The fabric will tie an outdoor living area together and create a comfortable living space.
Canvas
This is the most popular type of fabric that have a useful life of 20 years. Nearly 100% of all residential awnings are composed of canvas or other fabric, and this type represents about 60% of the ones made for commercial use. The variety in color and thickness makes these the best approach for the majority of customers.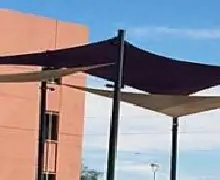 Metal
These are used for some industrial buildings and to keep the weather away from loading docks or other high traffic areas. The metal can be either steel or aluminum with the latter being chosen far more than the former. These stand up to snow, sleet, and other severe weather. Additionally, because they are made from a material that doesn't move there is no risk of being damaged by the wind.
Aluminum
The vast majority of metal awnings sold in the US are made of aluminum, and unless the metal is stated the industry standard is to be composed of this. This material doesn't rust and it is relatively inexpensive to create. It can have some issues standing up to heavy amounts of snow or rain unless there is an appropriate runoff.
Last Updated:November 28, 2023