2020 Guide for Awnings and Shades in California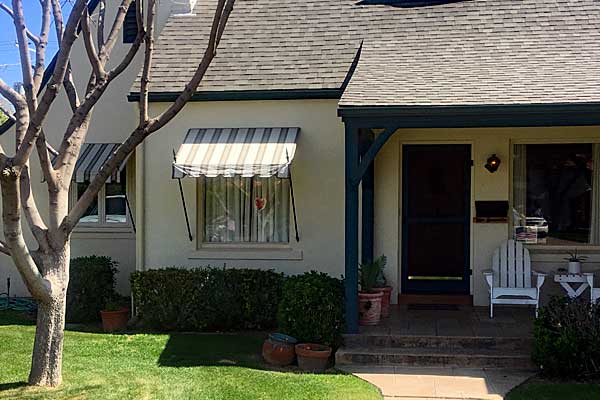 California is an amazing state for an awning or outdoor shade structure. The weather is great year around, and this allows us us to use our backyard even in the middle of winter. When I lived in Thousand Oaks, we would grill out every Christmas eve and spend Christmas day at the beach.

We asked other residents of California their tips and opinions for shades, and we've compiled a list below. We also love getting reader feedback and perspective, so if you live in California , we'd love to hear from you.
Best Awnings for California
For complete transparency, I have only lived in Southern California, and I know there's quite a big difference between the weather of San Diego, San Francisco, and Crescent City. As such, we'll have specific parts of the guide whether you live in the north, central or south part of the state. While they are all governed by the same statewide building codes, our recommendations will be different.

Since we are homeowners, a lot of our information for the other parts of the state is based on reader feedback, and conversations we've have with builders who work in the respective areas. Before we dive in, as a disclaimer, if you have a specific issue, we highly suggest hiring a licensed contractor who can evaluate your individual property and project. We are simply providing basic and general information based on our research.

Due to the mild winners, we prefer stationary awnings over retractable ones for any part of the state that doesn't receive much snow. If you live in the mountains or one of the northern cities, we suggest going with a retractable awning that can either be rolled up and protected with a cover or taken down entirely. Storing your shades inside during the cold winter months can extend their lifespan by 5 years.

Depending on your budget, we prefer either vinyl for the value conscious customer, and acrylic fabric for someone looking for longevity. Acrylic fabric awnings can last more than a decade when properly taken care of. We suggest avoiding any type of canvas shade covering. These are the some of the least expensive options, but they don't last very long in our experience. Some companies offer a "treated canvas" to make it more resistant to rain and snow, but this just adds to the cost. If you're going to spend more, just go with either a vinyl or acrylic. Our one exception for California residents is if you live in very dry area that gets very little rain. In a desert area, the canvas can be a reasonable choice as it is very resistant to cracking or peeling apart which can happen with the vinyl awnings. Retractable awnings are a great choice for stats in the northern part of the US. They are easy to taken down in the winter, and they can be rolled to prevent weather damage. Most parts of California don't have this severe weather making it a region perfect for fixed fabric or metal awnings. Finally, the mild climate of California allows homeowners to use their patio an backyard much later in the year than other states. When I lived in Thousand Oaks, we had a tradition of going to the beach on Thanksgiving and Christmas.

When it comes to metal frames, we are fine with either steel or aluminum for California homes. Aluminum conduct heat less making it cooler to the touch, but most steel will be covered in an enamel or paint.

After researching more than 100 awnings, we've got three picks for the best awning in California.
Editor's Choice – Best Overall Awning -Advaning Motorized Retractable Awning
We've reviewed more than 100 awnings, and this awning gets our highest rating. It is a premium quality awning with top of the line features. The fabric is a solution-dyed acrylic meaning that it can last for a decade without fading.

You have the option to get a manual or electric awning, and it has a pitch adjustment that allows you to control the angle to maximize sun blockage. This awning is manufactured in Spain. Finally the awning is available in 5 different sizes and 6 different colors.
Pros
100% solution-dyed acrylic fabric
40mm steel frame
70mm diameter aluminum roller
Available in 6 colors
Available in 6 sizes
Available as motorized or manual
Lifetime tech support and 5 year warranty
Features removable scalloped valance
Cons
Needs to be fully extended or retracted
Doesn't offer a wind sensor for automatic closing in storms
Budget Pick – Best Value for Price – BCP Budget Retractable Awning
The Best Choice Products retractable awning is a fantastic balance of quality and cost. Their company has been around for more than 15 years. The fabric is a water-resistant polyester fabric.

It has an aluminum frame and has some UV protection. Additionally, the frame can be easily angled to provide the best protection from the sun at any time of day.

This is a cost effective awning that can be retracted before wind storms. It is nothing fancy, but rather a budget friendly option for home owners who want a true awning.
Pro
2 color options
Water resistant
UV resistant
Powder coated aluminum frame
Established manufacturer
Con
Hard to find replacement parts
Requires assembly
MCombo Retractable Awning
Mcombo has been one of our favorite awning brands for some time. They made a solid quality product that is a great value for the money. They are not designed to be a luxury awning brand.

They use high quality components, frames and fabrics while skipping on the top of the line features.

Mcombo awnings will last for years, and they frequently have some of the top selling patio shades in the US.
Pros
T5 grade corrosion resistant aluminum frame
Barrier to keep crank mechanism from elements
Wind resistant to level 4 on Beauport scale
280g/m² polyester fabric
50UV solar protection
Available in 5 colors
Adjustable pitch
Cons
Available in 1 size (8'x10′)
Prefers mounting on hard walls (Concrete or brick)
3 month warranty
Instructions a bit vague for beginner
Manual operation only (No option for adding motor)
Vivohome Polycarbonate Awning
This is a great polycarbonate awning that is mainly designed for windows. The shade extends just over 3 feet so this won't cover a patio or deck. I will create a lovely shaded area for an outdoor dog or cat.

This window awning also works well to lower cooling bills in the summer. The polycarbonate panel blocks UV rays which will reduce the amount of heat absorbed by the window. The US Department of Energy(source) has stated that screens and shades can reduce solar heat through the window by up to 80% (source)
Pros
Durable aluminum frame
Rust and corrosion resistant hardware and brackets
Available in 4 colors
Available in 3 sizes
Easy installation
All mounting hardware included
Lowers summer heating costs
Protects windows and doors from elements
Can be mounted on both brick or vinyl siding
Cons
Two person install
Requires separately purchased hardware
No mention of warranty information
Requires removing snow in winter
California building codes on awnings
As a disclaimer, we are neither attorneys nor carpenters. We are simply homeowners who really enjoy spending time on our patio and have a blog dedicated to "Deck living". If you have a particular question, we recommend hiring a professional licensed in your state for any specifics.

Awnings, shades and canopies are all covered in Chapter 21 of the California building code (source). They are specifically covered in section 3105. One specific rule that stands out is that all frames must be made of non-combustible material meaning that aluminum and steel frames meet the mark whereas non-treated would may not.

They specifically state that fixed, folding and collapsible awnings are all legal options.

If you are placing the awnings over an egress window there are other criteria that you'll want to read so definitely understand those before you begin the installation.

We love hearing from our readers. Do you live in Arizona and want to share your experience with us? We'd love to get a picture of your project and hear how things went. If you'd like to tell us about your patio improve, please us the form on our contact us page.

Last Updated:September 28, 2023