What can you attach a sail shade to? (Step-by-step installation guide included)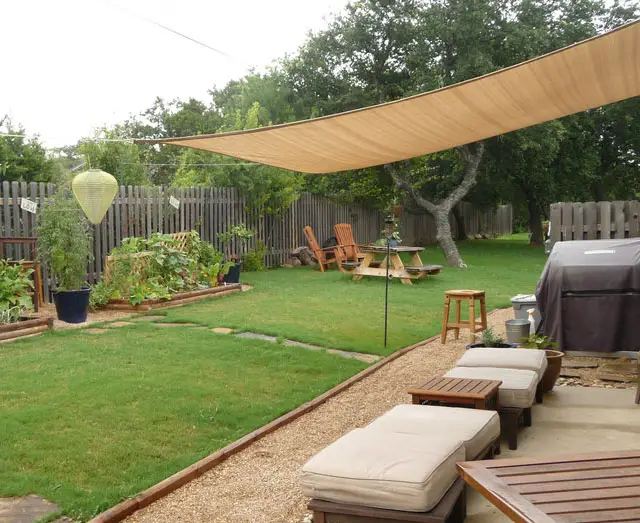 Sail shades are a great budget-friendly choice for patio shading. They can are easily installed by a single person. The only required tools would be a drill, and you don't even need a ladder.

Because these are so popular among first-time homeowners, we receive a lot of questions about how and where they can be attached. Instead of writing a lot of small articles, I've created a long exhaustive guide to attaching sail shades. Each section will have all the tips and tricks for each surface.
Can you attach sail shade to a house?
Yes, the majority of residential sail shades are attached to the side of a home. The method and steps will depend on the building material used for the walls. We've created a step-by-step guide for each material below.
Can you attach a sail shade to a fence?
Yes, we've seen sail shades successfully attached to both metal and wood fences, but only to the posts. The sail shade can create supplementary force on the fence post so you will want to reinforce it with additional concrete. Also, we recommend removing the sail shade before any heavy wind.

A major issue for fence posts is that the force from the sail shade is at the top of the post whereas the support is at the bottom. A heavy wind can create torque and magnify the force applied by the wind.
Can you attach a sail shade to a dividing wall?
No. Dividing walls are very common in homes in the Southwest United States. Because the land is so flat many homeowners choose to build a wall out of cinder block and then cover it with stucco. These walls are mainly used for privacy and aesthetic rather than support so we highly recommend *NOT* anchoring a sail shade to a dividing wall. If you'd like to end your sail shade, we prefer a support pole buried in front of the wall, and adequately secured with concrete.

What is your pick for the best sail shade?
We spent researched more than 100 sail shades, and we ultimately came up with our top 4 picks. The best overall winner is perfect for the homeowner who wants to add shade to his backyard or patio without a lot of hard work or cost. We also have a budget pick if you're looking to stretch your dollar. The final two recommendations are all around shades that with many options for shapes, sizes and colors. They would be the best fit for someone who has a very specific vision or need in mind.

Title
Sunny Guard
Amgo Sail Shade
Coolaroo
Used for
Residential
Residential or Commercial
Residential
Dimensions
78" x 118"
6'x6' to 24' x 24'
118"
Shapes Available
Rectangle
Custom, Triangle, Rectangle
Triangle
Fabric Weight
185 GSM
200 GSM
Not Listed
Connectors
Stainless Steel D Rings
Stainless Steel D Rings
Eyelets
Price
$35.99 ($0.56 / Sq Ft)
$57.99 ($1.61 / Sq Ft)
$18.00
Shapes Available
Rectangle
Connectors
Stainless Steel D Rings
Price
$35.99 ($0.56 / Sq Ft)
Used for
Residential or Commercial
Dimensions
6'x6' to 24' x 24'
Shapes Available
Custom, Triangle, Rectangle
Connectors
Stainless Steel D Rings
Price
$57.99 ($1.61 / Sq Ft)
Can you attach a sail shade to a tree?
Yes, we have seen sail shades attached to large trees. Instead of using metal brackets and screws that accompany most kits, we prefer a strong rope or steel cable to be wrapped around the tree and hooked to the shade clip. This will cause less damage to the tree while supporting the fabric.

Can you attach a sail shade to a gutter?
No. This is a great method of pulling down a gutter or damaging your home. They are designed to support the mass of rainwater. They are not designed to be an easy anchor point to your home.
Can you attach a sail shade to a gutter?
No. This is a great method of pulling down a gutter or damaging your home. They are designed to support the mass of rainwater. They are not designed to be an easy anchor point to your home.
Can you attach a sail shade to the roof?
No. We've seen several handyman specials where the brackets have been mounted to a roof. The issue is that this can lead to leaks and weakens the overall roofing structure. Additionally, it can increase the work if someone needs to replace or fix your roof in the future. Overall, there are just better options. It's normally better to install the bracket to the wall just below the roof instead of on top even though the latter can provide a higher clearance.
Can you attach a sail shade to post?
Yes. When you mount the brackets to the post, you will want to ensure that it will be an adequate support. We recommend a 4″ x 4″ wood beam or a steel or aluminum metal pole designed specifically for this purpose. You can either mount it in the ground with concrete or to large moval anchor. We've seen a lot of people use an old tire that's been filled with sand or concrete. The beauty of this approach is that the pole is heavy meaning that it won't move, but it can also be tilted on its side and rolled to a new location.
Can you install a sail shade over a pool?
Yes, this is a very common residential use. This allows you to have some areas of shade in the pool which will lower evaporation rates. It will also work to naturally keep the pool cooler on warm days as the water temperature will even out due to Newton's second law of thermodynamics
Can you attach a sail shade to a cinder block or brick wall?
Yes, brick walls make a great anchor point for sail shades and awnings, but you will want to mount the bracket to the mortar between the bricks. Also, when using screws it's imperative that you use countersinks for the screws. If you just put screws into the mortar, it will eventually crumble around the entrance hole and just pull out.
Can you attach a sail shade to a concrete wall?
Yes, this is one of the best surfaces. You will want to use screws specifically designed for concrete that include countersinks for the screws. This means they will stay in place longer.
Sail shade step-by-step installation guide
Obtaining permission
The first step is to check with your homeowner association to verify you can install a sail shade. Many will have restrictions what can be attached to your home especially on the front side of your home while being laxer on your patio and backyard. When you get the approval, we highly suggest doing this via email so there is written documentation should you get complaints later.


Contact utility companies
If you are going to dig holes, we recommend contacting the local gas and water companies. Many utility companies will come to your home free of charge to mark where gas lines or water mains are so that you avoid damaging them when you dig. This step can be skipped if you're not planning on putting anything into the ground.


Measure and mark bracket location
We recommend marking the location of each bracket whether that's a tree, wall, or support pole and measuring the distance. Remember the fabric won't go exactly to the bracket itself, and you can always get extension chains if the area is slightly larger.


Attach mounting brackets to your home and verify they are straight with a level. Temporarily affix the fabric to the brackets, and use this as a reference to identify exactly where any additional supports will be.


Dig holes if necessary
If you are using an in ground support pole, you will want to use a post hole digger. These can be purchased from Amazon for around $20 or rented from your local home depot. Fill the hole with quick-mix concrete. While the mixture is wet insert the pole, and ensure it is held in place via braces.


Mount pad eyes and brackets to external supports
Whether this is a tree, support pole, or existing fence post you will now want to add pad eye. This is a flat piece of metal that normally has 4 holes for screws and a half ring that extends from the center. This connects the support to the shade via a snap hook or D-shackle.



Clip shade to brackets
Now that everything is in place, you can use a clip to go between the pad eye and the grommet in the sail shade. You can use a turnbuckle if you need to slightly adjust the distance or an extension chain if you need to lengthen the distance.


That's it! You've now installed your sail shade.
Remember, the brackets need to stay attached all year around, but you can easily remove the shade by unclipping the snap hook or D-shackle. We prefer to store our sail shade inside during the winter.


Enjoy your new sail shade.
We're so happy that you stayed to the end of our guide. As a reminder, we're just homeowners who spend a lot of time on our patio. This was designed to be a DIY guide written by average people so please don't take this as advice from professionals, contractors or carpenters because we are not.
How do I tension a sail shade?
A properly installed sail shade is very easy to setup. The reputable manufacturers will include turnbuckles that can simply be tightened with a screwdriver.
You simply need to place the screwdriver in the middle of the turnbuckle so that the entire piece rotates. Some of the cheaper brands of sail shades don't have these and simply attach directly to the hook. If this what you have, we'd suggest buying a turnbuckle for each attachment. You can get a full installation set that includes 4 turnbuckles for less than $14 on Amazon. |
Do I need approval or a builders permit for a sail shade ?
I am not aware of any state that requires a builder permit for a sail shade. However, some city councils and home owners associations do have restrictions. If this is a concern, you can either contact them for any restrictions. |On the few occasions that we've heard about this from the readers, the restrictions were around the size. Most sail shades designed for single family homes don't have any issues. |
What are shade sail installation costs?
Sail shades are can range from $15 to $200 depending on the size and quality. We recommend a high quality installation kit which can be another $14 if it's not included. |
Are shade sails safe for backyard grass?
Yes, shade sails are safe for backyards and other grassy areas. The direct sunlight the grass receives will drop, as the sun moves from east to west different parts of the yard will be blocked. |
Do I need HOA approval for shade sails?
Yes. We recommend *ALWAYS* contacting your homeowner association before making a change to the outside of the house. Even the tiniest of changes can require approval, and it's always best to have written signoff before the work is started.|
How do shade sails work?
Sail shades are large fabric (vinyl, acrylic or canvas) shapes that attach to a home. They block sunlight and UV rays creating shade. They are one of the most budget-friendly outdoor shade options.|
How to secure a shade sail?
You want to install a sail shade to either galvanized steel poles that have been set in the ground with concrete or securely to your home via a rafter or bracket.|
How do you secure a shade sail without a rafter in your fascia?
Don't worry if you don't have a rafter near where you want to install your sail shade. You can easily use a back bracket for support. I've included a link to our favorite metal sail shade support bracket. You install the pad eye to the facing out and the metal bracket on the underside of the fascia. |
What does a shade sail car port costs?
A heavy duty sail shade car port will be around $370 if it's attached to the house and $670 if not. The breakdown is $70 for the shade/accessories, and $150 for each support pole you need. |
What are shade sail post requirements?
We prefer galvanized steel support poles with a 3″ diameter and 12.5 gauge wall thickness. Cheaper poles can bend or break in wind and lead to car damage. This is our favorite support sail shade pole. |
How deep do shade sail posts need to be?
We recommend the hole being 32″ deep with concrete at the bottom.|
Are sun sail shades waterproof?
All sail shades will block rain. Vinyl, acrylic and coated canvas shades are waterproof, but untreated canvas is simply water resistant. |
Can you use wood for sail shade posts?
Yes, we prefer galvanized steel, but if you're going with wood posts we recommend treated lumber posts that are at least 5″ x 5″ thickness. |
How much wind can a shade sail withstand?
With galvanized poles set in concrete, the shade can withstand 60mph+ wind.|
How long do sail shades last?
The fabric will last between 3 and 10 years depending on the quality. We found most of the damage comes from fraying around the connection points.
So that's the end of our step-by-step guide to installing a sail shade. If you'd like more guides or have questions, we'd love to hear from you.

Feel free to either send us a tweet @newawning or use our contact form.

Last Updated:November 23, 2023