2019 Guide for Awnings and Shades for Arizona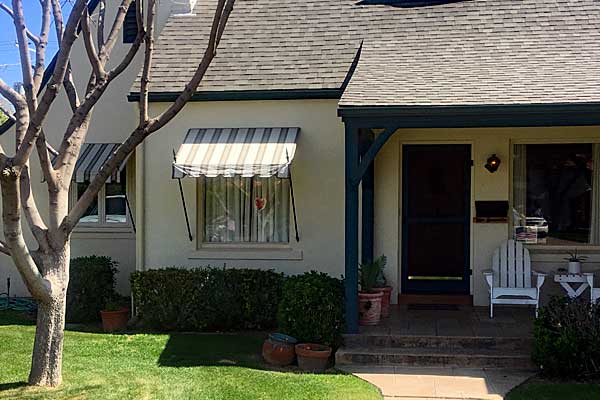 Arizona is a great state for an awning. We have great weather year around which allows us to use our patio and backyard even in the middle of winter. We've begun a yearly Christmas tradition of grilling out on our deck because Phoenix the temperature is 70-80.

We asked other residents of Arizona their tips and opinions for shades, and we've compiled a list below. We also love getting reader feedback and perspective, so if you live in Arizona, we'd love to hear from you.
Due to the high summer temperatures and mild winners, we prefer stationary awnings over retractable ones. Retractable awnings are important for northern states that need to either take them down for the winter or at the very least keep closed in a case to avoid damage from snow and ice. Thankfully in most parts of Arizona, we don't have to worry about significant snow accumulation that can cause the frame to bend. Additionally, even in the late fall and spring the temperatures can get warm enough that a shade on the patio can make a difference. Another benefit to Arizona's climate is that we can use a canvas awning that I wouldn't consider in other states that get a lot more rainfall.

You're fine with either steel or aluminum for the frame. I wouldn't consider spending extra for a carbon fiber frame. This expense is rare for most homeowners; however, it's even less helpful here. Aluminum will remain cooler to the touch if you want an unpainted metal look, but if you're going to paint the frame than either aluminum or stainless steel are perfect options.

After researching more than 100 awnings, we've got three picks for the best awning in Arizona.
Editor's Choice – Best Overall Awning -Advaning Motorized Retractable Awning
We've reviewed more than 100 awnings, and this awning gets our highest rating. It is a premium quality awning with top of the line features. The fabric is a solution-dyed acrylic meaning that it can last for a decade without fading.

You have the option to get a manual or electric awning, and it has a pitch adjustment that allows you to control the angle to maximize sun blockage. This awning is manufactured in Spain. Finally the awning is available in 5 different sizes and 6 different colors.
Pros
100% solution-dyed acrylic fabric
40mm steel frame
70mm diameter aluminum roller
Available in 6 colors
Available in 6 sizes
Available as motorized or manual
Lifetime tech support and 5 year warranty
Features removable scalloped valance
Cons
Needs to be fully extended or retracted
Doesn't offer a wind sensor for automatic closing in storms
Budget Pick – Best Value for Price – BCP Budget Retractable Awning
The Best Choice Products retractable awning is a fantastic balance of quality and cost. Their company has been around for more than 15 years. The fabric is a water-resistant polyester fabric.

It has an aluminum frame and has some UV protection. Additionally, the frame can be easily angled to provide the best protection from the sun at any time of day.

This is a cost effective awning that can be retracted before wind storms. It is nothing fancy, but rather a budget friendly option for home owners who want a true awning.
Pro
2 color options
Water resistant
UV resistant
Powder coated aluminum frame
Established manufacturer
Con
Hard to find replacement parts
Requires assembly
If you're looking for the true luxury awning, this is your pick. The company uses premium components on ever aspect of this.'

It comes in a wide variety of sizes and colors to perfectly match the outdoor decor of your home. There is also a manual and electric option.

The size start as small as 56 sq/ft and go up 160 sq/ft with 6 color options at each size creating 60 different combinations.

The frame is a T5 grade aluminum that is corrosion resistant. The fabric is solution dyed acrylic which is both the longest lasting and most durable. It also has UV 80+ sun protection.

The arms are 316 marine grade stainless steel with internal stainless steel cabling. If you need something that is built to last, this it an absolute Cadillac for wind resistant awnings.
Pro
Available in 6 colors
Available in 5 sizes
304 Marine grade stainless steel arms
100% solution dyed acrylic fabric
Fully assembled
Double stainless steel internal calble
5 year warranty
Our budget pick
Sunjoy Retractable Awning
Sunjoy is a fantastic choice if you are looking for value oriented. It is well manufactured with standard materials. The powder covered frame will help prevent rust, and the polyester fabric work great for many areas.

This is a newer product for us, and I'd love to hear any feedback you have on this product. We'd love to get a comment on this article about this. Thus far, we've only heard positive feedback, but I definitely like to get more opinions before we consider moving this as one of our picks.
Pros
Easy to operate
All mounting hardware included
Powder covered metal frame
Cons
Not waterproof
Only available in 1 size
Only available in 1 color
Diensweek Retractable Awning
This is our top pick for the best wind resistant awning. It is a commercial grade awning with 280g polyester. This is thicker fabric than many awnings designed for the home. This makes it less likely to tear during strong wind.

This awning is rated class 4 on the Beauport scale which means it can stand up to 17 mph winds. The awning has a many features including a double metal cabling in the extension arms. The brackets always stay at a slight bent to prevent against snap back where the joint is pushed backwards.

The awning has reinforced joints and a gasket to prevent fabric pulling and slippage from heavy gusts of wind.

All mounting brackets and hardware are included in the box so there' nothing additional that you would need to buy to install this.
Pro
Meets Beauport level 4 ( 17 mph winds)
Certified CE, GS & ROHS
Available in 5 sizes
3 color options
280g/m2 spun polyester fabric
Waterproof
80UV+ solar protection
100% money back guarantee
T5 aluminum frame
Corrosion resistant frame
Double cable internal support
Chrome steel screws
Double springs for additional support
Our pick for best value & most effective
Easy to install
Our pick for best value
Con
Difficult to find replacement parts
May sag in heavy rain
Many people use a standard spray bottle instead
Frequently out of stock
We live in Phoenix so I am most familar with that area. Since this is the largest city in the state there are many companies that will install or clean your awning and shade. Some companies are only willing to install awnings that you buy from them; however, these come with a considerable markup over what you'd spend on Amazon. Our preference is to use Yelp to hire a handyman service to install an awning. I posted a project to install an awning and got several quotes under $150.
Tuscon is the second largest city in Arizon so it will also have a good selection of contractors. I didn't get estimates for the project there; however, I assume it would be a similar price. Tuscon is south of Phoenix, but the city has a higher elevation leading it to be a small bit cooler than Phoenix. This slight difference doesn't dramatically impact our recommendations, and Diensweek is still our top awning pick.

Awning Guide for Flagstaff
Flagstaff is in the northern part of the state, and it's elevation makes it much more like Colorado than Arizona in terms of which awning we recommend. The presenece of heavy snow in the winter leads us to suggesting a retractable awning that can either be taken down or at the very minimum rolled up. Leaving the shade up through the winter can lead to the frame getting bent and possibly even falling from the home. For that reason, our top pick for Flagstaff and other high elevation areas in Arizona is Advaning
We love hearing from our readers. Do you live in Arizona and want to share your experience with us? We'd love to get a picture of your project and hear how things went. If you'd like to tell us about your patio improve, please us the form on our contact us page.

Last Updated:February 27, 2023