Top 7 Alternatives to a Home Awning
Awnings are a fantastic way to add shade to a backyard, patio or porch. They can also lower the heating bill by providing shade to sun-facing windows.

Unfortunately, some HOAs have explicit rules that prohibit awnings. Over our five years in business, we've helped so many people find awning alternatives for their home, that we decided to create a full post on the topic explaining the benefits and drawbacks of each option.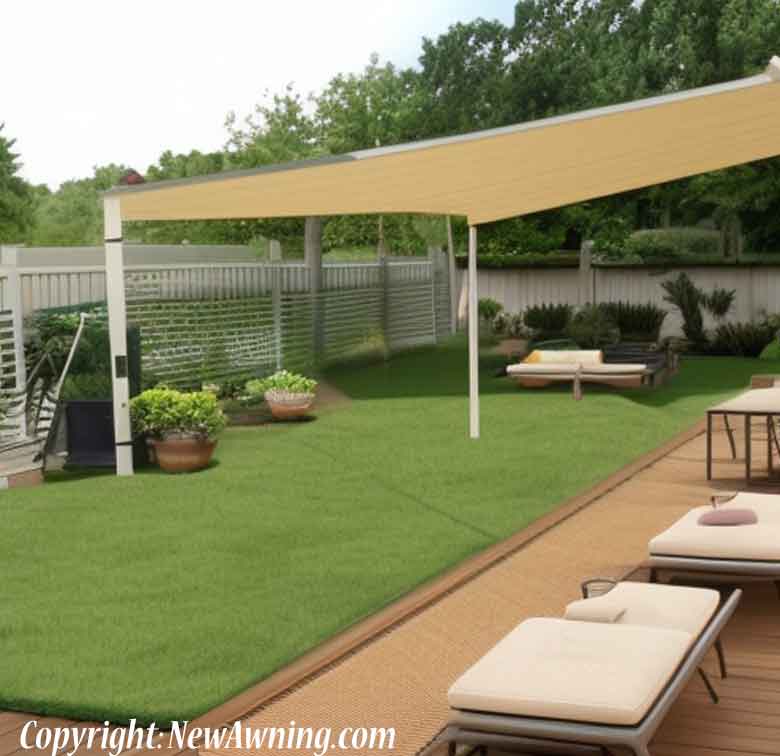 Sail shades have been around since the Roman empire. They were used to provide temporary shelter from the sun for the outdoor events. Some versions can also be traced back to both the ancient Greeks and Egyptians. Modern day versions of sail shades are also incredibly popular in southwestern states like Arizona, New Mexico, and California. Despite this many people aren't aware of this option.
Sail shades are a large woven tapestry which is made in a variety of shapes. The two most common are rectangle and triangle. The material is usually double hemmed to stand up against strong gusts of wind. At each corner of the sail, there is either a solid D ring sewn to the edge or a grommet embedded in the material. Depending on the color, sail shades block between 90%-96% of UV rays.

Sail shades make a fantastic temporary shading structure. The kits come with the brackets that are permanently attached to the home or tree. These are small and can remain up year around. When you are ready to put up the shade, you simply attach the D-rings of the shade to the bracket. This can be accomplished wither either a carabiner or some cord. All the necessary fasteners should be included with the kit from the manufacturer. I can set up or take down our sail shade in about 5 minutes without needing another person or even a ladder.

These are also amazing, budget-friendly options. Depending on size and quality, most of the prices range between $16-60 on Amazon. Our research shows that you can cover a patio or other outdoor area for about $0.08/sq ft. If you're interested in learning more about this option, you may want to check out our complete guide to sail shades.
Stand or Hanging Umbrella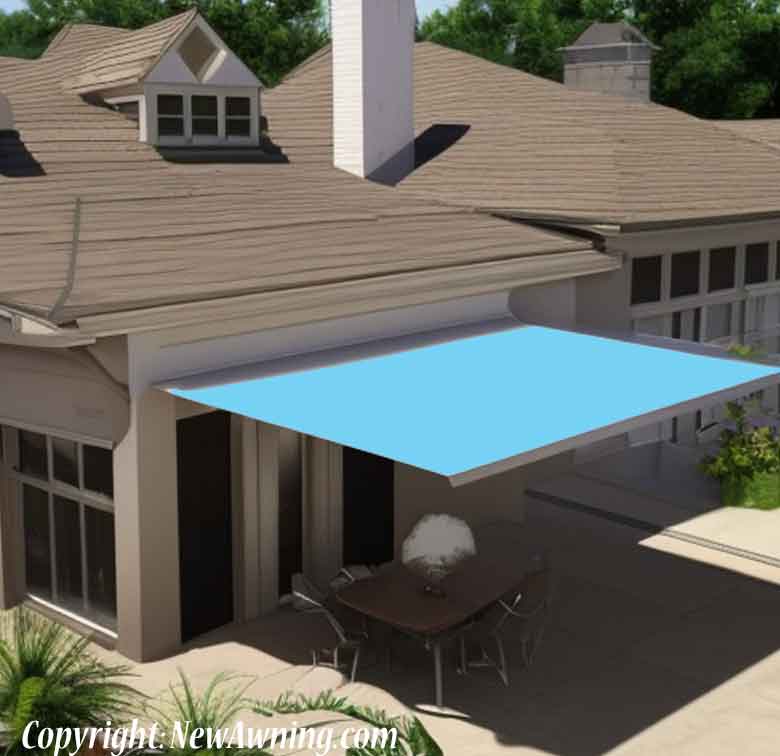 Our neighbors have 2 hanging umbrellas and swear by them. Honestly, I hadn't seen these until a few years ago, but I admit that they have some rather nice benefits. The hanging umbrella has a sturdy metal base with a tall pole attached. At the top of the pole as an arm that is perpendicular to the ground. The true beauty of these is that they are completely mobile and adjustable. In addition to being able to position the base and swivel the arm, most also come with the ability to adjust the angle of the umbrella. This customization offers the best possible choice for people who want to stay out of the sun while not obstructing their view.

Another wonderful use for the hanging umbrellas is around a pool. Because the base can be moved, it's extremely easy to create a shaded area within the pool to keep the feeling more comfortable for your guests. Additionally, this can also lower costs by be decreasing the evaporation rate. Some of the umbrellas even feature waterproof bases so they can safely be placed in the pool.

Hanging Umbrellas are a mid-price solution. The most common size is around 10 ft diameter with prices ranging from $70-400. They are about 10 times the price per square foot compared with sail shades coming in around $0.90+. Once again if you're interested, check out our complete guide on hanging umbrellas.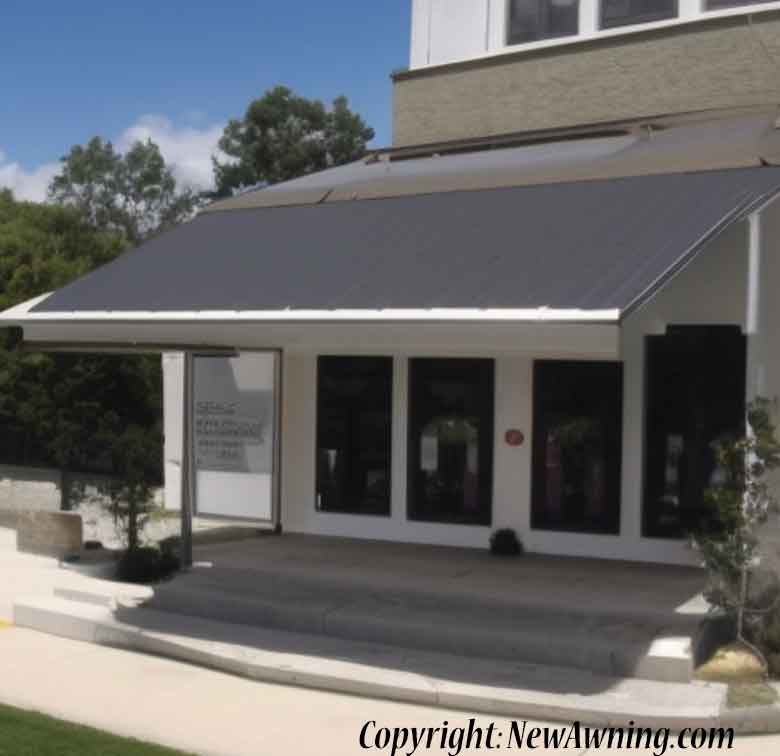 Fixed panel solar shades (FPSS) don't provide any shade for an external area. Their purpose is purely to keep direct sunlight from hitting the windows on the house. Many people add awnings as means to lower their cooling bill, and FPSS can also produce this result in neighborhoods with very restrictive HOAs.

FPSS are UV resistant fabric that is placed between a wooden or metal frame. The frame is then attached to the window using screw in latch clips. This is best done as a two-person job as it will require drilling holes for the latches to be attached. There is only a need to do this once as once the latches are in place, the FPSS can be taken down or installed with a simple screwdriver. If you live in the southwest US, then you can likely leave these up year around. If you live in a cooler region of the country, you may wish to remove these to store for the winter months. Because the fabric blocks the UV rays, leaving these in place through the winter can increase the heating costs.
We are in the process of writing a guide on these, and we are currently in the research phase.

If you own these products, we'd love to hear from you. Did you install them yourself? Are you happy with the purchase? Any tips that you'd suggest we share with our other readers? Also, we'd love to get some more pictures for our guide. We'll happily give you a shoutout for any information you provide to us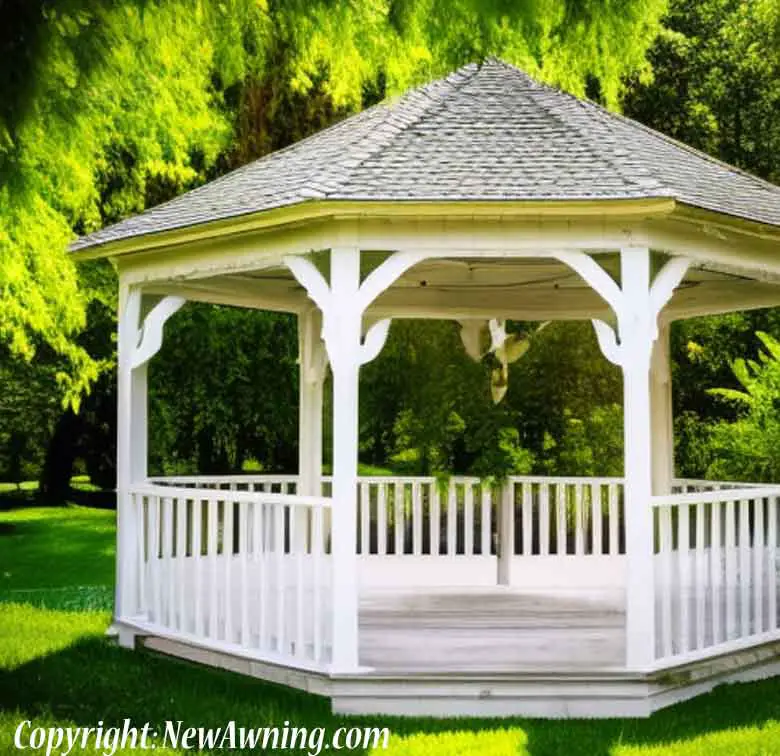 Pergolas are free-standing structures. They are often allowed in neighborhoods that restrict many of the other options because they are not attached to the house. Some HOAs have restrictions on any detached building. For example, our community doesn't allow any building with a height over 6′ so this wouldn't be an option for us. These are the Cadillac of backyard shade structures. They make incredible picnic areas, and our family spent many weekends grilling on my aunts Pergola.

There are two primary building materials for pergolas, and they are metal and wood. From a practical sense, there's little difference between the two. The difference is aesthetic in that the wood pergolas have a high-end resort feel. When considering these, you could expect to pay about $4.10 per square foot for metal or $8.50 per square foot for the wood ones.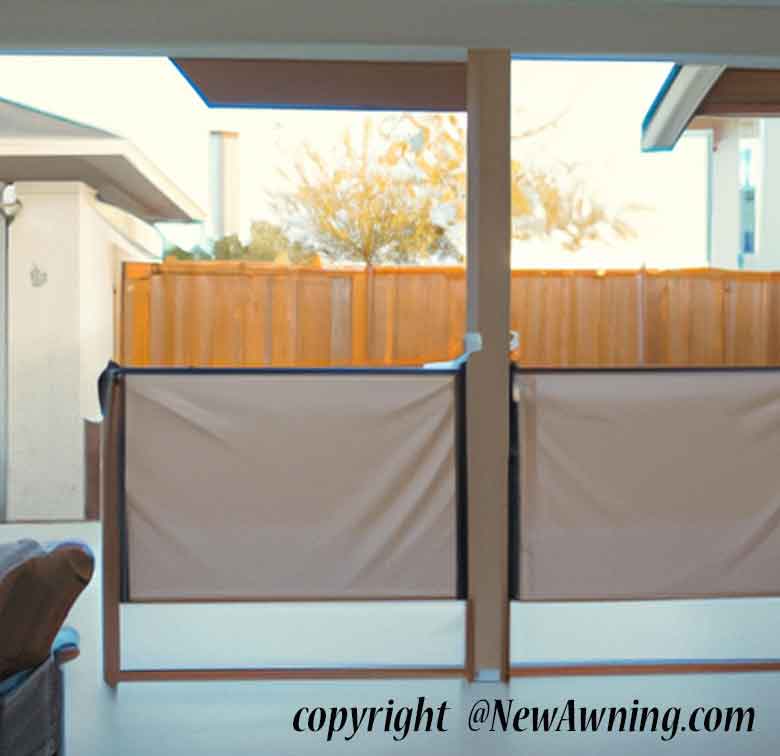 Before diving into the details, I want to share that I may be a bit biased as I really like this product. We live in Phoenix, and I consider these to be mandatory. We have the film on every window of our house, and it makes a very noticeable difference. If you're not familiar with window film, it comes as both clear or decorative. The latter can be frosted glass, stained glass, or other designs. Our current home only has the clear; however, in our previous home, we used the frosted film to provide some privacy for a ground level bathroom window.

The film comes in large rolls that remind me of Christmas wrapping paper. A roll is 36″ x 15′, and it will cover about 7 standard size home windows. The installation is super easy taking less than 10 minutes per window. It also requires no special tools. The manufacturer states that it will cut the effect of solar heating up the house through the window by 50% and cut 99% of UV rays. I haven't independently tested either number; however, from personal experience, it does make a difference.

The clear film should be allowed by nearly every HOA. We haven't included a specific image of this product because it simply looks like a normal clear window. If you are checking to see if this has been applied to your home by a previous owner, you can usually see the cut marks next to the window frame. In terms of cost, these work out to be about $4.50 per window. If you're interested in the film we use, I have included a link to it here on Amazon.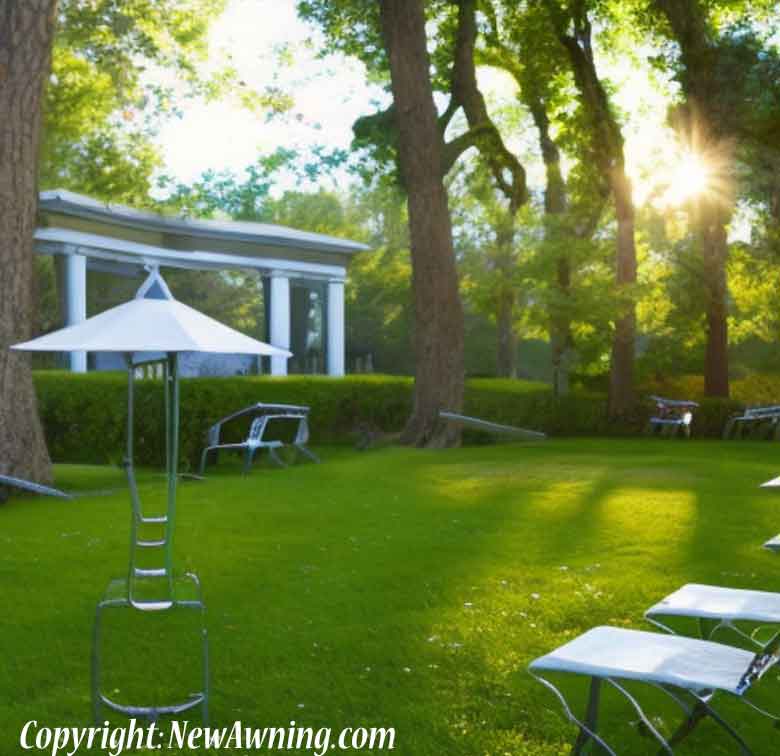 To be transparent, this wasn't one of my original suggested when I initially wrote this. However, I was bombarded with people who emailed me that trees should be on the list. This is well outside my expertise so I am paraphrasing some of the emails. Trees are an amazing alternative to awnings because they can create an outdoor shaded area, and they can decrease the amount of solar rays that hit a house. Better Homes and Gardens has a great guide on the top shade trees if you'd like to know more.

Additionally, the guidelines in HOAs are often far more open when it comes to restricting the size of trees or bushes. If you are a landscaper or really knowledgeable DIYer who has planted trees, I'd love to hear from you. Our family has three fruit trees, but they came with the house so I don't feel comfortable sharing personal tips.
Marcion Albert Last Updated:September 26, 2023