How to convert your sunroom to a home office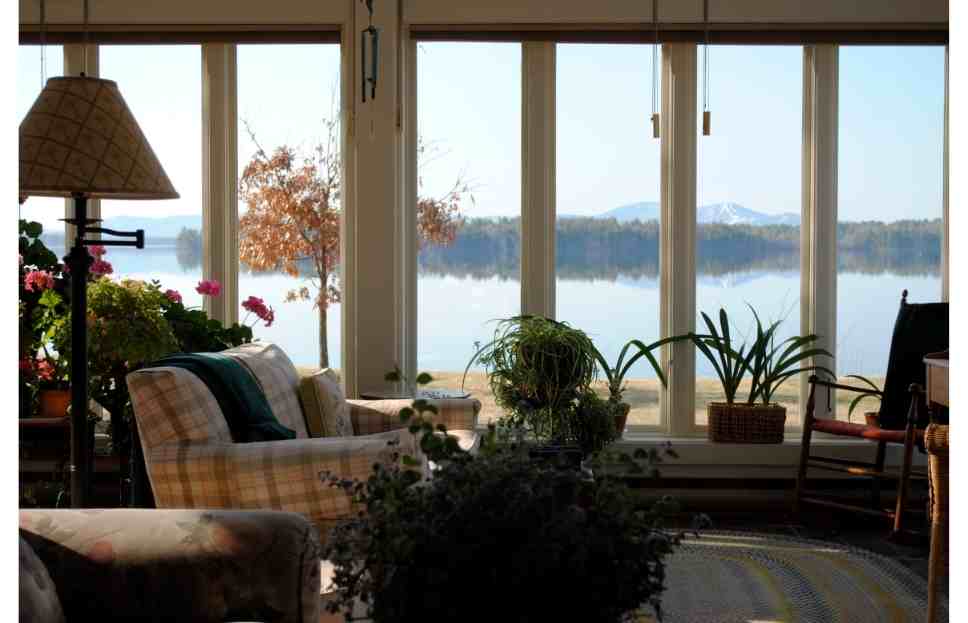 People who work from home are always looking for ways to maximize their space. One way is by converting a sunroom into an office, which can provide extra space and bring in natural light. To make the most of this type of conversion, you need to take some steps before you begin your transformation. First, identify what type of workspace would be best for your needs- whether it's a traditional desk with chairs or something more creative like a standing table with stools or even just an open floor plan where people can move around freely.

In this post, we'll cover the main items you'll want to consider when converting a sunroom to an office you can be proud to work from.
Start with your work space
For most people this will be a desk where they can have a computer. The desk will need to be big enough to hold the screen and keyboard. If you are using a laptop you will need a wider surface than if you are using a PC which can sit on the floor.

When considering where you will place your computer, I look for a space that is at least 26″ deep, and I prefer 40″ wide. This is deep enough so you'll have room to use the keyboard for typing.

You will also be able to keep the monitor away from the back edge of the desk to avoid it accidentally getting knocked over if something were to pull on one of the cords.

I prefer 40″ or slightly bigger as it gives me space on either side of my monitor for my mouse. Also, if I have any food or drinks I can set them far away from my computer in case there is a spill. Also at this distance, they should be out of frame for any zoom calls.
Choose your desk
If you are going to convert your sunroom to a home office permanently, then it can make sense to splurge for a desk. But if this is a temporary solution during quarantine, there are some options that will be more budget friendly which will also have some use once you stop working from home.

Small dining room table – I personally love using a small dining room table as an office. I spent years working at Amazon corporate headquarters where we had door desks. (source:) My plain, natural wood table reminds me to keep humble and to think long-term.

I also like the minimalist design as it allows me to focus on the task at hand. Small dining tables are quick to assemble, and you can find some really good deals for less than $80. I've included a link to our current favorite dining table to be used as a desk.
CONTEMPORARY DINING TABLE: Dark, sleek and totally handsome. It's simply a treat for the eyes. This dining room table is a sophisticated addition for your personal at-home bistro
RECTANGULAR SHAPE: Dinner table is made of veneers, wood and engineered wood with sharp, tapered legs
MINIMALIST DESIGN: It's sleek with no frills, but absolutely stunning in a rich hue that commands attention. The modern simplicity will match almost all decor styles
EASY ASSEMBLY: All you need is a screwdriver to attach legs and your dining table is ready to enjoy. Instructions and hardware included
DIRECT FROM THE MANUFACTURER: Ashley Furniture goes the extra mile to package, protect and deliver your purchase in a timely manner
BUY WITH CONFIDENCE: Designed and manufactured by Ashley Furniture Industries. The trusted source for stylish furniture, lighting, rugs, accessories and mattresses. For every taste and budget
Folding Card Table – This is a very popular option for people with limited space. Folding card tables with be 33″ x 33″ in size. You can find a quality card table at less than $50 (source: B00E8SZ4MY).

The main reason that I've heard people pick these is that they can easily and quickly be folded up to sit in a corner while not in use. This is perfect if you need to have an office during the day, but want to have it as usable living space after hours.

This works best if you are using a laptop that is portable rather than a larger wired desktop PC with a standalone monitor and keyboard.

We heard from one parent who uses folding card tables to setup temporary desks for her children to home school days. Due to quarantine, she would sometimes have other kids come to her house when their parents weren't able to be home.

The folding card table desks allowed her to have working space for the kiddos that she could easily spread apart by the require 6.

One other benefit of the folding card table is that they will have a padded rubber top. This is either something you'll enjoy as it feels like a permanent wrist support which is helpful if you are doing a lot of typing.

Dedicated Computer Desk – There are a lot of great small computer desks that come in a variety of sizes from 32″ wide all the way up to 63″ which is enough space for two people to sit side by side.

The latter is a great solution because the desk can sit against one wall and have a workspace big enough for two people. These computer desks are a little less deep than the previous two options. This can be a better solution if you want something that is permanently setup which will protrude less into the room.
Meet more needs:Storage bag and hook are added based on the basic computer desk
Sturdy and Durable:Use triangle iron and diagonal scaffold braces to connect the frame
Multiple-choice:32/40/47/55/63 inch available for different purposes like a home office, study, writing
Installation Guide:Except for the manual, you can also refer to the installation video on the page
Materials:Melamine-faced board, Steel, Non-woven fabric


One of the nice benefits of a dedicated computer desk is that if you return to the office, it can be slid against a wall and used as a wall focal point with nice vase of flowers. It's also large enough for a television if that's something you're family would be interested in.
Choose your chair
When a lot of people first began working from home, they simply used a dining room chair. This is a near free option as everyone will have them, and most people will have spare.

The drawback to the dining room chairs is that they are not padded well, and they are not designed to be sat in for 8 hours per day. At the very least, I'd suggest getting a comfortable seat cushion to lessen any long-term backpains.

Remember, even if you don't get backpains after the first day, the fatigue may be building up so days two, three or four could just start hurting.

For this reason, we recommend getting a comfortable office chair. While I have always been frugal on desks, I err the other way on office chairs. Over the course of my career, I've two office chairs break as I was sitting in them.

Both times, it led to me taking a spill onto the floor. The second time, I slammed hard onto the ground which left me in pain for several months. I eventually went to physical therapy and got rid of the pain with the use of a tens unit.

Sadly, that fall could have been prevented if the company I worked at had splurged on quality office chairs. They had bought everyone $70 chairs from Costco, and I was the third person to have broken the office chair. I and the other two people were clearly over the weight limit of the chairs, but we didn't think about it.

When I got a replacement, I got a heavy duty chair that wasn't going anywhere.

When I built out my own office, I specifically look for office gaming chairs or executive chairs that support up to 400 pounds. I don't weigh 400 pounds, but I know that anything which is graded to hold this much weight won't buckle even if I shift around.

If this is a temporary home office, I'd look for an executive chair for around $200. If you are going to be working from home on a permanent basis which I do, I spend $400+ on all my chairs.

I like the extra padding and better back support. I also really like the adjustable arm rails as it gives me a chance to change my seating position for meetings or zoom calls where I am mainly listening instead of typing.

If you're looking for an office chair on a budget, I really recommend the char below:
[EXTREME COMFORT] - Elevate productivity with double-layered cushions, high elasticity pocket spring seat, and a 30-50% thicker cushion.
[PADDED HIGH-BACK] - Supportive high-back with excellent lumbar support and S-shaped design. Padded back cushion for comfort.
[STURDY & TESTED] - Passed the BIFMA 200,000 rolling test. Heavy-duty metal base supports weights of up to 250 lbs.
[SOFT & STRONG PU LEATHER] - Luxury look of leather with unique side designs. A smoother surface makes it easier to clean.
[CUSTOMIZE YOUR COMFORT] - Personalizable positioning with the flexibility to recline, stay upright, adjust the height, and swivel 360 degrees.
This is a budget friendly chair that is comfortable to work in for long stretches of time. Due to my size, I always go with a more heavy duty chair, but if you are a person who is less than 250 pounds, this one should be rugged enough to support you.
Choosing a Backdrop
Nearly everyone working from home will be on a video call at some point. For this reason, it's important to determine how your room will look on camera. You don't want the embarrassment of having a pile of dirty close behind you or a eyeline view of the bathroom from your camera.

I have my desk near the center of the room so that when ever I am on a video, the other people only have a view of the wall. I had previously had the desk facing the other way using a window as a backdrop, but the shades didn't block 100% of the light which bothered some of the other people on the videos.

One tip from our community is to slightly tilt the camera towards a corner. This way you can have better control over what people see of your room. You'll also be able to shield a good bit of the room instead of having a thin slice on each edge of the camera.

Another option suggested by a reader is to use a green attached to your chair. This is perfect for someone with a small or cluttered room because you have full control over what appears behind you.

There are plenty of free backgrounds that you can use online. Some are simple background that can look like an bedroom, office, or other room in your home. Others are fancy like statue of liberty, snapshots from a zoo, or even a nifty city skyline taken from a skyscraper.

Ultimately, the beauty of using a green screen is that you are not limited to your physical surroundings. One word of warning though is that if you go too over the top, some teachers have requested their students not use images on their green screen as it can be distracting.

If you find yourself in this circumstance, you can just disable the overlay and film yourself in front of the green screen that shows up as green so that you still have something blocking your physical surroundings.
Sound Dampening
Sunrooms aren't known for being the most acoustic friendly room in your home. Sound will reverberate from the hard surfaces like walls and windows. This can often be picked up on standard laptop microphones.

A very low budget solution is to have a stack of towels on the corner of your desk beside your computer. Towels are very dense and will absorb a lot of the soundwaves as they go past.

Also, most homes have some extra bath towels that can just be folded and left on the desk during video chats.

We do not recommend putting up any type of sound resistant panels or other dedicated noise reduction items. The reason is that these may not be wanted by potential home buyers, and removing these can lead to damaged walls.
Lighting
Sunrooms have terrific natural lighting. When people convert a bedroom to an office, they often want to add additional lighting because the overhead light from a ceiling fan can often feel inadequate. Also, many people can't put their desk near a window in a bedroom meaning that natural light really isn't an option.

Sunrooms shouldn't have this issue as most or all of the room should have access to sunlight. If this is even the slightest concern, you could look at getting a floor lamp that sits in the corner of your office.

My wife has a small desk lamp that sits near her. She turns uses it on cloudy days or there are some physical paperwork that she needs to read over carefully. Ultimately though, office lighting shouldn't be a big deal in a sunroom.
Wrapping up
So that's our guide for converting your sunroom into a home office. If you'd like to learn more about sunrooms, we've completed a full guide to sunrooms. Also, we love hearing from members of our community. Have you converted one of your rooms to a home office? Do you have any tips that you'd like to share with our other readers?
Last Updated:November 10, 2023