Sunroom Hot Tubs – (Everything You Need to Know)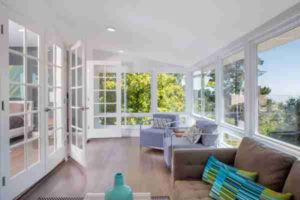 Putting hot tub in sunroom can be a great idea because hot tubs can stay outside or indoors, all year long. You want to make sure that the floor is made of concrete and you should open some windows to avoid condensation. Having hot tub in sunroom will provide privacy from neighbors.

We'll cover everything you could every want to know about putting a hot tub in a sun room .
There are some things to consider such as the floor being concrete. Hot tub should be placed in sunroom to have hot tub all year round while avoiding condensation build up by opening windows. Hot tubs will also last longer if they are kept out for harsh winter weather. Additionally keeping the hot tub in a sun room will allow you to use it year around regardless of how cold or snowy it is outside.
Make sure hot tub fits in the sunroom
For structural reasons hot tubs come mostly or fully assembled. They cannot easily be taken apart so if you want to put it in a sunroom or screened porch, you will want to make sure it fits inside.

A small 3 person hot tub can weigh over 600 pounds so this is not something that can easily be moved. You will need multiple people, and will likely be rolling it to the desired location.

Many homeowners who want to get a hot tub in sunroom will need to temporarily widen the door or create a completely separate opening in one of the walls. Many homeowners have chosen this time to upgrade their door to the sunroom to either French doors or a larger sliding glass door.
Make sure the floor can support the weight
We recommend putting a hot tub or jacuzzi on a concrete slab. Some people choose to put hot tubs on a wooden deck, but there are some risks to this. The extra weight from the hot tub add considerable extra weight.

Our example, small 3 person hot tubs weighs 610 pounds on its own. It holds 310 gallons of water each of which weighs 8 pounds. This means that an operational small 3 person hot tub will weigh over 3000 pounds or 1.5 tons before any person gets in it.

For reference a Toyota Camry weighs 3150 pounds (source) , and it's weight is spread over a larger space. ( As a general rule of thumb, if you wouldn't park your car on your wood deck, then it's not a good idea to put a hot tub on it.
Sunroom hot tub flooring suggestions
We highly recommend using a concrete slab underneath and around the hot tub. Carpet is a complete show stopper. People will splash in the hot tub. People will drip when they get out, and the carpet around the hot tub will get moldy or mildew. This is a near virtual certainty regardless of the type of carpet.

Vinyl plank, tile and laminate are a better option because they won't get moldy; however, they may become slippery when wet. They are not a complete solution. If you have one of the harder surfaces, we recommend having some non-slip mats around the hot tub.
[Warm Prompt] Since the door mat is folded up when it is packed, it's usual for the item to arrive wrinkled. Do not be concerned, it will not affect use. Please machine wash it, lay it flat for 2 to 3 days, and wait patiently for it to recover; alternatively, you can use a hot iron on the wrinkles to remove them perfectly.
[Absorbs Moisture and Dirt] Our indoor doormat is capable of removing dirt and fast absorbing moisture. Upon entering the house, your shoes will be immediately free of any water, dust, grit, muck, sand, sleet, grass, slush, rain, or snow thanks to our doormat. Our indoor doormat safeguards your flooring by capturing dirt and moisture, keeping it dry and clean. The doormat is ideal for use as an entryway doormat, welcome doormat, dirt-trapping doormat, or front door rug.
[Sleek Low-Profile Design] Our mat measures 24 inch x 36 inch and features a 0.4 inch slim, low-profile design with reinforced overlock edges. The door rug's construction guarantees that doors won't become jammed and that it will remain in position. Your entryway, front door, house, lobby, office, patio, garage, business, barn, living spaces, driveway, and other public areas are all tastefully decorated with sophisticated colors and patterns.
[Easy to Clean] Simply shake off the doormat outside or over your rubbish can, sweep it with a broom, or vacuum it with a hand-held vacuum cleaner. The doormat can be machine washed and dried for a more thorough cleaning. We advise using cold water for rinsing and low heat for drying.
[Please Note] Place the door rug on a level, flat, dry surface after fully opening it. During use, the doormat must be set down on a dry area. Slippage could happen on a damp surface. No matter how many times you wash and dry a piece, the color will not fade and will remain brilliant. If you have any questions about any quality control problems, kindly contact us.


If you get a rug, you'll want to wet the floor and make sure that it doesn't slide. The benefit to the rug is that after an evening of using your jacuzzi you can hang the rugs up to dry.
Ventilation is a must
The open water will add humidity to the air, and it will condensate on the windows or any other cooler substance. This could lead to mold or mildew on walls, furniture or many other substances in the room.

The minimize the impact of this excess water in the air, you'll want to open some of the windows and have a fan to circulate the air. Whether you use a ceiling fan, a few box fans or even some of the cordless fans this is going to make a huge difference.

If you can't absolutely use a fan with windows open due to weather, we strongly suggest using a dehumidifier. You will want to run the dehumidifier all the time the hot tub is in use and even after you're done with the humidifier for the evening. My parents have a slightly damp basement and they run their dehumidifier most of the time.
Hot tub room addition
A sunroom is a perfect room to be used as a hot tub room. Sunrooms are designed to be on the exterior of the home. They will have a lot of windows that can aid in ventilation. The windows will also create a more open feeling for the whole room.

It will also be more familiar since most people are more accustomed to using a jacuzzi outdoors. Sunrooms will normally have blinds or shades that can be drawn if you want privacy, but they can be left open to get a view out the garden or lawn.

Another perk of sunrooms as hot tub rooms is that they will always have a door directly to the outside. This is perfect if you want to host a BBQ so that the entire party can be centered in and around the sunroom area.

If you are building a sunroom to serve as hot tub room, we recommend using French doors. The opening for standard French doors go as high as 72″ or 6 feet. This is going to be big enough to fit many hot tubs. There are even some six person hot tubs that will fit in the 72″ wide opening.

One of the reasons for going with hot tubs over a sliding glass door is that it will be easier to remove the hot tub should there ever be a need to remove or replace the hot tub. Sliding glass doors can be removed and taken out, but this is far more work than simply opening the French doors.
Can you use a hot tub in a 3 season room?
A 3 season room is a specific type of sunroom that doesn't have heating or AC. This is definitely an options. I would be cautious about how much water is stored in the winter. Some hot tubs don't require being drained for the winter while others manufacturers suggest this. You will want to understand the exact requirements from your hot tub's manufacturer.

Yes, you can use a hot tub in a 3 season room. We recommend having the hot tub on a non-slick surface in a room that is gets good air flow.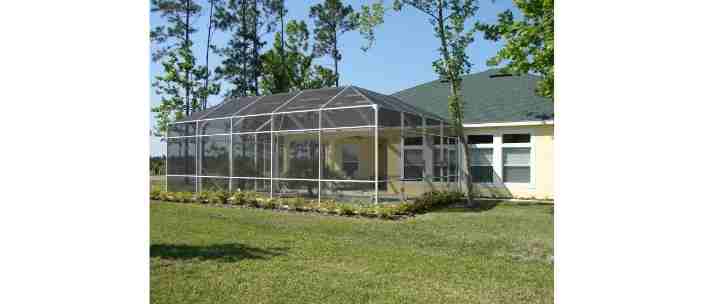 Yes, you can have a hot tub in an enclosed room such a sunroom, screened porch or conservatory. We recommend the room be at least double the space of the hot tub. This means if the hot tub is 6′ x 6′ or 36 square feet, that you'd want a room that is at least 8'x10′ or 80 square feet.

This is the bare minimum, and it will still feel quite cramped at this level. Ideally, you would be going for 3x or 4x the footprint of the hot tub.
Can you put a hot tub indoors?
Yes, hot tubs can be used indoors. The biggest obstacle is getting them installed because the door opening is often not large enough for the hot tub to fit through. If you are building the addition, you will want to get it delivered before all the walls are built.

You will also want to ensure that the floor can support the weight. A rough guide is that a hot tub will weigh around 0.5 tons per person capacity. This means a 3 person hot tub would weigh around 1.5 tons (3000 pounds) while a 6 person hot tub would weigh 3 tons (6000 pounds). This is for the hot tub alone before any people use it.

For reference, a 6 person hot tub will weigh as much as *TWO* Toyota Camry cars.
Will indoor hot tubs smell?
An insufficiently ventilated hot tub will result in a stale, musty smell for the entire room. This is a sign that you may be at risk for mold or mildew growing. If your hot tub room begins smelling, we recommend opening the windows and setting up some fans to better circulate the air.
Wrapping up
Thanks for reading our guide to hot tubs in a sun room. If you are interested in learning more about sunrooms, we've written a complete guide to sunrooms. Also, we love hearing from our readers. We'd love to hear from you around any projects that you're doing for your home. As a reminder, we are just average homeowners who like DIY projects. Our community is filled with people who enjoy improving their home, and we'd love to hear from you.
Last Updated:May 27, 2023