How to convert your sunroom into an exercise room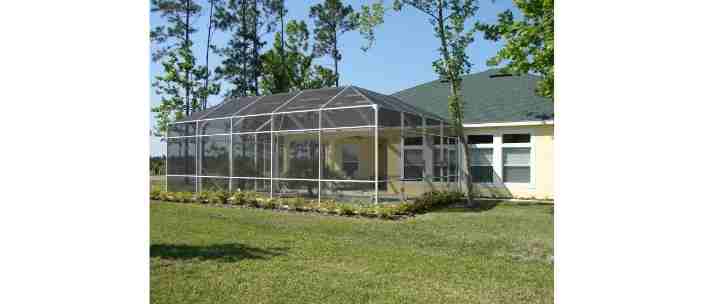 For many people, their home is the only place where they have control over what goes on. In a growing number of households, it's also where they do most of their living. So why not make your home even more livable by transforming one or more rooms into exercise spaces?

You'll get to work out anytime you want and reap the benefits in both weight loss and increased energy levels. Plus, you'll never need to worry about making time for a workout again!

Here are some tips on how to go about converting a sunroom into an exercise room.
How to turn your sunroom into a gym
Sunrooms are fairly large spaces at least 100 square foot, and often much bigger. Because of this you can usually put one or two pieces of equipment in the corner without worrying about cluttering the room.

Another item you'll want is some form of rubber flooring. I really like the interlocking rubber tiles. These make a great workout zone, and they are absurdly easy to put together. They are so simple that even a child could assemble them without any issues.
Stylized Flooring Solution - Forest Floor Premium Wood Grain Foam Floor Tiles come in interlocking EVA foam tiles, available in 24" x 24" x 3/8" thickness, with a wood grain appearance for a stylized look in any room.
Versatile Uses - Elevate the decor of any room in the house, or use in the basement, garage, playroom, classroom, or at tradeshows. Forest Floor Printed Foam Mats provide a beautiful and versatile flooring solution.
Cushioned Support - Reduce strain on your feet, knees, and back with these anti-fatigue mats. Use over concrete, hardwood, or other hard surfaces that require more support for your joints. Ideal for use in the office, kitchen, garage, or any room in the house.
Suited For Fitness - Forest Floor wood grain printed foam flooring tiles provide safe extra cushioning and are suited for personal fitness activities such as yoga, stretching, and bodyweight exercises.
Easy Installation - Assembles in minutes over any hardwood or flat indoor surface for extra padding. Each style of interlocking tiles is unique and will not interlock with other styles, nor do they interlock with tiles from other companies. Enjoy hassle-free installation and stylish flooring with our Premium Wood Grain Foam Floor Tiles.
I also recommend having window coverings that can be open or closed. You may want them open in the summer warm days to allow for ventillation. You may also want to close the blinds or curtains if you have neighbors with prying eyes to get some privacy.

This isn't mandatory for sunrooms specifically, but window coverings is one of the first things we add to our existing sunrooms.

You will want a dedicated space for your exercise equipment. This normally works best as a corner where you can put your exercise bicycle or workout bench. If you have a smaller space, maybe you just want to have a yoga mat or some kettle bells that can be stored out of the way.

We also really like having a TV in any workout room. Being able to watch a TV show or movie will just make the time pass much quicker. It may seem hard to do cardio for 20 minutes, but it's much easier to just put on an episode of your favorite comedy like Friends or Scrubs do cardio while it's playing.
Why have a home gym?
There are many reasons to have a home gym. For example, you could use it to get in shape, lose weight and work on your overall health.

You can even set up a home gym for children so they don't spend their free time staring at the TV or playing video games. It's also a great way to keep your kids active during school vacations.

Exercising at home doesn't require expensive gym memberships. At $15/ per month for a single person, you would be looking at $60/month or $720 for a family of four. For this same amount of money you could buy some very nice workout equipment that will be with you for the long-term.

When you workout in a spare room in your home, you can do it any time day or night. You don't need to worry about making a special trip to the gym or driving on icy roads in the winter. You can have quick access to protein shakes and snacks without buying the overpriced items at the gym's smoothie bar.

Furthermore, you don't need to worry about the gym closing due to quarantine. When you exercise in your own sunroom, there won't be anyone else there who is spreading germs or not wiping down the equipment after they are done.

I really like the ability to workout multiple times per day. I can do cardio right after waking up before breakfast, and then do some lifting right after lunch before I start my afternoon. This would be difficult or impossible to do if I had to go to an offsite gym.

Another perk of having the exercise equipment in your home is that it's a constant reminder to work out. We have both a stationary bicycle and a Total Gym in our house. They are permanently setup so they serve as a reminder that I can work out whenever I have a few minutes.

I also really like having the total gym as there are times that I will feel tight in my back or legs, and a quick workout to stretch the muscles will help workout a cramp.
Best exercise equipment for a sunroom exercise room
If you are into weight lifting or want a single device for all your needs, we really like the total gym. I bought a Total Gym XLS in 2009, and it still works great even after 12 years.
Equipped to handle more than 80 exercises in 1 machine for a total body workout to concentrate on all the major muscle groups through cardio, strength training, and stretching
Comes complete with ab crunch, wing attachment, exercise chart, training deck, and nutritional/meal planning guide; Maximum weight capacity of 400 pounds
Soft synthetic rubber padded handles with ABS swivel handle and nylon webbing for hammer grip action with short, efficient, full-body workout producing fast, observable, body-changing results
Includes access to 7 classic Total Gym DVDs on the Total Gym TV online video platform for guidance and training ideal for all fitness levels with no assembly required, and folds for compact storage
Total gym machine folded dimension measures 51 inches long, 19 inches wide, and 9 inches tall; Unfolded dimension measures 90 inches long, 19 inches wide, and 43 inches tall; Weighs 93.4 pounds
The reason I really like the total gym is that it uses my body weight as the resistance. This means I can easily move it. If we need to use the space for a Christmas tree or to host a dinner party, it easily folds up.

The Total Gym XLS also has a lot of cardio exercises that can be done with it. Alternatively, you can lower the incline of the sled to vastly lower the weight. This will allow you to get a lot of different type of movements for cardio.

If you are going to get a dedicated cardio machine, we really like a rowing machine. My doctor recommended me moving to a rowing machine after I hurt my back. Treadmills can put strain on your knees so I am super not a fan of treadmills. I like ellipticals more than treadmills, but I just get tired of doing an elliptical machine. I feel like the elliptical works my legs, but doesn't do much for my upper body.
ERGONOMIC FOOT PEDALS: Engage your quads as you propel your legs back and forth on the pivoting foot pedals with adjustable straps. Slip-resistant handlebar ensures secure grasp.
OVERSIZED SEATING: Large padded seating smoothly glides along with the 43 slide rail inseam. The heavy-duty frame holds 285 LBS. While stabilizers promote stability.
MAGNETIC TENSION: 16 Levels of tension ensure a versatile and challenging workout with virtually no maintenance.
FOLDABLE ROWER: Convenient folding rower machine folds upright. Great for smaller in home gyms.
SPM MONITOR: Check out all your fitness stats on the easy-to-read monitor displaying Scan, Time, Count, Calories, and Total Count.
NON-SLIP HANDLEBARS: Grasp the foam padded handlebar and begin your rowing workout. Slip resistant handlebar ensures a secure grasp.
TRANSPORTATION WHEELS: Convenient folding rower machine measures at 36.3L x 23W x 47H inches when folded upright. Great for smaller in home gyms. Transportation wheels for easily transporting your machine.
BOTTLE & DEVICE HOLDER: Place drink and mobile devices to watch your favorite fitness videos.
If you are looking for a rowing machine, we really like the one above. It has 16 levels so you can get a wide variety of workouts. It uses magnetic resistance, and it has a convenient place for a tablet so you can watch

One thing to look for is nice wide foot holders with a strap on the top. This will make it easier to do the exercise since you won't be worries about your feet slipping.

If you're looking for the traditional bike, I think it's hard to beat the Cyclace Bike
Stable Indoor Bike-Boasting a sturdy triangular frame made of thickened steel, a 36lbs flywheel, and a belt-driven system, Cyclace exercise bike offer a stable and smooth ride that's quieter than a chain-driven system. Supporting up to 330 lbs, it's the perfect choice for anyone looking for a reliable and high-quality indoor bike!
More Effective Exercise Bike-Helping you achieve more in less time. Riding can burn fat quickly, build core muscles, and strengthen the heart while reducing injuries. With its multi-grip handlebar and adjustable resistance, Cyclace stationary bike meets the needs of beginners and professionals alike.
Personalized Stationary Bike - A fully adjustable indoor bike designed for family use. The bike features a longer, adjustable seat support post, a 2-way adjustable non-slip handlebar, and 4-way seat for people (inseam 28-39") to use. With transport wheels,you can easily move this indoor cycling bike.
Easier to Stick to Your Workout - The LCD monitor tracks your progress in real-time (time, speed, distance, calories burned, and odometer)while you cycle. You can put your phone on the holder to watch videos, and the comfortable seat cushion allows for a more enjoyable and effective workout experience.
What You Get- Not only an exercise bike, but also your sport life and good partner! We provide a one-year warranty service, all messages will get responses within 24 hours.
This bike supports riders upto 330 pounds. It reminds of the expensive bikes from the professional gym I used to attend to do spin classes. It has adjustable seat and handle bars to provide the best comfortable fit.

Stationary bikes are great options for cardio as they can be done while doing other tasks. Whether you are dictating emails or attending conference calls on mute. Exercise bikes allow you to engage your upper body and core if you want to, but they also have the option to only work your legs.

If you have a smaller sunroom, you could simply keep a yoga mat or free weights stored in the corner. This would allow you to exercise to a video in any open floor space you had.

Also, the cost of these options is very low. You could get a quality yoga mat or kettle bell for under $20, and either of these items is enough for a whole body workout if you are following along a video.
Sunroom advantages over spare bedrooms
Sunrooms have a lot of windows. This can allow for more ventilation if you are looking to get either sun or fresh air while working out. Sunrooms are normally on the first floor of a house whereas bedrooms are normally on the second floor.

This can make a huge difference when you think about about moving an exercise bike that weigh 80 pounds up and down the stairs.

Sunrooms are also separated from the rest of the home. This is great if you want to section off an area of the home where your pets or children will be safely away while you are moving weights or on the total gym.

Working out when you pets are wandering around the area can be stressful, and sometimes lead to their accidental injury.
Wrapping up
So that's our guide as to converting your sunroom into an exercise room.

As I normally write, we are a community of average homeowners who really enjoy DIY projects.

Have you ever converted your sunroom to an exercise room? How did it go? If you've converted another room to an exercise room, I'd love to hear anything you think we left out.

Are there any rooms you feel are better for the conversion?
Last Updated:November 16, 2023