Sunroom Size Options (What's best for your home?)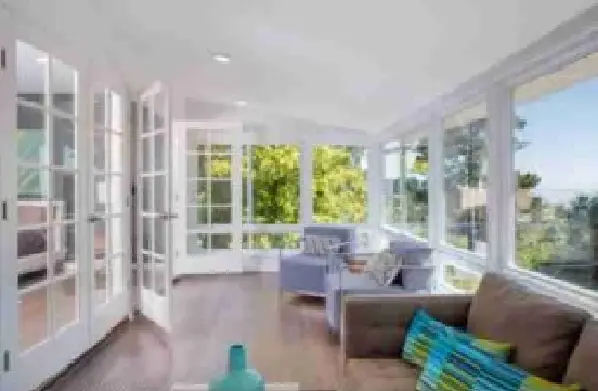 A sunroom is a great way to enjoy the outdoors in any season. But what size should you get? Small, medium or large? This post will help you decide which one is right for your home. Best uses for each size room and the advantages and disadvantages of each.

This article will cover the advantages and disadvantages of each size. It will also include the considerations and what may lead a homeowner to their ultimate decision. We will also cover some popular uses for sunrooms at each size.
Advantages of Small Sunrooms
We define a small sunroom as anything around 132 square feet. This is 11'x12′ which is roughly the size of a child's bedroom. It's large enough or a twin bed, a desk ands mall closet.

The major advantages of the small sunroom are that it is easier to heat and cool and it is cheaper. They can also be placed on a deck or patio and will fit the smaller space. The are also more budget friendly than the larger rooms.

The disadvantages of a small sunroom, however, include: less living space, difficult to make furniture fit and they aren't great for large groups. This should be thought of as a room that you'll want to use with one or two people.

Some great options for a small sunroom are art studios or streaming rooms. The windows will provide great ventilation for anything that produces an odor such as painting or clay. The windows will also provide ample natural light for either streaming, video creation or as a home office. This size room also makes a fantastic sewing room.

Another option for the small sunroom is a breakfast nook. A small 4 person table will easily fit in the room, and this can be a wonderful dedicated space to start your day with fresh air and sunlight.
Advantages of Medium Size Sunrooms
We define a medium size sunroom as one that is around 224 square feet. This is 14'x16′ which is roughly the size of a master bedroom. This size room is great for entertaining. It can comfortable hold 6-8 people for a social gathering or sit down dinner.

Rooms this size also make great media rooms with a large screen TV along one of the walls. The room is large enough to have good acoustics with speakers and a minor amount of sound dampening to eliminate the echo. If you are going with the media room, we highly recommend getting some blackout curtains so the TV can be seen during the brightest parts of the day.

Another great use for medium size rooms is for a covered area for food and drinks for a BBQ or party. This is the perfect choice if you are hosting a pool party because the sunroom can be used as an intermediary between the pool/patio area and the rest of the home.

There are no major drawbacks to this size as it is a compromise between the two extremes.
Advantages of Large Size Sunrooms
We define a large sunroom as one that is 400 square feet or 20′ x20′. This is the size of a small two car garage. My first apartment was 390 square feet so rooms this size are literally larger than loft apartments.

Large rooms are fantastic for hosting parties and having a dedicated entertaining space. They can also be used for gaming rooms like ping pong or air hockey, or exercise rooms.

I knew a person trainer who converted her sunroom as an exercise room, and offered training at her home.

Another person uses their large sunroom as a band practice room. This requires some soundproofing, but it is a great location separate from the rest of the home. It also gives them a chance to rock out as they are practicing. Also, this size room can be used to host a mini-performance as well.

The disadvantages for large rooms is the cost of construction. They will also require significantly more energy use for heating and cooling. Sunrooms aren't insulated to the same level as other areas of the home. For this reason, you'll find that you are spending disproportionately more to make that room feel comfortable.

We also find sunrooms this size to be less than ideal as media rooms. At first, it feels like a wonderful idea to create a large theater style room in your home, but it turns out that 20'x20 is just too much space. Residential projectors simply aren't designed to be shown at this magnification. Furthermore, the larger rooms will have difficulty filling the entire room evenly with sound.

The final drawback to a large sunroom is that it has the most likelihood to have a negative return on investment. A small sunroom will be a welcome addition to most potential home buyers. There are always options for a room this size as at the very least, it can be used as a storage room or guest bedroom.

For medium rooms, this requires someone who has a use for a larger space. The potential buyers also have to feel the room would be a good use of space for them. While you may love the media room, the next homeowners may be less into TV and just not feel they want to dedicate that much space in their home to a special purpose room.

The large sunrooms may even be a detractor to some potential buyers. I had a family friend who found the perfect home exactly in their budget except that it came with a barn. Ultimately, the decided against the property because they didn't want to be responsible for and have to the upkeep on the separate structure. I feel there will be some potential buyers who view the large sunrooms in this same manner.
Wrapping up
So that's it for our guide to sunroom sizes. We love hearing from our community. Have you added a sunroom? If so, what size did you choose and what are you using the room for?

Also, we've written a complete guide to sunrooms if you like to learn more about them.

As always remember, we are average homeowners and DIY enthusiasts. All articles included on this site is for entertainment and general information only. If you are looking for specific advice, we recommend hiring a licensed construction professional or general contractor in your area. They will be able to give you precise information about your exact situation.
Last Updated:September 26, 2023