Guide to Sunroom Window Coverings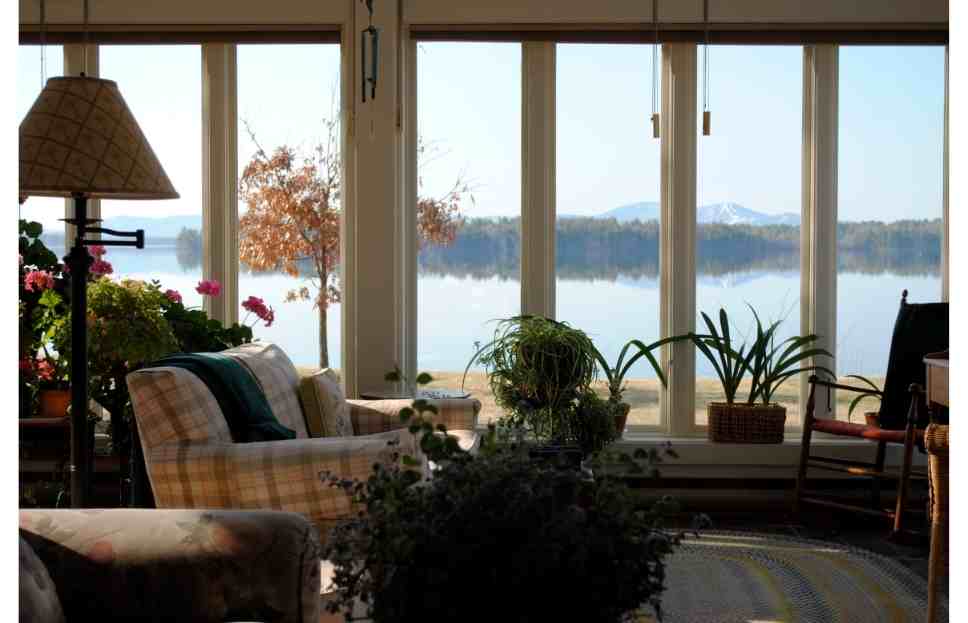 Most people don't think about window coverings when they're renovating a sunroom. But these rooms need appropriate lighting and the right amount of heat to be comfortable for guests. So it's important to choose your window treatments wisely!

There are many different options to choose from, such as honeycomb shades, roller shades, bamboo shades, and blinds. But which of these is the best option? How do they differ from one another and how do they compare to blackout curtains? Let's explore why each of these might be the right choice and which room they would work best in!
Window Blinds for a Sunroom
Window blinds are one of the most popular options. Quality wood or faux wood blinds that have 2″ slats have an upscale feel while being a tad more expensive than aluminum miniblinds.

Wood blinds will be about twice the price of faux wood blinds, and frankly, we prefer faux wood. It can be textured to have the look and feel of true wood blinds. Additionally, the cheaper wooden blinds do everything to keep costs low, whereas for the same price you can get some extremely high-quality blinds made of synthetic materials.

Since the vast majority of people go with white painted blinds, we strongly suggest going with faux wood blinds in this case. The only time we'd consider going with actual wood blinds is if you are going to leave it natural or stained as that is far harder to replicate.

Custom blinds are affordable at $30 per window. This ensures that you are getting them cut to length, and this is important. One of the drawbacks is window blinds are the heaviest window covering option. The reason is that the slats are solid material. Also because they need to overlap, their actual surface material is larger than the total window size.

Installing window blinds is a very easy DIY project that an average DIYer can do alone. The project is a little easier with a helper, but it's certainly a plus rather than a requirement.

This is in the best-case scenario where the blinds are cut so that there are no extra slats. Many times homeowners will just install blinds that are too long for windows which will leave a large number of slats at the bottom of the window.

The image below is an example of these excess slats on a blind.

Another major drawback is they are a nuisance to clean. The crevices of the blinds are a great home for dust and debris. Also, they seem to attract residual pet hair at an astonishing rate.

The final negative so traditional window blinds are that they don't fully block sunlight. There will be small gaps that let light through which can be annoying if you are going to use the sunroom as a media room.

Even with all the drawbacks, window blinds are a safe option for many homeowners. Since blinds are left with the home when you move, they are also a great window covering that will be desirable for the new homeowners. Some of the other options on this list will have little to no value when you move. The new homeowner may not want the curtains since they won't match their decor, and the people who are selling the home will have limited use for curtains that are designed to fit the windows in that specific sunroom.
PERFECT FIT: Don't settle for a close size with other guys when you can have the perfect fit with Lumino Blinds! Each blind is custom cut in the USA to provide you the exact size you need direct from the manufacturer. PLEASE NOTE: Each blind will be 1/2-INCH NARROWER than the width ordered. If mounting inside your window frame, measure and order your exact window width. For outside mounting, measure your window opening and add three inches. Measuring instructions are provided in the images.
ROOM DARKENING SLATS: Our 2-inch, room darkening flat slat blinds utilizes a specially designed lighter weight flat slat, which allows for tighter closure and provides you with the privacy and light control you desire. Perfect for living rooms, game rooms, nurseries, etc. We built our color-coordinated decorative valance into the headrail to save you time on installation and no more hassle with broken valance clips.
CERTIFIED SAFE: Each of our cordless blinds are "Certified Best for Kids" by the Window Coverings Manufacturers Association so you can have peace of mind knowing your children and pets are safe with cordless flat slat blinds by Lumino!
CLEANING AND CARE: All our flat slat blinds are moisture resistant making cleaning with a damp non-abrasive cloth a breeze. Ships within TWO business days!
Roller Shades for a Sunroom
The last time my parents did a remodel, they chose to go with roller shades. Roller shades are far easier to clean which is important as they were getting older. Roller shades are also very easy to install, and they don't have a lot of weight behind them.

This can make them the ideal option for older people looking for window coverings for their sunroom.

Roller shades come in a wide variety of opacity levels. They can either be fully blackout shades which will block nearly 100% of the external light down to being a mesh that will filter less than 15%.

This is another perk of roller shades as most people will want something in between the two extremes. Blinds don't have that option. They are either open or closed and if they are open the light will come full force through the gaps.

Roller shades can filter and diffuse light. When you want no light filtering you can just roll the shade up and have an unobstructed view of the outside.

Roller shades are budget-friendly coming in at roughly $25 per shade. Additionally, if you are hiring someone to install them you will often be able to get a lower total cost than window blinds because roller shade installation requires less labor than window blinds.

The final benefit that roller shades have over window blinds is that they offer increased insulation making them more energy efficient. They are not the best option when it comes to R-value, but this may be a consideration or tie-breaker if you are only deciding between roller shades and faux wood blinds.
PRODUCT DETAILS:【Blind Size】: 20"W x 72"H,【Fabric Size】: 19"W x 72"H. Noted: The fabric width is 1" narrower than total width. Made of 100% blackout fabric coated with white backing, feeling soft and smooth.
CLASSIC & SAFETY DESIGN: Our shade blind features a crisp & modern look equipped with metal chain and aluminum bottom rod. To ensure safety to your family, we provide a safety device to attach the chain to the wall and all the relevant safety instructions.
MULTIPLE FUNCTIONS: Our office roller shade blocks out 100% sunlight and UV rays. The thermal insulated backing can reduce room heat and cold loss through window during winter and summer, helping cut your energy bills. It also works well in noise reducing and privacy protection. Great for bedroom, living room, bathroom, kitchen, French door and office.
MEASUREMENT: The fabric width is 1" narrower than the total roller width, due to the brackets at the both ends. For inside mount, window frame should have at least 2" depth, and blackout roller shades will have a tiny light gap on each side. To avoid light gap, consider the outside mount. For outside mount, shade should be 4" - 6" wider than window frame, shade length should be at least 2" longer than the window length for better coverage.
EASY TO INSTALL AND MAINTAIN: Our window roller shade contains an accessory kit including metal bracket, screws and install instruction for convenience. Clean with damp cloth, Low Iron. If accessories are missing or broken, please message us and we will resend the accessories ASAP.
Honeycomb Shades for a Sunroom
I hadn't heard of honeycomb shades until 2012, and the first time I saw them I didn't care for them at all. Honeycomb shades are also called cellular shades, and we use the term interchangeably.

Honeycomb shades offer even better temperature regulation than either of the two options mentioned previously. When the shade is fully pulled down, the shade will have channels of air that will create an insulation barrier between the colder outside air and the warmer inside temperatures.

Cellular shades are a fantastic choice for Arizona or New Mexico to protect against scorching summer temperatures.

Honeycomb shades come near the middle of the price range for window covering options. You could expect to spend around $35 per window, and we find them even easier to install than roller shades.

Cell shades also have the option to open top down if you want to allow for an exterior view while keeping some of the lower parts of the window covered. This will be an upgrade for the shade, but this is the only product that allows the homeowner to open it from both the top and bottom sides.

Cell shades also can come in multiple opacities, but they do much better at the room darkening rather than light defusing.

Honeycomb shades also come in a huge variety of colors, patterns, and even textures. They are a favorite among interior designs because they can set the mood for a room.

Cell shades can also come cordless which is important to some parents. They are also good for younger children or older people due to the very low amount of force needed to open or close the blind.

Finally, honeycomb shades are very easy to maintain and clean. They also have a very long lifespan due to few moving parts in their overall design. We've had some honeycomb shades last for more than a decade, and they still work as well as the day they were installed.
UPGRADED CORDLESS DESIGN: The cord-free design provides a clean, tangle-free look to the window and creates a safer environment for children and pets; it will stay at whatever position you stop ; the bottom aluminum rail is weighted and rigid so it hangs flat and prevents from wind blowing
SMOOTH & QUIET GLIDE: Changshade robust constant force spring-loaded mechanism has passed 5,000 times usual lifting or pulling down tests for each blind and makes it easy to raise and lower the blind evenly every time and stay balanced automatically; it retracts and extends smoothly with constant force; our patented spring winder inside prolongs the lifespan of the springs, avoids the rebound or sagging performance and simplifies the mount of the blind
ROOM DARKENING SHADES: Made of thick non-woven fabric and built-in environmentally friendly aluminum foil coating inside the honeycombs, it's super private looking from the outside, even at night with the lights on while having it down; our insulated shades helps block out sun and heat and makes the room more energy efficient
DELICATE MATERIAL & CRAFTSMANSHIP: Whatever it has the size of 1 inch or 1.5 inch honeycombs, our honeycomb shades will dress up your room with these aesthetically pleasing pleats that will not stay flat even when you extend it to the full; the fabric is soft to the touch and durable, and do not collect dust easily
ONE YEAR WARRANTY & 100% SATISFACTION GUARANTEED: Changshade offers a one-year warranty; we want you to buy with confidence anytime you purchase products from our store. We provides professional customer service before and after purchase; we always respond within 24 hours. We stand firmly behind our products and keep striving for the finest. If there is any problem with your usage in the future, please feel free to let us know.
Woven Shades for a Sunroom
Woven shades are a fashion-forward trend in design right now. They are so popular on the HGTV remodeling shows. Woven shades are strips of bamboo woven with jute or ratan. The shades will have a nice texture that will create an interesting pattern, and they will create a luxury feel without setting a tone for the room.

There are a variety of sun-blocking options. They can be left open which will allow small bits of light through the shade. If you are going for something more room darkening, the woven bamboo shade can be lined with fabric so that it gets fully blackout shade levels.

Bamboo woven shades are one of the better window covering options for insulating since natural materials are good at energy absorption. Also, because the woven shades are exposed wood, they will be neutral which will make them appealing for many prospective homeowners when you're looking to sell the home.

Woven shades are a little more pricy option. Woven shades will cost around $40 per window.
WINDOW BLINDS : Chicology blinds offer a modern cordless solution for your interior
WINDOW BLINDS CORDLESS : Roll up blinds with a smooth mechanism. Pull down blinds are safe for kids
WINDOW SHADE FABRIC: Select from our woven blinds , blackout blinds and solar shades for windows interior
ROLLER SHADES FOR WINDOWS : Best for bedroom, kitchen blinds, door shades and rv roller shades
PULL DOWN SHADES FOR WINDOWS : Width has a 1/2-inch deduction. Hardware and instructions provided
Miniblinds for a Sunroom
Miniblinds are the least expensive option for window coverings. They remind me of what we had in college dorms or my very first apartment that was a converted basement.

The main reason to choose mini blinds is that they are the most budget-friendly. You could expect to spend $12 or less per window.

Another perk to mini blinds is that are made of aluminum. These are perfect if you want to install a hot tub because they will do so well with humidity. Also, they are good for people who want to use the room as a solarium to grow plants.

When we had rental homes, we went with aluminum mini-blinds because they were inexpensive to replace if they got damaged by the tenant. Also, we could quickly take them down and wash them to replace them.

While this is less of an issue than in the 1980s and 1990s, they are also a great option if people want to smoke in the home.
Cordless Blinds: Filter out light with the Achim Cordless Light Filtering Mini Blinds. These lightweight, vinyl blinds with no cords to get tangled are child and pet safe. Durable, high quality construction resists warping, fading, and sagging.
Find the Perfect Fit: Blinds will fit windows 3/8" (0.95 cm) smaller and 1/2" (1.27 cm) wider than stated size. Actual blind is 1/2 " (1.27 cm) narrower than stated size. Actual slat size is 1".
Easy to Install: Includes all the hardware you will need with simple instructions to make installation easy and convenient! Features hidden mounting brackets designed for inside, outside, or ceiling installation.
How to Use: When the sun is too bright or you want to take in the view, simply lift or lower the bottom rail to raise or lower blinds. Use the tilt wand to filter in the ideal amount of light and privacy.
Choose from a Wide Variety of Styles: Available in 5 colors: Alabaster, White, Black, Woodtone, and Grey, and 5 drop lengths: 25", 42", 48", 64", and 72" so you're sure to find the perfect fit for your home.
Vertical blinds for a Sunroom
We chose vertical blinds for our patio room. They are a great option for larger windows because they slide from side to side. This means are very easy to open and close. They are also great for rooms with pets our little bunny can safely hop around the room. She loves playing around the vertical blind and jumping from one side of the blinds to the other.

She likes both going from sun to dark, and the feeling of the slats brushing against her.

Vertical blinds can be cut to length. We find them harder to install than some of the other options on this. We strongly recommend having a helper when installing vertical blinds.

They come in a wide variety of colors or patterns, but nearly everyone chooses white. These are window treatments that will almost certainly be left with the home, so we would always choose white simply because it will fit in with what most prospective buyers would want.

The other drawback is that they have limited openings. Our window blinds only open left to right. Because they can only fold up so much, we can't get a full panoramic view of our backyard.
How do I add privacy to my sunroom?
The best way to add privacy is to add a window treatment to the room. This could be as cheap as aluminum window blinds or as high-end as custom bamboo woven shades. The options range from $5 per window to $100+.
Should I put blinds in my sunroom?
Blinds are a great window covering option for a sunroom. White is the most popular option, and faux wood blinds have a high-end feel for a reasonable price. They will also allow you to control the amount of light that gets into the room.
What kinds of blinds do you put in a sunroom?
The type of shade or blind you put in the sunroom is going to depend mostly on your budget and how you plan to use the room. Honeycomb shades are great for living areas. Window blinds are all-purpose window coverings. Blackout curtains are an ideal solution if you're going to use the sunroom as a media room.

Start by figuring out how you want to use the sunroom, and then you can find the window treatment that fits that.
How do you shade a sunroom?
Shading a sunroom is very straightforward. You just need to add window coverings that meet the needs. You can go from full room darkening blackout curtains, all the way down to solar shades that only diffuse light.
Can you hang curtains in a sunroom?
You can hang curtains in a sunroom, but you will want to make certain the curtains can stand up to the constant sunlight without fading. Sunrooms are normally on the south face of a home meaning that the curtains will be exposed to a lot of direct sunlight.

Inexpensive curtains will quickly get bleached from the UV rays. This will cause the fabric to fade, lose color saturation and damage the pattern.
Wrapping up
So that's our guide to window coverings for sunrooms. If you would like to read more about sunrooms, we've written a complete guide to sunrooms.

We love hearing from our readers. Have you ever hung new window treatments in a sunroom? What did you choose? How did the project go?

I want to close with our normal disclaimer. Remember, we are a community of average homeowners who really enjoy DIY projects. We are not licensed contractors or construction professionals. If you are looking for specific advice on your exact situation, I recommend hiring a professional to deep-dive your situation.

The purpose of all our sites is to provide general information and entertainment to people that are also into DIY projects around their homes.
Last Updated:November 01, 2022