7 Top Picks: All weather awnings for your patio or deck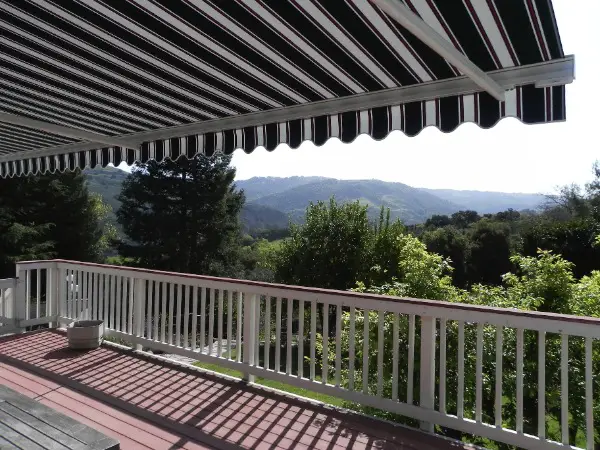 Do you avoid your patio in the summer because of the hot sun? Do you want to upgrade from the umbrella patio set to something that can stay up all year?

Fear not, we've spent more than 60 hours researching the top non-retractable awnings for 2018, and we'll share our winners with you. We've been writing guides on awnings since 2016 so you can rest assured that our methods have been tested. Also, if you've gotten one of our picks, we'd love to hear from you. Tweet us @newawning with your thoughts or a image.

If you're in are in a hurry, our editor's pick is Diensweek Retractable Awning.
In this article, we'll cover the most important elements when choosing an awning. Before we dive into our actual picks, we'll start with the metrics we used to evaluate the products.
The fabric is the key component that determines who long the shade will stay effective. It also has a large impact on whether or not the colors will fade. We've written an entire guide to awning fabric if you'd like even more background on the topic.

For any fabric, you will want to look at its grams. This measures the weight of 1 square meter of material. Heavier will be better as it means the threaders are either woven tighter or the individual threads are thicker. Thin fabrics are more prone to ripping and creating holes.

The highest end option is an acrylic fiber. Each individual fiber is created through a chemical process, and the pigment appears throughout the entire strand. In addition to being the top choice to resist fading, it also has the most tensile strength which makes it the least like to tear or develop holes. This material can realistically last decades, and it typically has a lengthy warranty. The only drawback to acrylic fiber is the price as it cost more than double the other options.

The second fabric is poyester. Polyester is water resistant, and a great option for homeowners on a budget. The drawbacks are that fabric doesn't breathe as well as acrylic. It can show signs of fading after a few summers, and it is prone to developing holes or tears. If you choose to go with a vinyl awning, we recommend keeping it retracted most of the time, and only extending when you plan to sit on your deck.

The final option is canvas, and we only recommend this for DIY projects. Canvas can be the least expensive option at $0.25 per square foot for the fabric; however, you will want to apply a clear coat to make it more water repellent. It's an option for the homeowner who wants to build their own on a budget with the goal upgrading in a couple of years. Due to the extremely low price point, it's the best fabric to try a design before investing in either vinyl or acrylic. We have opted *NOT* to recommend any canvas option products. We feel they are not right for the majority of our readers.
Awning Frame & Support Pole Options
Residential awnings will either have aluminum or steel supports and frame. If you live in an area with strong winds then this should be a primary deciding factor; however, for Americans, either option will be fine.

Aluminum awning frames are substantially the most popular for modern kits. Because this metal is lightweight, full-size patio awnings can be structurally sound without needing a support pole. Additionally, this is a more cost-effective frame option providing it doesn't need to support heavy weights from snow or high-velocity winds.

Steel awning frames are the other option. We would only consider using either stainless or galvanized steel for the frame. It will be exposed to the elements so non-treated steel will rust extremely quickly.

There are actually a couple other options for frames, but in our opinion, this wasn't a needle mover for picking an awning. One amusing trait is that individual manufacturers will often tout their individual composite metal as clearly superior to create a competitive advantage.
AceJoy 13'x8′ Retractable Awning
This is our top pick for retractable awning for the home. It is features a manual crank and 280g polyester fabric shade. The shade is both water resistant and ultraviolet resistant. It offers 30UV solar protection.

The frame is a powder coated aluminum frame. The powder coating increases its lifespan by insulating the metal from the weather. It is also resist wind up to level 5 scale storms.

This is truly a great awning for the price. It comes in 3 sizes from 8'x 6.5′ all the way upto this one which is '13 x 8′. As a point of comparison, other awnings at this quality level normally cost several hundred dollars more.
Pros
280 g/m2 polyester shade
Power coated metal frame
3 size options
2 color options
Wind resistant
Our pick for best value & most effective
Easy to install
Wind resistant
Cons
Not available as a motorized option
3 Month warranty only
Crank can only be mounted on right side
XtremePower Retractable Awning
This awning is a great choice for the budget-minded shopper. It comes in two sizes 8'x6′ and 10'x8′, and it is is only available in cream color.

The awning features polyester UV and water resistant fabric. The manufacturer does not specific either the weight of the fabric or the metal frame. We know that it's a powder-coated aluminum frame, but the exact specs are listed.

Another drawback to this awning is that the mounting hardware such as screws and anchors aren't included. You'll need to either order those separately or pickup from your local hardware store.

The main reason this made our list is it's long history of being a customer favorite. It's been on the market for more than 3 years, and over that time we've seen many companies come and go. Xtremepower has stood the test of time meaning that if you need to find replacement parts or get repairs it'll be easy to maintain.
Pros
Adjustable tilt on the shade
Waterproof
Blocks UV rays
Great budget friendly option
Corrosion resistant frame
Double cable internal support
Can open part of the way -(Some are either opened or closed only.
Cons
Difficult to follow directions
Fabric weight not specified
Metal frame weight and gauge not specified
Only available in cream
This is our top of the line awning pick. At a whopping $8.50 per square foot, this awning is more than 3 times the price of our budget pick.

The frame is constructed of marine grade stainless steel. It is 100% solution dyed acrylic fabric, and it has double stainless steel internal cable.

This unit also comes fully assembled meaning the homeowner only needs to attach the brackets to their home and then mount the awning in one piece.
Pro
Available in 6 colors
Available in 5 sizes
304 Marine grade stainless steel arms
100% solution dyed acrylic fabric
Fully assembled
Double stainless steel internal calble
5 year warranty
Our Top of the line pick
CO-Z Retractable Awning (Currently Out of Stock)
Our 2018 list is the first time we've had this manufacturer. The frame is coated aluminum with a 280g polyester fabric. It features a manual crank, and all hardware is included.

We really like the ease of installation from this product as it can set up or taken down in under 2 hours. The material quality is reasonable for a year around awning, but it also gives the homeowner options if they wish to take it down for winter storage.

This unit also comes with a 5-year warranty which is important to us since we haven't reviewed one of their awnings before. If you're interested, you can read more about the product here.
Pro
280 g fabric
Aluminum allow frame
5 year warranty
Our Top of the line pick
Con
Less Reviews
Maunal Crank
Confusing Instructions
Aleko Retractable Awning (8'x10′)
We really like Aleko awnings because they are a nice balance. They have a lower price point with entry level features. The fabric is vinyl, and many customers mention that it is both well made and easy to install. One major perk of Aleko is that they are one of the best awning companies in terms of replacement parts and upgrades such as support poles.

This awning comes with detailed instructions that many customers have described as easy to install. While one person may be able to complete the job, two is definitely preferred. Read more about this Aleko on Amazon.
Pros
Quality manufacturer
Good instructions
Adjustable pitch
Easy to find replacement parts
Build to work with support poles
Resists color fading
Manual crank
Aluminum frame
All bracket included
Cons
Undisclosed weight of vinyl fabric
Box sometimes arrives damaged
Outsunny Awning (8′ x 7′)
Outsunny ranked the highest for the 2018 models. We hadn't heard of this manufacturer before, but we were incredibly impressed at the high end features for an awning at this price point. It features a steel and aluminum frame with 280g polyester fabric.

It has a manual crank with an adjustable pitch. It can be mounted on a variety of substances including siding, concrete, stucco with the included hardware. If you're installing directly to a wood frame there are additional fasteners that will need to be purchased separately.

We really like this awning because it has side covers to prevent rust. It also has a smoother turn than some other crank awnings. Finally, it also features reinforced joints to help it stand up year around. Details on the Outsunny awning can be found here.

Pros
Aluminum & Steel frame
280g polyester fabric for canopy
Water resistant
Anti-face and mildew resistant
Provides UV protection
PVC coated side covers
Reinforced joints
Designed to limit fabric slippage
Pre-drilled holes to make installation easier
Cons
Only 1 color (Cream)
Only 1 size 8'x7′
Goplus Manual Deck Awning (8.2′ x 6.5′)
This is a solid pick for smaller decks. It features a powder covered aluminum frame and a 100% water resistant polyester fabric. The shade comes in 3 colors of Burgendy, Forest Green, and Green/White striped. All awnings feature a scalloped valance, and an adjustable manual crank.

The mounting brackets are only tested against solid brick or concrete walls. We'd recommend choosing a different option if you're installing directly to a woodface. The pitch has two levels either straight out which is best for blocking the sun or 30 degree slope so that rain easily runs off to keep the deck dry.

This awning is especially easy to install with only 4 bolts. Some customers have reported being able to install the awning in as little as 5 minutes. Click here for details on this Goplus awning.
Pros
Aluminum frame
Polyester fabric
Steel Crank
Comes in 3 colors
Stylish Scalloped Valance
Quick & Easy Install
Cons
Only 1 color (Cream)
Only 1 size 8'x7′
Heavy for its size (50 pounds)
Not intended to be installed on woodface
Frequently Asked Question –
What makes an awning good for year around? – We are looking for awnings that have high quality metal frames. Our top preference would be double steel cords in the frame. We also want heavier fabric whether that's acrylic, polyester or vinyl.


How long will an awning last? – This really depends on which manufacturer. Some awnings can last a few years setup all the time while others will have a full five year warranty.



Why manual crank awnings? – We prefer manual crank awnings because they are easier to install. The cranking device rarely malfunction, and it is very resistant the weather which we feel make it a superior option for an awning that you want to leave up all the time.


Is pitch adjustment important? – It's a nice feature, and some people may really find uses for it. To be transparent though, we haven't adjusted our pitch in years.


Can I clean the awning without taking it down? – Yes, we have a complete guide to cleaning awnings here.


Should I get an extended warranty? – We don't recommend getting extended warranties on awnings. Some companies offer them for about 5% of the purchase price, but we don't feel it's worth the investment. Instead, we go with a total home warranty that covers our entire property.


Do we prefer retractable to fixed awnings? – Fixed awnings have a purpose and are great year around options. Some home owners prefer the option of extending the awning or taking it down some winters. This flexibility is much easier achieved with the retractable awning.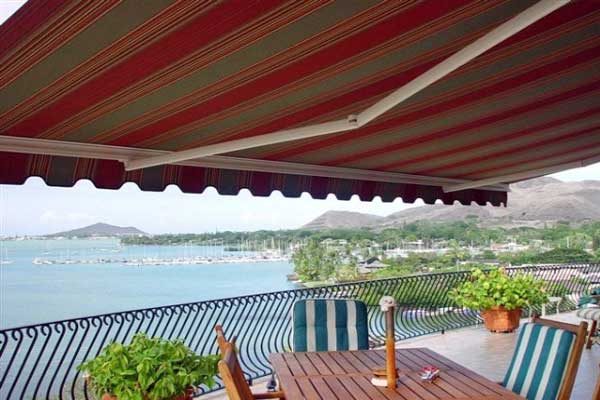 So there you have it. We've shared our research on the best year around awnings. Remember, we are simply homeowners who live in sunny Arizona. We began researching and writing about shade options after getting a $500 electric bill in the summer.

We are not licensed contractors so please take any advice or suggestions in our post merely as homeowner rather than an expert carpenter or contractor. Nothing in this post has been reviewed or evaluated by an contractor. If you'd like to get our opinion on a shade or provide your thoughts on a purchase, we'd love to hear from you. Send us a tweet @newawning or send us a message on our Facebook account.

More about Marcion Albert on Google+.
Last Updated:January 27, 2023