Tips when your air conditioner isn't keeping your home cool enough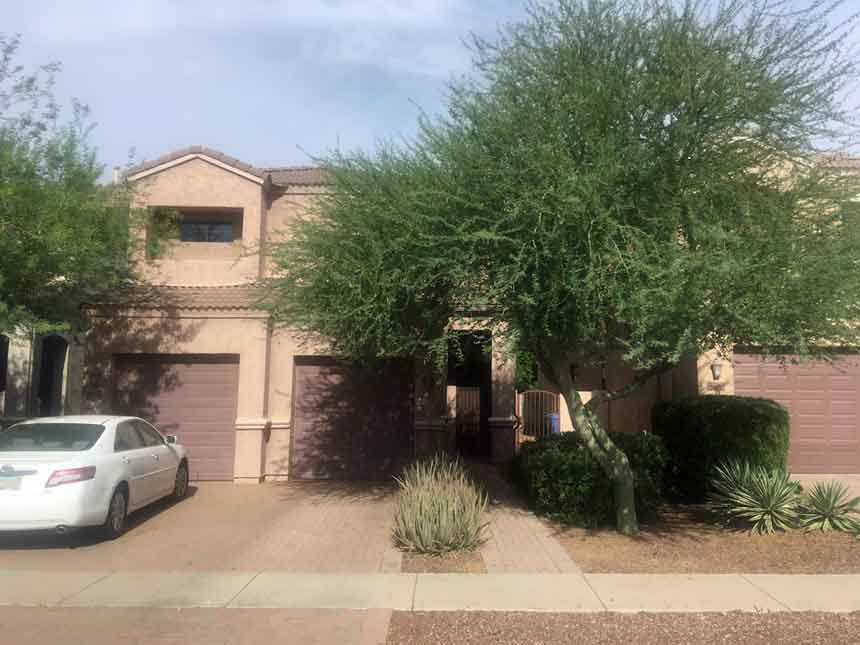 Summer is coming, and with it comes warmer weather. And while you may not mind the heat, your AC might be another story! If you want to keep cool this summer without breaking the bank, here are some tips for homeowners to make it easier on your Air Conditioning unit.

I decided to write this article after I learned that residential AC units can only cool a house by 20-30 degrees lower than the outside temperature. We live in Arizona where the hottest summer days can be over 115. This means the coolest inside temperatures will be 85 in the best case and 95 for many people.
Furthermore, because the outside temperature is so far above the thermostat the heat pump will run continuously which can lead to complete failure. I learned a lot of this information this summer, when we had a complete failure of our AC unit.
Clean your filters monthly
According to energy department, a dirty filter can lower the performance of the air condition by upto 15%.

My father was a handyman and he always told me it was important to change my air filters monthly, but I never really listened to him. When I was a renter, I didn't own a ladder, and I literally never changed the air filters.

As a homeowner, I got in the habit of changing the air filters about once per quarter. I assumed this was frequent enough as the filters weren't blocked. Yes, there was visible debris on the filters, but they were by no means clogged.

We noticed the our air conditioner didn't seem to be able tool the home as much as normal, and then Saturday afternoon the entire unit went down. It turned out to be the compressor failed, and the technician told me that we likely wouldn't have even had the outage if we had just been changing our filters each month.
Buy cheap air filters and change monthly
Whether you buy expensive filters or cheaper filters, you will still need to change them monthly. The expensive filters have more folds and smaller pores in the material. This increased surface areas means they are better at filtering particulates out of the air.

The more expensive filters can be very helpful if someone suffers from severe allergies, but they are not needed for cooling purposes. It's far more important to buy the cheap filters that can be replaced monthly rather than getting the expensive filter and changing quarterly or yearly.
Check your insulation
After we bought our current home, we learned that the builder had used the absolute cheapest possible insulation. We discovered that our attic was insulated so poorly that it's questionable whether we would even meet the current standard for insulating requirements.

Increasing the insulation in your attic and walls will have a huge impact on how quickly the heat from the outside gets in your home. Installing insulation in your attic is a medium level DIY project. I found a great video from Lowe's that will serve as a great guide on the steps.
Avoid using your oven and stovetop in summer days
As I've mentioned several time, we live in Arizona where the temperature can exceed 115 degrees in the summer. Our AC unit simply can't keep up with this heat so we try to make it as easy as possible on it.

One of the steps we've taken for years is to not use our oven or gas cooktop during the day. We will occasionally use it in the early morning if we need to cook something.

Instead of cooking inside, we use our gas grill that is on our back patio for many of our summer meals. Because the gas grill is outside, we don't worry about the heat transferring in.

There are sometimes that we'll want something that is more difficult to make on a grill and in those cases, we can either take our toaster oven or our air fryer on the patio to cook something there.

Another big option is to use the microwave for cooking. Microwaves are a great option for cooking food without adding a lot of heat to the inside of the home.
Keep vents open
When I was growing up, most homes had window AC units, and the general advice was to close all the doors that you weren't in so the cooling air could be concentrated into the much smaller living area of the house.

I thought this was true and followed this advice even into my 30s when we had a heat pump for a very long time. I learned from an HVAC technician that the advice I learned as a kid was out of date and completely incorrect for homes with a central cooling system.

The home's ventilation systems are designed for all the vents to circulate the air. This airflow makes it easier on the system to fully cool the home.
Add shade to your windows
Windows are a major source of heat transfer from the outside into your home. If you have two pane, high efficiency windows, this will help a lot, but there is another step that's also important.

We recommend having some form of shade especially on the south and west facing windows. Whether it's an awning to provide shade for the entire wall and windows or something as small as solar shades on the window.

We added solar shades to our home, and the money we saved on summer cooling in two years more than covered the entire cost of the external solar shades.

Before you get solar shades or any other shade structure for that matter, you may want to check with your electric company as they may offer grants or rebates for making your home more energy efficient.
Get a free audit from your energy company
In Arizona, our electric company offers free audits where a technician will come to your home and advise you on possible changes to make your home more energy efficient. They will have full knowledge of any grants or rebates that your home and the potential changes would qualify for.

Furthermore, they may even offer you a $50 – $100 credit just for having them out to give you advice. Note, these are not salespeople looking for projects for work. Please don't fall for a scam like this.

In order to lessen the peak demand for power, the electric companies are aggressively looking for ways to cut consumption. By helping homeowners find ways to cut their electrical bills, they are also lowering the overall demands on their grid.
Turn on all ceiling fans in the home
Ceiling fans have two benefits when it comes to cooling the home. The first is that they promote the circulation of the air. This makes it easier for the internal cooling system. They will mix the warm and cool air allowing evening out the temperature for the entire home.

The second benefit of ceiling fans is that they make the home feel cooler. Turning on a ceiling fan will make a bedroom feel 3-4 degrees cooler. This can be perfect for the hottest summer days when the AC unit simply can't get the room actually that cool.
Have a stand alone unit
Another option for people who live in Texas and Arizona is to have a standalone portable AC unit. Our portable AC unit can cool a 400 square foot space. Because our home's internal system can only lower the temperature by less than 30 degrees, we can use the stand alone unit to add cooling capacity. We limit this to our bedroom and only use it on the hottest days.

Portable AC units are famously inefficient when it comes to electrical cost for their cooling out. We spend a couple extra dollars everyday that we use the portable AC unit, but it can be worth the cost since without we may not be able to comfortably stay in our home.
Consider using cooling towels
Another option if your AC unit can't keep up with the temperature is to look at cooling towels. When I first heard of them, I totally thought they wouldn't work. But after we got a package to try, we keep some cooling towels in each home.

We also wear them around the house most summer days. When you get these towels wet, they will make it feel like you are 10 degrees cooler than the actual temperature.

I wear the cooling towel around my neck. They also give me an ice cream headache when I get it near my head. My wife has long hair, and she can put it on her head without issue. I do great with the towel over my shoulders at the neck area, and it makes a huge difference in comfort.

If you're interested in trying out some cooling towels, I've included a link to the exact cooling towels we use below:
💧【INSTANT COOLING】: The cooling towels is made of hyper-evaporate breathable mesh material. The unique cooling system uses moisture from the towel to draw the sweat away from your skin to keep you cool.
💧【COOLING EFFECT】: It's a magic towel chills instantly. Cool down quickly by simply soaking it, wringing out the water and shaking it.Just a few seconds the chill towel will keep cooling for several hours and reactivate the chilling by repeating the steps.
💧【QUALITY MATERIAL】: Made of premium microfiber with a mesh pattern, this ice cool towel is chemical-free, durable, soft and skin-friendly. It's breathable, super absorbent and dries quickly. Perfect for sports and travel.
💧【MULTI PURPOSE】: It's perfect for hot flashes, outdoor activities, indoor exercise, vacations to hot places, fever or headache therapy, heatstroke prevention, sunscreen protection, cooling while absorbing sweat during hot summer days.Great for running, cycling, workout, bowling, golf, yoga, gym, fitness etc.
💧【EASY TO CARRY & CLEAN】: Each towel comes with a carrying pouch and a carabiner clip. They are easy to store, to carry, and to hang. It can be convenient to hook on sports bags and travel backpacks. It can hand wash, also machine wash, easy to clean.
Wrapping up
So that's our guide for seven tips to lower your summer cooling bill. We are committed to helping the environment, and we'd love to hear if you have any ideas on how to cut your energy bills in the summer.

Our community is composed of homeowners who enjoy DIY projects. Please don't send us anything promotional. We only want to hear life hacks or DIY tips to help people keep their homes cooler without breaking the bank.
Last Updated:March 07, 2023