How to clean sunscreen windows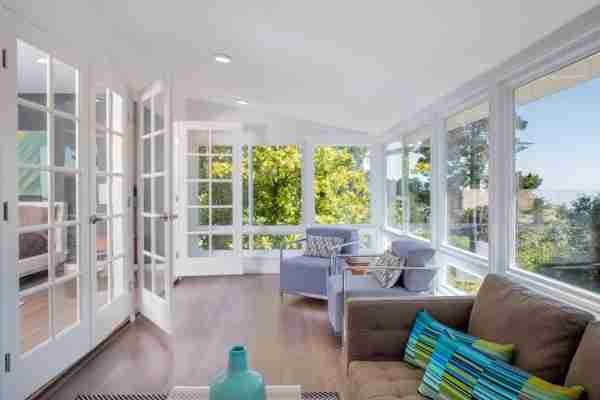 It's easy to forget that most of the world is made up of water, which makes it just as important to clean windows in a sunroom. A dirty window can cause glare and heat build-up on the other side. And if you're trying to enjoy the view, you may not be able to because there are smudges or streaks on your window. Cleaning windows in a sunroom requires special care and attention due to their unique characteristics.
The following steps will help you properly clean your windows without damaging the vinyl or aluminum siding surrounding the windows. Also, because sunrooms have such a large percentage of their perimeter as glass windows, we will take extra time to share fast efficient methods of cleaning.

Our goal is to have clean, streak free windows, but also not something that will take 30 minutes per window.
Choosing the right cleaning solution
A lot of people assume Windex is the best option to clean windows, but we are not fans. Windex is an ammonia based cleanser. Specifically they use ammonium hydroxide or ammonia solution.

This does well on glass surfaces, but it can be damaging to the vinyl tracts or siding around the windows.

I prefer using a few squirts of dish soap in a large tub or bucket filled with warm water. I want enough so that the solution will be slightly sudsy when it is on the windows. Probably 99% water and 1% soap should be the right nix.

Our top pick for dish soap is classic Dawn soap, but most basic options should be fine. I would avoid anything soap that contains bleach or anti-bacterial additives.

This is the only item that will be used up as part of the cleaning. All others tools can be used for multiple cleanings.
Gather the tools you'll need
We've created a list of the tools you'll need to clean all the rooms in your sunroom. 2 Gallon Bucket Bucket Squeegee Scraper Microfiber cloth Pole attachment for squeegee (optional) Dish soap
Demonstration video
We've written a guide below explaining the steps, but there a lot of people who just prefer to watch videos so we included a great one below: Source:
Mix the soapy water
Fill the bucket about halfway full of water which should roughly be 1 gallon of water. Add a couple squirts of dish soap and mix with the squeegee.
Using the squeegee
Dip the squeegee into the liquid and apply the soapy water in either an S pattern or in vertical stripes. Once you finish putting the soapy water all over the windows, you'll flip the squeegee around and slide it from one side to the other. I am right handed, and I find it easier to go from right to left.

If you don't have a squeegee, I've included a link to our favorite one below. Best of all this is a one and done squeegee as it comes with the pole and the microfiber cloth.
2 IN 1 WINDOW WASHING EQUIPMENT KIT -- The multi-purpose window squeegee has a bendable head and free replacement Microfiber Cloths, which makes cleaning windows quicker and cleaner. Ideal for outdoor and indoor glass surfaces, it can also be used as a windshield cleaning tool.ed multiple times.
LIGHTWEIGHT & REACH ANWHERE -- This set comes with a 4-Section, Aluminum Extendable Pole for a total length of 62 inches. Simply link the safety buckle without rotating, Sufficient length to clean outdoor high windows without the need for extra ladders or stools, Safe and convenient.
STREAK FREE SQUEEGEE -- Enjoy a smooth squeegee glide. No streaks. The flexible head makes it easy to clean high-rise windows without walking, making cleaning windows a simple and fun thing to do.
MICROFIBER WINDOW SCRUBBER -- The super absorbent cloth wipes off excess water or soapy water and instantly absorbs water, bringing clean, dry windows to your family.
GUARANTEE -- We are certain that you will love our extendable squeegee kits just as much as we do, it had 12 month money back and warranty for a free replacement to ensures this will quickly become your favorite no-risk purchase. Contact with us if any require.
This can be a bit of personal preference. I used to have a job at Dairy Queen where I was tasked with wiping down the glass doors at least once per day.

When wiping down the windows with the rubber edge of the squeegee, you want to make sure you go the direction on every row. You also want to overlap them slightly to avoid leaving any spots.

Finally, you always start at the drop and go downward. This ensures that any water that beads up will fall to the ground so it won't streak the parts of the window you've already cleaned.

Also, if you have a pole that attaches to the squeegee, it can make reaching all corners and edges of the window easier. This way you don't need to bend to reach the bottom or stretch to reach the top.

This is especially crucial if you have any back issues to avoid pulling something since you'll be moving at angles that you're not normally doing.
Cleaning the corners
Once the window is fully squeegeed off, you can use the microfiber cloth in the corners and along the edges to ensure there are no remaining bits of water that would spot.

Also use the microfiber cloth to get under any handles or other areas that were hard to reach with the squeegee.
Getting rid of bird poop, insects or other debris
If you have anything stuck to your window like bird poop or insects a scraper is a great tool. Some people like metal scrapers which are very effective, but I'm always worried about scratching the window so I prefer a plastic cake scraper.

Also, it may be easer to scape off if it has had a chance to soak in warm soapy water for a couple minutes before you try to start the scraping.
Clean both sides of the windows
These are all steps to clean the outside of the window, but you will also want to clean the inside too. Indoors, I recommend having an old towel under the window so that any excess soapy water which falls from the window will be absorbed there.
Clean tract of sliding windows
About twice a year, you may also want to clean the tracts at the top and bottom of the sliding windows. I recommend using a soft bristle brush for this. Another good option is an old tooth brush. This will be the perfect size to reach all nooks and crannies of the tract.

I strongly encourage you not to use the microfiber cloth with your fingers applying the pressure. Accidents happen, and just in case the window somehow slides while your cleaning it, it's better for the damage to do to the old toothbrush instead of your fingers.

This may be a 1 in a million accident, but it still never hurts to avoid a potential injury when you can.
Cleaning window screens
Occasionally, you will want to clean the window screens. If take them off to clean the windows this is a very easy task as they can be wiped down with a lint-free cloth. This will only take a couple of seconds to wipe down, but remember you'll want to go over both sides.

If you are leaving the shades up, we've heard a lot of people use a dust buster or a hose from their vacuum cleaners to remove the dust and debris form their window screens.

This isn't something that I've personally tried, but there are many people online who really like using a vacuum for this.
Wrapping up
So that's it for our post on how to cleaning your sunroom windows. We've written a complete guide to sunrooms if you're interested in learning more about sunrooms.

As always thanks for visiting our site. We are a community of average homeowners who enjoy DIY projects, and we love hearing from our readers.

If you have tips or tricks or project ideas for an improvement inthe home, we'd love to hear from you.
Last Updated:November 29, 2022