How to Find Retractable Awning Parts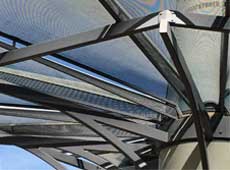 When your awning becomes slightly damaged, it can be far less expensive to replace a couple of the parts rather than purchasing an entirely new unit.

If you choose to replace, you will have roughly double the installation cost as the repair person will first need to remove the old unit before installing the new one.

Additionally, there is no secondary market for a broken awning so you will be out the full initial purchase price, and you may also have to pay additional fees to get the broken item hauled away depending on its size and your local regulations.

For any attached sunshade, you will typically be far better off replacing a single piece than the entire unit.
Why replace parts?
The primary reason to replace the individual parts is cost. The major manufacturers will have individual components for sale, and some will even send them out for free depending on the warranty. We usually prefer manufacturers who offer a three to five-year guarantee on their work, and if you had a professional install you may be able to receive a discount on the repair by contacting the same company. Repairs are a rare occurrence, and we do not consider warranty a key decision point in our recommendation, we do place a high value on post-purchase customer service.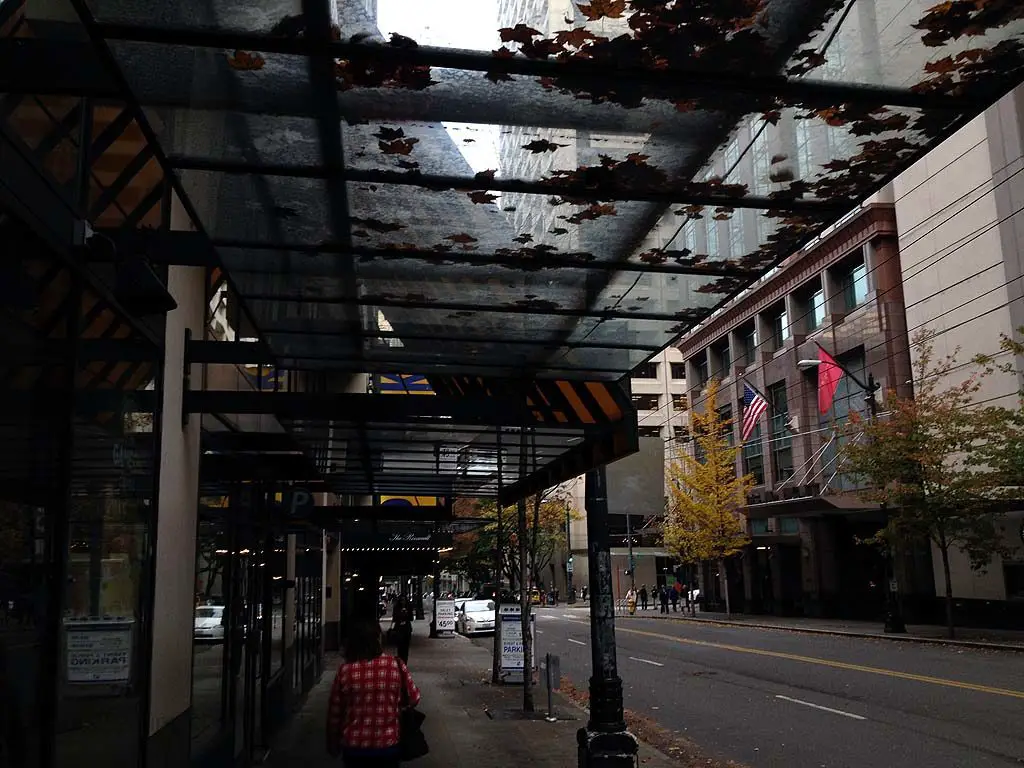 How to find the parts you need?
When you purchase an awning, we highly recommend you record the size, model type and number, the size, and the date of purchase. This is information you will have right at hand when you make the purchase; however, we've seen several people have problems when they bought components for one model when they had another. The reason that you want to record the date of purchase is that just like cars manufacturers will sometimes change over time. As a visual example, you wouldn't expect a fender for a 2017 Toyota Camry to fit the 1989 model. While both cars are a "Camry" the year makes a significant difference when finding the right part.
The absolute best place to determine the piece you need is to review the manual that was included with your purchase. If you kept this, then you are golden as it will contain a "part list" which details every item in the package. In most cases, it will even contain the UPC or product number for each component. With that information, you can either go to eBay or Amazon.com to search for that specific item. We prefer Amazon as the vendors there typically have more experience, and we've seen a far lower percentage of being sent mislabeled product. Before buying on either site though, we strongly suggest contacting the maker and requesting the cost for the item you need directly from them. I normally include that I have been a very happy customer of their product with the purchase date if it's within the last couple years and that I would consider purchasing another unit when it's time for an upgrade.

Who are the primary retractable awning manufacturers?
The primary awning manufacturers are:
Sunsetter
Sunesta
Aleko
Awntech
Reed
Sunair
Replacement parts for Sunsetter awning
We reached out to Sunsetter awning and asked them how we should get replacement parts for their awnings. They replied with the following information: We would have to start with the address at which the Awning resides (which is usually from where it was purchased and delivered). This is how we find our Awnings. If you purchased the Awning from someone or at a sale, we will need to determine that it is 1) a SunSetter Awning, and 2) which model, color, and size. Next, we will register the Awning to you and start a Customer Record in your name. At that point, any parts needed for the Awning can be ordered in the Owner's Corner or by call us at 1-800-670-7071 from 8:00 AM to 10:00 PM Eastern Time. Overall, I was super happy with their information and responsiveness when I inquired about getting replacement parts. If anyone has ordered components from them, I'd love to hear your story and experience.

What if I have another manufacturer?
If your awning is made by another company, please feel free to contact us. We are not associated with any of the manufacturers, and we'd love to help you find the information you need. Once we find out, we'll at what we've learned to our list above so that we help other readers of our site. Our goal is to be the absolute best resource for all items about awnings on the Internet so we're always happy to add more information to make the site more helpful.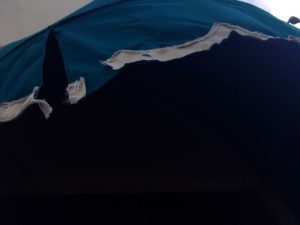 Can I substitute parts?
We highly recommend using the precise piece specified by the manufacturer? While some items may seem interchangeable like screws of the same size, they may not be made of the same metal. Some screws are composed of rolled steel and able to support load bearing structures while others that look exactly the same are made of lightweight aluminum. The aluminum screws can create major structural issues since they may not be able to provide the necessary support. Likewise, the fabric could be the same size and material but have the rivet holes drilled in different locations. This also seems minor until you actually begin to install the awning and realize the ties won't fit. This is why we recommend using the exact item only for the repairs.

Is this a DIY project?
There are two parts to this question. The first depends on your ability with DIY projects. Something that may be a 10-minute quick fix for one person may be an utter challenge for someone else. If you set up the awning yourself, then you will likely be able to make most changes. If you hired the job done professionally, you may want to consider doing it again. The staff of NewAwning.com does not make recommendations on whether or not individual repairs are a DIY project. If you are still uncertain, we recommend contacting the customer support number for the manufacturer.

Last Updated:September 25, 2023