Can you use drywall in a sunroom?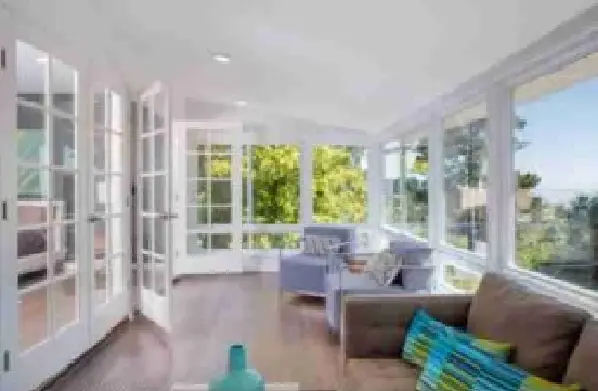 Drywall is an excellent building material for most situations, but it's not a good choice of materials for sunrooms.

There are several reasons why drywall should never be used in the construction of a sunroom. Moisture changes, temperature changes and natural light can all lead to mold-related problems with drywall. Mold spores will often linger on the surface of any porous surface where there is moisture present, such as your home's interior wallboard or ceiling tiles. In addition to being unsightly when they grow in visible patches, mold can also produce strong odors that may cause health problems for residents. And because it's made from gypsum board (a type of plaster), if exposed to water long enough, drywall will eventually crumble or degrade, which can be expensive to fix.
Sunrooms are designed to keep people comfortable in hot weather and provide year-round enjoyment of the outdoors. However, they're also notorious for causing condensation problems inside the home because of their connection with outside air. The warm air that enters sunrooms during the summer can quickly create a high level of humidity. If mold spores are present, this humidity and temperature change can be enough to cause mold growth on your drywall surfaces. Condensation problems that occur in sunrooms may also lead to other types of damage inside the home such as peeling paint and rotting wood trim.

To protect your sunroom from future mold growth and damage, you should use a moisture-resistant building material such as vinyl or glass. If the sunroom design requires drywall, we strongly suggest going with mold-resistant drywall.

Mold resistant drywall will cost about 25% more per sheet than regular drywall.

Sunrooms are an increasingly popular addition to many homes where people want to enjoy their favorite outdoor activities year-round. Even though they're designed for comfort in hot weather, sunrooms can lead to mold.

Another consideration is that the drywall tape can peel due to the moisture changes in the sunroom. This can be expensive to fix, and it is not something that will be fixed even if you are going with the more expensive mold-resistant drywall.

Mold-resistant gypsum board has the added benefit of being able to resist condensation that can occur on surfaces in sunny rooms .

Homes with sunrooms may need homeowners insurance coverage for moisture damage. Insurance will cover mold damage under certain circumstances so I suggest working with your insurance agent and contractor to get the claim filed in the correct way.

We had a large patch of mold in our unheated garage. It was caused by a leak in the upstairs shower that just grew over time. We didn't notice the patch for months because it was behind a shelf.

Initially our insurance company refused our claim, but the general contractor was able to work with our agent to give the specific details so that the work would be covered.

As a rule, remember that just because you as a homeowner doesn't know how to communicate the damage and problems, doesn't mean that the repairs won't be covered.

Qualified construction professionals who do mold repairs will understand the guidelines, and it's in their best interest to help you. If we were paying out of pocket, we would have gone with the smallest possible repair to keep costs in check.

However, when the insurance company got involved, they authorized replacing a much larger section of the wall, fully cleaning the entire garage, replacing the trim, and the painted all the interior walls of the garage instead of just the one that was replaced.
What's the best drywall for a sunroom?
We highly recommend mold resistant drywall from either Lowe's or Home Depot. Drywall is gypsum board in between two thick pieces of paper. This allows it to be cut and shaped to best fit the wall design.

Because the gypsum board is plaster, it is very susceptible to mold if it get wet which is a near certainty in a sunroom. Mold resistant drywall mixes chemicals in the plaster to inhibit the spore growths. It will also contain a thicker paper to protect the inner core from the roots.

We fell the top companies for mold resistant drywall are:
M-Bloc
Mold Tough
ToughRock
These companies have been around for years so you know they have experience making quality construction materials.
Can you put drywall in a three season room?
You can put drywall in a three season room, but it may require more maintenance than other wall options. The lack of heating and cooling will increase the condensation buildup which has a heightened chance of causing mold.

Additionally, this also increases the chance to cracking from tape peeling and the paint cracks at seams.
What are Drywall alternatives for sunrooms?
There are three main options that the homeowner may consider other than drywall.

Block/Brick – You can leave block and brick exposed and painted. This is a on trend fashionable backdrop. Exposed brick is now quite popular, and it looks great for video streaming or as an office.

In addition being nearly impervious to mold and mildew. It also won't absorb odors, and it is flame resistant. If your exterior walls are either block or brick, this is a fantastic option that is our default when possible.

Beadboard – This is thin strips of wood that fit together in a tongue and groove pattern. Beadboard is very moisture resistant often used in bathrooms and kitchens. It also creates a nice textured background and looks very high end.

Beadboard also has much lower upkeep costs than drywall. The main drawback that we've heard is that it's more of an upfront investment than drywall. The installation costs between the beadboard and drywall are relatively similar; however, the cost of real wood beadboard is going to be about twitch the price of mold-resistant drywall, and this is for the least expensive option. (https://www.hunker.com/12615583/which-is-cheapest-to-install-drywall-or-beadboard)

Some types of wood are far more in demand and can increase the price to 20x that of mold-resistant drywall.

Paneling – At first glance, paneling seems more expensive than drywall. The material cost for paneling is triple that of drywall. But remember, the main driver for drywall pricing is the cost of labor for the installation. Paneling can be installed for much cheaper than drywall.

Many homeowners feel comfortable hanging the wood paneling themselves as a DIY project rather than needing to hire anyone to do the project.

Drywall also requires painting which will increase the overall material costs.

Paneling on the other hand doesn't require paneling. Once it's installed, it should be good for the lifetimes of the home.

It's recommended to repaint interior drywall once per ten years so if you're going to keep the house long-term, paneling will continue to produce an even better return over time.

The only drawback to paneling is that it can feel dated. There are some newer designs to modernize the look. Remember, the prefinished wood panels come in a wide variety of prices and this will determine the quality. Our preference is a medium grade paneling as it has a long lifespan to standup.

The most expensive paneling will often have a far nicer look and feel, and this can be a better option for a high end home. Ultimately, take your time with choosing the paneling as that is a decision that you'll live with for a long-time.

This isn't like drywalls that are just generic blank canvases that can be repainted when you get tired of them or bored. The wood paneling you choose at the time you install it is what you'll have everyday until you replace the it.

One last tip if you go with wood paneling is to buy a few extra sheets that you store in either your attic or garage. This way if a panel gets damaged, you'll have some on hand to replace the damaged area.
Wrapping up
So that's our guide to wall options for sunrooms. I realize most people will default to drywall, and that's ok. At least, I hope we shared our opinion on why to go with mold-resistant drywall.

And if you're open to the other options great. We've tried to present the pros and cons of each option.

As our normal reminder, remember we are not licensed construction professionals or general contractors. We are simply average homeowners who enjoy DIY projects.

If you're considering adding or renovating a sunroom, I highly suggest contacting a professional in your area to help you plan the project. This type of project would be beyond the skill level of most people, and since our community is mainly composed of people newer to the DIY space we highly recommend talking to a trained professional on this one.

If you'd like to learn more, we've written a complete guide to sunrooms. (Source)
Last Updated:September 04, 2023