Best Polycarbonate Awnings for the Money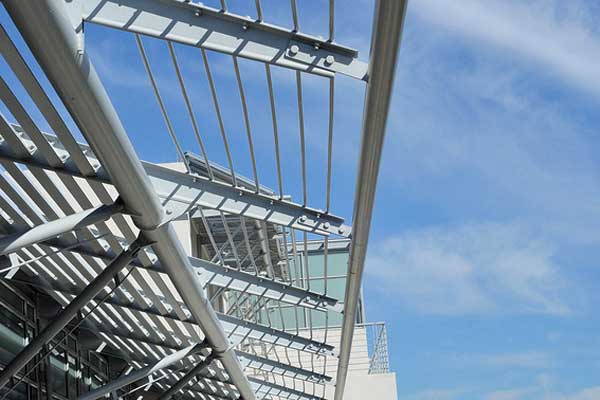 Are you looking for an all weather awning that can stay up all year?

Whether you're trying to get out of the hot Arizona sun or need something that can handle the load of a Boston blizzard, polycarbonate awnings are a great option.

We've researched over than 40 different polycarbonate awnings, and narrowed it down to our top 4 modes.

If you're in a hurry, our #1 pick is the mCombo 38″ x 116″ model.
mCombo Polycarbonate Awning (40″ x 40″ )
This is our top pick for the best polycarbonate awning. The Mcombo is a great choice for homeowners looking to cover a larger area. It's a fantastic balance of quality and price.

This features a black frame for an elegant and modern look. This includes all mounting screws, brackets.

It has a sturdy ABS plastic frame that is rust 100% rust free with aluminum fixing bars.
Pros
Easy to install
Great customer Service Aluminum fixing rods
100% rust free
5mm polycarbonate sheets
All brackets and mounting screws included
UV Resistant
Width can be extended
Multiple sizes available
Cons
Non-optimal packaging – multiple customers stated their product was damaged but got replacement parts from the company.
Complicated installation
This is second pick for the best polycarbonate awning. It is a very robust residential awning. The PC sheets are a respectable 5mm.

All brackets and mounting hardware are included so there's nothing additional that you need to buy to install this.

This model has an 11″ pitch which is the distance between the high point and low point. This means that rain will easily roll off.
Pros
Video surviving 45 mph winds
5mm polycarbonate sheets
1 year warranty
Sturdy*Elegant and modern look
High quality components
All hardware and mounting brackets included
Cons
The instruction manual is lacking
Most installations need 2 people
Palarm 1350 Awning (36″ x 48″ )
The Parlarm 1350 has 6mm panels which make it much stronger against the elements.

It protects against 100% of UV rays, and it has reinforced ABS plastic support arms.

It has a very nice look and it is the easier to install than the previous two options.
Pros
6mm polycarbonate sheets
All brackets and mounting hardware included
Easy to install
Cons
Frame difficult to paint
Newer product with less customer information
Palran Aquila 1500 Awning (36″ x 60″)
The Palran 1500 is the highest quality, but most expensive of our recommendation. This awning is more than 4 times the price of the editor's pick.

This is without question a higher caliber product that can handle more extreme weather. The polycarbonate sheets are 6mm, and the frame is a galvanized steel.

For reference, our other recommendations are ABS plastic. It also features an aluminum fixing bar and the least steep pitch at 6″.
Pros
6mm polycarbonate sheets
Galvanized steel frame
Aluminum steel fixing bar
Easy to Install
When we examined all the products we considered their price, customer feedback, and the quality of their components. We ruled out any awning that had < 5 mm polycarbonate sheets.

We have a strong preference for products that are "all in one polycarbonate awning kits". Some company sell products that only contain the sheets and the frames, but these are difficult for the average home owner.

Finally, we'd love to hear from you. If you've bought one of our recommendations or even a different PC awning feel free to send us your thoughts on your product. I want to keep our information as current as possible so if we need to remove something because it doesn't meet your needs OR you find something that you believe should be added to our list. Let us know.

Below we've created a frequently asked questions (FAQ) to help you in your buying decisions.
What is polycarbonate awning?
Polycarbonate awnings are a non-retractable shade structure. They are designed to be left up all year around. The frames are either composed of ABS plastic, aluminum or galvanized steel, and the types are listed in order of ascending strength with ABS being the weakest and steel being the strongest.

In between each frame arm is a polycarbonate sheet. This is a type of tough plastic the same type that is used in bulletproof glass. It has amazing strength while being lightweight. Some of the awnings feature hollow sheets to lower the structure weight.
What are polycarbonate sheets made from?
They are sheets made by joining different types of carbon molecules into a strong polymer. They are incredibly tough and can be transparent. They are often covered with UV resistant coating.

Polycarbonate sheets are used for:
Bullet proof glass
Awnings
Electronic & Phone Components
Construction Material
Data Storage Devices
Why use polycarbonate instad of acrylic?
The video below is a great demonstration of the tensile strength and overall toughness of polycabronate sheets. The video compares the impact on windshields, but they are still testing polycarbonate sheets.

If the sheets can stand up in these conditions, you can imagine how well it would deal with flying debris or the weight from heavy snow.
How do you install a polycarbonate awning?
This is one of the easier types to install. Because the sheets are solid, they won't wiggle or move during the setup.

With fabric awnings, you will want to begin by attaching the brackets to the home, and then affixing the cassette or arms to the brackets.

With this type of awning, most guides recommend to completely assemble the awning and frame on the ground. This will be the easiest method of perfectly aligning the sheets.

Once you have the awning full assembled on the ground, you can then attach the full awning to the home. We recommend having a few people on the installation to hold it in place while someone mounts the brackets.
What are polycarbone awning panels?
The panels in polycarbonate awnings are flat or slightly curved sheets. They are attached to the metal frame, and the better manufacturers connect them with EPDM grade rubber seals.

One of the main advantage of this type of awning is that you can extend it by connecting more panels. The rubber seals will prevent water from leaking in between, and the panels themselves are incredibly durable.

The panels can be transparent, tinted, or entirely opaque. Regardless of color, you want to verify that you're getting panels that are solid. Some of the more budget friendly options use hollow panels. These still offers the protection from the weather and UV protection; however, they can't carry nearly the amount of snow weight if you live in a colder area.

How to make a polycarbonate awning?
For most people, I would recommend purchasing a kit that contains all the mounting hardware and perfectly cut polycarbonate sheets.

We believe that only experienced DIYers should even consider taking on this project when they have a unique design or constraint that prevents them from using a standard pack.

For this group of hardcore creators, we do have some advice on the topic.

We highly recommend these sheets. It's possible to buy sheets that are less than $6, but they are 3mm thick. This is just over half the thickness of the most lightweight of our recommended products. I have concern about their ability to hold in place during storms or withstand any severe weather.

When it comes to brackets, we'd prefer the stronger stainless steel over aluminum for similar reasons.

Finally, we are not licensed contractors and this does not represent any sort of building advice. This is also the reason we are not including specific plans. We simply reviewed the polycarbonate sheets for people who want to build an awning, and we are sharing the one we believe is best completely free of charge to anyone reading our site.

Last Updated:September 25, 2023