Sunbrella Awning Review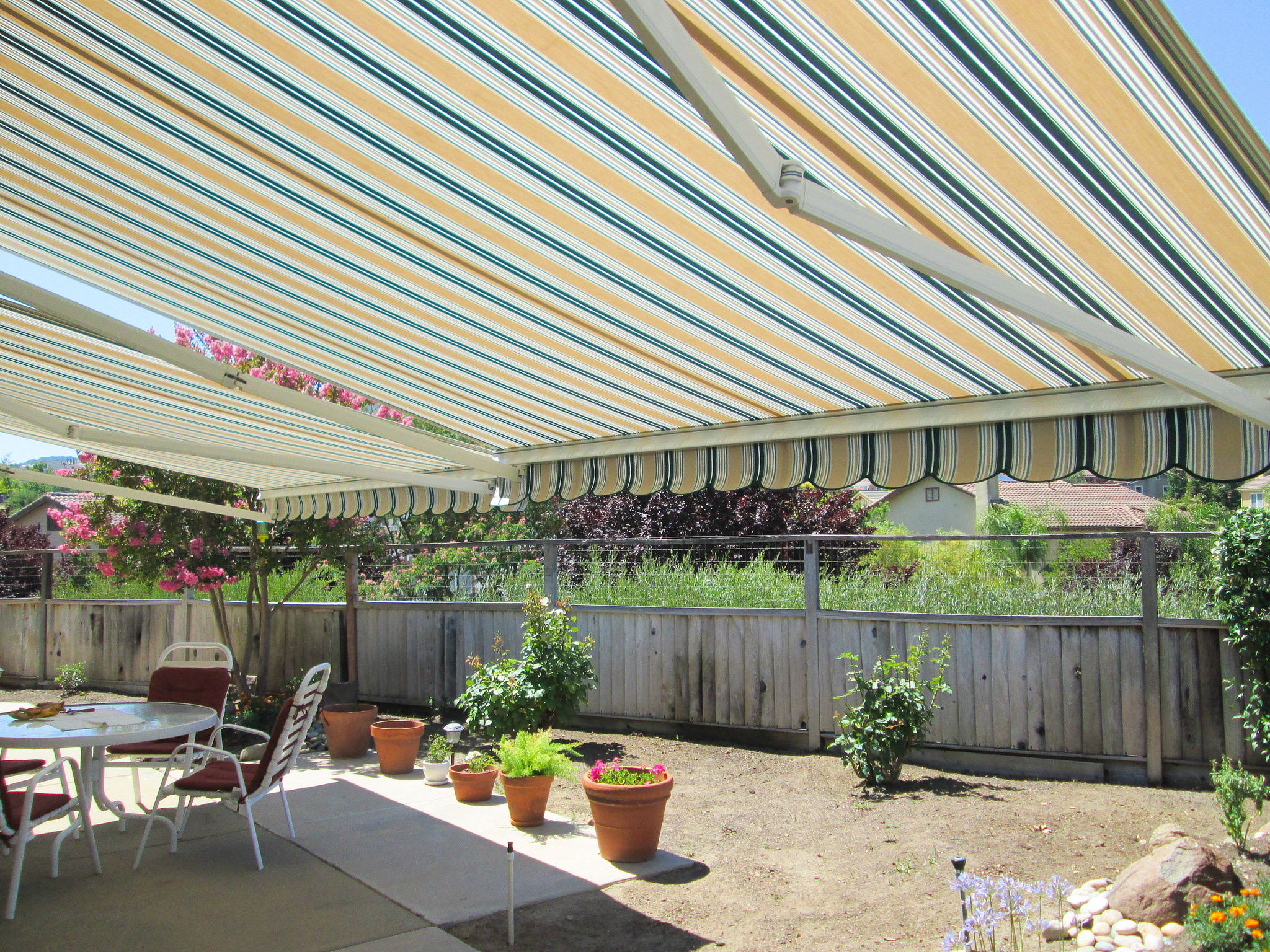 Sunbrella was founded in 1960 as a fabric company with the vision of making a higher quality awning material. The primary fabric of the time was a dyed cotton that had issues with fading from the sun and degrading from rain.

The traditional awnings from that era were susceptible to both mold and mildew, and Sunbrella invested a lot of resources to develop a better product. With more than 50 years in business, they are now one of the most well-known brands of outdoor fabrics and create shades, sales, covering for patio furniture.
The company has multiple full-time designers, and they currently have more than 100 colors and patterns. The commercially available sizes range from 48″ to 150″ with the price usually quoted in yards. One key design feature is that many of the patterns come with texture options. This can dramatically increase the aesthetic of the finished product.
The price of the awnings depends greatly on the amount of material used to create it. An entry point option would be around $140 for a fixed awning to cover a window. These are usually 4′ wide and come with all fixtures and mounting hardware, and they can be installed by the home owner.

At the other end of the spectrum are the luxury custom models that are designed to the customers exact specifications. There are many companies who build these personalized awnings, and it's important to find a professional that you feel comfortable working with.
This is a very sturdy fabric that is stain resistant which makes cleaning easier than many of the alternatives. In most cases, the awning can be cleaned while it is still on its frame. We've written a detailed step-by-step awning clean guide if you'd prefer more detail with pictures.

The first step is to brush away any loose dirt or debris. After this, you can use a garden hose to spray it off, and then you can use some soap to target any soiled spots. You'll want to rinse off any soap residue and then let air dry.

One key aspect to remember is to always ensure the external temperature is above the freezing point before soaking the awning with a hose to avoid any possibility of cracking or damaging the fabric.

In most parts of the country, we recommend the light cleaning between 2-4 times per year, but the entire process should only take a few minutes.

Occasionally, there may be a need for a more rigorous cleaning. The Sunbrella fabric will not grow mold or mildew; however, material such as soil may become attached to the awning, and these foreign substances can be the breeding grown for mold. If this occurs, you will want to prepare a solution of with 1 part color safe bleach to 15 parts warm water, and then rub with a soft bristled brush.

If possible, taking with the fabric and leaving the trouble spot submerged in the bleach/water solution for 5 minutes will also greatly aid in removing any stuck on material. After, you'll want to use the garden hose to thoroughly spray off the awning.
Making Sunbrella Water Repellent Again
All sunbrealla fabrics have fluorocarbon outer coat which improves their ability to repel water; however, after several years this may need to be touched up.

The primary product we recommend for this is 303 Fabric Guard. A single bottle of cleaner can be used to treat around 75 square feet of the awning material.
Painting Sunbrella Awnings
We highly suggest that you explore other options if you're Sunbrella awning shows signs of wear or begins fading. The fabric is normally solution dyed acrylic which means all strands are the same color throughout.

If you choose to paint the fabric, you will be covering the original color of the acrylic material. It's far better to use a cleaning solvent that will remove a tiny layer. This will restore the bright new original appearance of the shade.

On the off chance, the cleaning solution doesn't completely restore the original appearance of the awning, we suggest contacting a professional cleaning company. Most large areas will have companies that will perform a deep clean with a power washer, and they will have professional strength chemicals to deal with any discoloration.
Professional Cleaning & Services
Because Sunbrella is one of the industry leaders in outdoor fabric, there will be firms in most areas with experience on this material. You will definitely want to ensure that any company you hire to deal with your awning has the information on type of fabric and frame that you have.
As a disclosure, we have no affiliation with Sunbrella or any other awning manufacturer/installer. I am a homeowner who learned a lot about shade structures when we moved to our new home in Arizona. The summer heat made our patio unberable so I became obsessed with learning as much as I could about awnings and other shade structures.

We will occassionally recommend products that are sold on Amazon, and we earn a commission from those sellers. There is no additional cost to any of our readers for buying from Amazon with our links.

If you have questions that you'd like us to answer, feel free to send us a tweet @newawning.com or reach out to us on our contact form. We're no experts, but we'll share our opinions when we can.

Last Updated:November 29, 2022