Side Awning – Complete Guide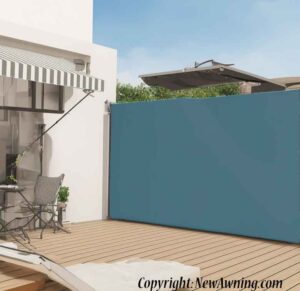 The image to the right is a great example of a retractable side awning. They are normally used as privacy shades on back patios. They can also be used to obstruct neighbors from staring to your pool or sunbathing areas.

At a high level, there are 3 major components. The metal frame, the fabric, and the attachment brackets. I will cover each part in detail a little further down in the post.

Side awnings are a great DIY project for someone who is crafty. Their skill requirement is considerably lower than a traditional overhead awning as they are completely supported by sitting on the ground. The main challenge is creating enough tension that they don't bow in the middle or get knocked down by heavy gusts of wind.
How do you install a side awning?
Side awnings are quite easy to install. The task can be complete by one person, and the only tool required is a drill. The video below is the best demonstration video we could find on the topic.
Major brands for side awnings
There are three main companies that make side awnings. They are songmics, Simlife, and Tectake. For complete disclosure, we have no business relationship with any of the aforementioned companies. We do occasionally recommend products on Amazon, and we receive a commission if someone purchases a product from our link. This doesn't impact the price to a customer, and it means that all our recommendations are brand neutral.
Songmics is one of the largest sellers on Amazon. They were founded in 2012 in Germany.

They have grown to sell millions of products, and they have the top-rated side awning currently available on Amazon. The frame is composed of aluminum alloy and the fabric is 280 g/m2 polyester. These are both high-quality option, and I'll go into specifics in their individual sections below.
Simlife retractable side awning
Simlife is a much smaller company than Songmics. They mainly sell on Amazon and eBay, and they are based in China. When we wrote this post on November 15, 2018, they had 31 products listed on Amazon.

They offer awnings in multiple colors ranging from white, cream and dark. Their awnings also feature aluminum allow frame and 280 grams / m2 fabric. Their awnings come with a flat bracket with 4 screws that can either be attached to a concrete patio or deck.
Tectake is a company that is based in Germany, and their website is entirely in German. Thankfully they sell on the UK based Amazon site so you can read the product details in English.

As of writing this article, their products are not offered in the US. Their fabric shades are also made of a hollow aluminum allow frame. The difference is that they use a lighter weight fabric for the shade.

Their material is 240 grams / m2 which is roughly 14% lighter than the two options that we have previously mentioned. Another key difference is that Tectake doesn't offer prime shipping on their products. One of the key perks to Tectake is that they offer the greatest variety of colors and sizes with a total of 9 different combinations.
All the side awnings that we reviewed use polyester as a fabric. We have a complete guide to awning fabric if you're interested. But there's not a lot of options on side awnings, and it makes sense why. Polyester is a budget-friendly option that is water resistant. Canvas wouldn't make sense as both sides would need to be treated to make it repel water. In our opinion, acrylic fabric isn't used because it would vastly increase the cost of production with limited benefits to the consumer.

The main way to differentiate the fabric options is by their weight. The standard is to list the weight of 1 square meter of the material. This can range from as low as 160 grams per m2 (square meter) all the way up to 280 grams per m2.
Specifications of awning fabric
180 grams /m2 – I would avoid anything at 180 or less. In our testing, this quickly had rips, tears, and holes.


240 grams /m2 – This is a budget-friendly option. It meets my quality standards, and it held up through some Arizona storms.


280 grams / m2 – This is a heavy duty polyester fabric. I haven't seen options for residential higher than this. I prefer this for homeowners who live in a more windy area or if you are going to frequently use the side awning.
The frame for side awnings is composed of an aluminum allow. The fabric is held in a cassette and it extends to a tube that is bracketed to your patio or deck. Aluminum is a great choice due to it having a high tensile strength for its weight.

For this application, I would prefer to use aluminum over stainless steel for the actual frame. You may go with a stainless or galvanized steel for the mounting brackets and hardware.
Patio screen retractable side awning
One surprising benefit we found for our awning is to use it as a sunscreen. Our kitchen has a large bay window that gets a lot of sunlight which drove up our cooling bills. When we placed the side awning parallel to our windows to block the sun, and it significantly lowered the temperature in our dine-in breakfast nook.
Side retractable privacy screen
One of our readers shared that they use the awning as a privacy screen for their gardening area. They didn't want something overhead that would block the sun on their flowered, but they also didn't like the idea that their neighbors could be snooping on them while they were outside working in their garden.

In closing, that's our guide to side awnings. If you're considering a side awning, we'd love to hear what you pick. We love hearing from readers of our site so feel free to send us a message on twitter @NewAwning or via our Contact form.

We're presently looking for some more pictures that we can use for this post so we'd love to hear from you, and possibly include your backyard projects. Finally, if you have any issues with one of the products, we've written about, please let us know. I'm not a licensed contractor or carpenter. Just a regular homeowner who shares what I've learned about awnings and shades. If a company or product I've written about lowers their quality I want to know so that I can avoid sharing it with other readers from the site.

Last Updated:September 25, 2023