Process for Adding Sunroom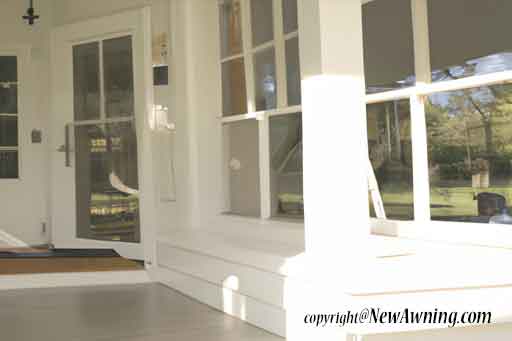 Adding a sunroom to your home can be a great way to increase living space and bring natural light into your home. Sunrooms, also known as conservatories or solariums, are enclosed structures typically built onto the side of a house that is designed to allow plenty of natural light and provide a comfortable space to relax and enjoy the outdoors. Many people add them on an existing patio or wooden deck. Whether you are doing a custom built sunroom or using a kit, this post will walk you through all the steps.

While the process of adding a sunroom to your home can be complex, with careful planning and the right professionals, it can be a rewarding and enjoyable home improvement project. In this blog post, we'll walk you through the process of adding a sunroom to your home, from planning and design to construction and completion.
Step 1: Determine the Purpose and Location of your Sunroom
Before you begin the process of adding a sunroom to your home, it's important to consider what you want to use the space for and where you want to locate it. Do you want a space to relax and entertain, or are you looking for a more functional space such as a home office or playroom?

The location of your sunroom is also an important consideration. While sunrooms are typically located on the south or east side of a home to take advantage of the most sunlight, you'll also want to consider factors such as access to your backyard and the proximity to your home's existing utilities. These roofs of the sunroom are also a great option to add solar panels if you want to lower your monthly electricity bill.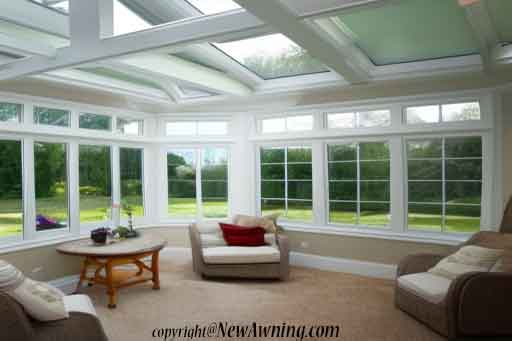 Step 2: Research Building Codes and Permits for Sunrooms
Before you begin any construction project, it's important to research and understand the local building codes and permit requirements in your area. Building codes set standards for the construction, alteration, and maintenance of buildings to ensure the safety and health of the occupants.

Permits are typically required for any construction project, including the addition of a sunroom, and failure to obtain the proper permits can result in fines and the requirement to tear down any unpermitted construction.

Don't get intimidated by this as the builder that you hire will be able to help you file the correct permits. If you are going to do a DIY sunroom, you can often contact your county or state board of contractors who will help you research which permits you will need.
Step 3: Choose a Sunroom Design and Material
There are many different options when it comes to sunroom design and materials. Some common materials for sunrooms include wood, aluminum, and vinyl, each with its benefits and drawbacks.

Wood sunrooms are traditional and offer a warm and natural look, but require regular maintenance to keep them in good condition. Aluminum sunrooms are durable and low maintenance, but may not have the same aesthetic appeal as wood. Vinyl sunrooms are a budget-friendly option, but may not be as durable as other materials.

In addition to material, you'll also need to decide on the style of your sunroom. Do you want a traditional conservatory with a glass roof and walls or a more modern sunroom with a solid roof and large windows? Consider the style of your home and your personal preferences when choosing a design.

You also want to strongly think about your flooring options. A carpet is a great option that will feel warmer in the winter months because it will hold the temperature better than laminate or tile flooring. The biggest drawback to carpet is that it is currently out of fashion. We've spoken with several landlords who say they prefer vinyl laminate over carpet in their homes as it's easier to clean. It lasts longer, and it's preferred by the renters.


Step 4: Choose a Dependable Sunroom Contractor or installer
Once you've decided on the design and material for your sunroom, it's time to choose a contractor to handle the construction. It's important to do your research and choose a contractor who is licensed, insured, and has experience building sunrooms.

Ask for references and check online reviews to get a sense of a contractor's work quality and customer satisfaction. You may also want to get estimates from multiple contractors to compare prices and ensure you are getting the best value for your money.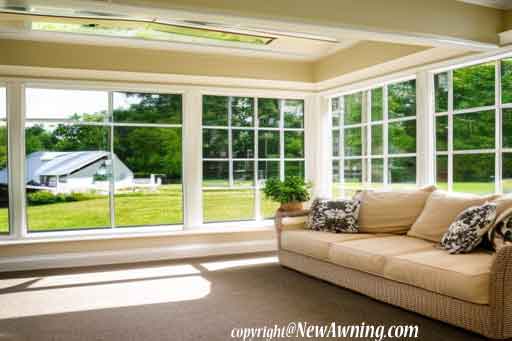 I am a huge fan of Yelp. Before hiring any professional to work on our home, I always check out their rates on Yelp and often on Google. I suggest companies that have been around for at least 4 years with a lot of reviews. Also, I pay the most attention to poor reviews.

Anytime work is being done, there will always be some projects that don't go as well as expected. Surprises come up, and that's natural and normal. I strongly worry if someone has never had a mishap on one of their jobs.


Step 5: Finalize the Budget and Design including Windows & Flooring
Before construction can begin, you'll need to finalize the design of your sunroom and determine the budget for the project. Work with your contractor to finalize the details of the design and make any necessary changes. It's far better to have everything settled before the work begins. We find that windows are the most overlooked item in the design. Flooring is also something that gets expensive if something is added or changed after the work starts.

It's also important to consider any additional features you may want, such as heating and cooling systems, electrical outlets, or built-in furniture. Make sure to factor these items into your budget to ensure you have enough funds to complete the project.


Step 6: Secure Financing for the Home Project
If you need financing to pay for the sunroom addition, it's important to secure it before construction begins. There are a few options for financing a home improvement project, such as taking out a personal loan or using a home equity loan or line of credit. Some companies that make windows may also offer rebates or promotions when you hit certain purchasing threshholds. For this reason, we recommend reaching out to the windows company directly to find the best deals.

It's important to shop around and compare rates and terms from multiple lenders to find the best financing option for your needs.


Step 7: Prepare for Construction
Before construction on your sunroom can begin, there are a few preparatory steps you'll need to take. This may include things like obtaining any necessary permits, arranging for utilities to be disconnected or redirected, and preparing the construction site.

You may also want to consider putting up temporary barriers or fencing around the construction site to keep pedestrians and pets away from the area.


Step 8: Begin Construction
Once all the preparations are complete, it's time to begin construction on your sunroom. This will typically involve excavating the site, pouring a foundation, and framing the structure.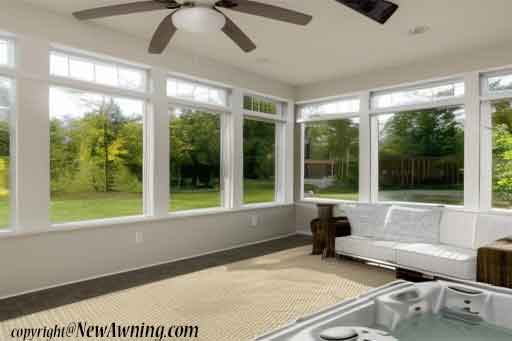 It's important to keep in mind that construction can be a noisy and disruptive process, so it may be necessary to make arrangements to stay elsewhere during the construction period.


Step 9: Install Finishes and Systems
Once the framing of the sunroom is complete, it's time to install the finishes and systems. This may include things like installing windows and doors, adding insulation, and installing any necessary electrical, plumbing, and HVAC systems.


Step 10: Add Final Touches and Clean-Up
Once all the construction is complete, it's time for the final touches and clean-up. This may include things like painting and installing flooring, as well as cleaning up the construction site and removing any debris.


Conclusion:
Adding a sunroom to your home can be a complex process, but with careful planning and the right professionals, it can be a rewarding and enjoyable home improvement project. From determining the purpose and location of your sunroom to securing financing and completing the final touches, there are many steps involved in the process.

By following these steps and working with experienced professionals, you can create a beautiful and functional sunroom that you can enjoy for years to come.

Last Updated:September 12, 2023