How to make your small yard feel like a large outdoor space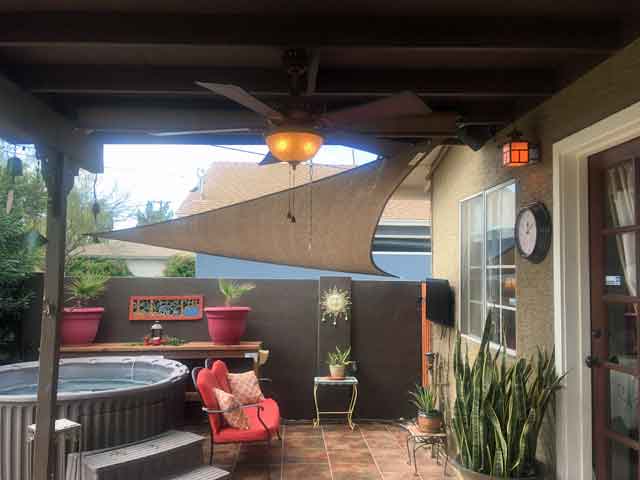 The popularity of HGTV shows has shown us that you can have a great outdoor living area even if you have a small backyard. We've compiled a list of 10 ideas to make a small backyard feel like an outside oasis fit for a magazine cover.

In this article, we'll give you 10 separate ideas, and the concepts can be used individually or combined depending on your space and budget.

Let's dive in.
Create a Common Theme
When you are designing an outdoor space, you want to have a single common theme. At the easiest level, you just get one color or pattern that you carry through multiple items.

This could be as simple as having one color that will tie all the pieces together. For example, you may have a bit of turquoise in the flower pots and have that same color in the outdoor rugs and on a the couch cushions.

Sharing a color is one of the easiest ways to feel make an outdoor space feel coordinated. If you need to add an item, you simply need to find a way to tie in the color. Also, not every single element needs to have your chosen color. You just want to make sure enough things do that it will be observable by any visitor.

Using a pattern is a step up from this. I saw a wonderful backyard space on a historical home tour that had a blue and white stripe pattern through the furniture, towels near hot tub, and on the outdoor rugs. They also carried it through to some large plant pots around the edge of the patio.

It was clear that the homeowner had purchased all the fabric items from the same set, and I assume they had gotten paint to match and used it on their clay vessels.

Both of these are great options because they are a common theme by inclusion. We notice that the items belong because they share a trait.

If you want to go further, you can choose to have a theme in which everything is clearly a matching set. We saw a DIY backyard that was composed solely of reclaimed wooden pallet projects.

The homeowner made furniture from the wood palletes. They also had a raised growing area. They even had a small table that was also made from wood they had gotten from pallets

Overall, it was a wonderfully cohesive space. The beauty of this is that the homeowner could add elements to the patio and yard area as they got more pallets and did more projects.

A step beyond this is to get a fully custom backyard space. For this you create the space with items in a set that all fit a cohesive theme. Think of this as theme by exclusion where everything is composed of the exact same material and anything that doesn't have this is not part of the backyard.

Typically, if you're going with this approach you are going to hire an outside design firm who can help with all aspects of the backyard and patio. They will plan everything down to the smallest detail.

One example that I've seen is a family who has their entire backyard grass removed and replaced with flat paver stones. They have a fire pit in the middle of the backyard area, and they even have wall accents from a similar material as the pavers.

Every last detail of their backyard matches to the point that if feels like something out of a TV show or movie.
Create a focal point
When you go to a backyard area, there needs to be something to cause people to gather. It could be a hot tub, a fire pit, a chair and tables set. Ultimately, you just want an item that will serve as a place for people to congregate.

Without having one or more focal point, the visitors will feel like a bit off. They won't know where to to move or where it appropriate for them to have conversations.

For the absolute smallest backyards, you could simply have a patio table with some chairs and an umbrella. This is something that can be purchased for under $200 and works as a great place for people to congregate around.

It's totally ok to have more than one focal point as long as they are in defined spaces. You don't want the areas too close to each other as that can be confusing.

We like keeping the focal point separated into zones so you may have a fire pit in one zone and then 8′ away have a firepit and then in the corner of the patio having a small bench for sitting.

By doing this you're clearing showing that there are 3 different areas that people can congregate to have conversations or chat. This works best for medium size backyard patio areas.
Have a covered space
We really like having a covered space. This could be an awning, a pergola, a sail shade or even just a large umbrella over a table. Having a covered space will be important as it creates a space that will be in the shade, and this will be important to some of your guests.

Also, the larger shade structures work great if you have a spontaneous shower as you can still entertain without people needing to come in the home or getting soaked from the rain.

Covered spaces also provide some extra options for entertainment as you can put a TV outside so that you can host UFC fights or football games.
Privacy
We live in the city, and we have neighbors on both side of our yard. Our backyard is roughly 35′ wide by 30′ deep. As we live in the city, there are two story houses on all sides of our backyard meaning that we effectively have zero privacy in our backyard.

The first step to having privacy is to have a wall separating the homes. We have walls that are 6′ above the ground. This blocks a lot of the eye level viewing if our neighbors and I are both outside at the same time.

This only works to a limit as my neighbor is 6'6″ so he can clearly see into our yard anytime he gets close to our yard. Furthermore, any of our neighbors could easily see into our yard from one of their second floor windows.

To get around this, an awning is the perfect option. Most the time, we keep it rolled up; however, whenever we are entertaining, we can extend it. This will keep any prying eyes from looking down onto that part of the patio or yard.

This works especially well if you have a hot tub or other area where people will be congregating in their swimsuits.

If you don't have existing concrete walls between homes, you could look at getting some privacy fences. Privacy fences can be as plain as simple vinyl partitions that you put up so that neighbors don't look in to something as fancy as living walls.

I've included links to two of our favorite privacy fences below. The first is a traditional fence that just blends in to the background. It comes in many colors, and the goal is for it to just blend in with the decor of your backyard area.

The second is a artificial ivy wall. This is to mimic a living wall that took years to grow.
Privacy Solution: Most economical way for privacy over chain link fence, porous decorative concealment, existing cyclone wire fence, wood retaining wall, welded wire fence, chain link fence, privacy barrier around swimming pool, block nose neighbor see through, add privacy to acre back yard backdrop, front yard, patio, garden and porch; hide street, road, construction site, pet kennel pen, block surrounding noise and street view, stops dogs from barking at neighbors.
High quality material: privacy fence screen is constructed of sun protected HDPE fabric with durable brass grommets on each side. The fence privacy screen measures exactly 6' x 50'.
Multifunction: There are lots of different ways to use, protection for vegetable garden plants, greenhouse covering, wind blocking for plant nursery area, window shades, tennis court, shades for pet pen / kennel, construction site, etc. Breathable weaving fabric allows water and air to go through freely, resistant to both sun and water, no maintenance needed.
More intensive grommets: Grommets are made of copper, more grommets are placed evenly along all edges, 11.8 inches apart vertically, 18.9 inches horizontally. All edges are covered with black reinforced 1.3" binding. The grommets and bindings help the screen to hold up in the wind.
Easy to install: Use zip ties to fasten the grommets to the fence in each side. Our fence screen is equipped with denser grommets and 80 straps to keep the fence closer to your fence.
Live up any space: Easy to put on a fence, trellis, wall, or other area Lightweight design makes it easy to move around to redecorate and beautify and room or space; OVERALL DIMENSIONS: 98.4"(L) x59.1 "(W) .Tip: All of our products Size are folded and put into 39inch Long bags, when you receive the product, you need to open and unfold the fences to get the real size products.
Realistic green maple look: Artificial ivy leaves are natural looking to provide every indoor or outdoor space a blooming, earthy feel without the need for watering,Use zip ties or tape to install, it can be cut to get the size and shape you want, can be used as wall decoration, fence, privacy screen.
Functional: Decorate your home while ensuring privacy from the outside world by strategically placing the fence in areas that may be exposed, Artificial Leaf Privacy Decor is intended for both interior and exterior usage.
Densely packed leaves: Privacy fence leaves are placed closely enough to provide blockage from harsh sunlight while also allowing air flow through the open net back, The added mesh backing Easily beautify landscaping with our Artificial Ivy Leaf Privacy Decor Panels. providing more privacy windscreen protection to its users.
Fade-Resistant Look: Durable, fresh looking plastic and polyester leaves keep their evergreen look year-round and are easy to clean and maintain.
Another option if you want privacy, but don't want a fence is to get some trees. Trees are a wonderful way to block your yard from your neighbor's gaze. Trees can quickly grow above the top of the wall, and the branches will spread out on the sides to provide more coverage. You would never consider getting a 20′ privacy fence, but we have several trees in our yard separating us from our backyard neighbors that are over 20′ tall.
Water Feature
Water features are a great addition for small backyard areas. They can be a small as water pumps attached to the side of an existing flower pot. Any sort of water fountain has the benefit of creating ambient noise.

This will creating a calming effect and help the conversations from bleeding into each other. As many people will smaller yards may also live near a road, the water feature will help lessen the noise from passing cars.

Water features can come as small or large as you want. On the most small end are some spigots and small pumps that run the water between the spigot and the pool below. On the other end, there are large fountains or statues that will have water flowing from multiple pools.

The size and type of waterfall you want will depend on the amount of space you want to dedicate to it in your yard, and how much white noise you want it to create.

I've included links to two extremes of water features. The first is a 4′ tall fountain with 4 pools. These are sold individually, but they can also be installed as a set of 4 with each one in a corner.

Small water features can be used on items such as tables, walls or planters to add another element. The second water feature I've included is less than 2 inches tall and measures 1 foot square.
RELAXATION RIGHT AT HOME: Experience spa-like tranquility right in your backyard with this amazing Outdoor Stacked Stone Fountain from Teamson Home..
INCLUDED: This gorgeous waterfall fountain includes a pump and all necessary parts for installation without any additional hardware.
BUILT-IN LED LIGHTS: Your outdoor living space will look absolutely enchanting with the soft light emanating from the built-in LED lights beneath the gently trickling water.
WEATHER-RESILIENT: Expertly crafted with durable, rust-resistant resin with beautiful stone details and a rustic weathered look, this fountain stands strong against the outdoor elements.
DIMENSIONS: Measures 15.5" long, 15.25" wide, and 33.25" tall to fit almost any outdoor area.
Fire Pit
As we live in the Arizona, firepits are an amazing option for this area. Fire pits can be bought, and placed on a patio. Fire pits are great focal centerieces because you can have so many chairs sitting around it.

A single fire pit can have 8-12 chair around it. If you are more of a DIYer like many of our readers, you could also choose to build your own fire pit out of bricks. We don't recommend this for the average homeowner, and we would personally never build one.

For us at least, we think the risk is simply too high. Fire is dangerous and we don't want to risk creating a blaze that may damage our house or our neighbors. Our house had a metal firepit when we moved in, and we didn't use it for 4 years.

Eventually, we just gave it to someone who wanted to recycle it for the metal.
Color: Black; Material: Steel & Polyester Bag; Overall Dimension (with Lid): 31.97 x 31 x 19.7'' (LxWxH); Overall Dimension (without Lid): 31.97 x 31 x 14.37'' (LxWxH)
Features with mesh lid to prevent burning embers blowing; poker can be used to stoke fire and remove the mesh lid
Comes with suitable outer cover to keep clean and avoid getting rusty by water or rain when not in use
Sturdy design with special pattern ideal for warmth, BBQ and cooling drinks and food in patio/garden/yard
Simple design, easy to assemble under the manual enclosed. The cooking grate is not included.
Have a dining area
When we got rid of the fire pit, we replaced it with a nice outdoor patio set that has tables and chairs. We rarely entertain more than 8 people at a time, and this gave us plenty of seating for all our guests.

We can host cookouts where some people will sit outside and others will prefer to eat indoors away from the bugs and the hot sun.

Also, during some cooler fall evenings, our family will choose to have dinner out on the patio.

Having a nice outdoor dining area isn't expensive and will add another entire entertaining area. Also, while our yard is small when thought of as a place to play games or let a dog run around, it is a huge size when you are gathering there for a meal.
Garden space for greenery
Garden spaces are very visually deceptive when it comes to how large a backyard is. We have a 4′ wide area along each of our exterior walls. We grow plants in this area, and it just creates a nice little barrier from our neighbors.

It makes our actual yard feel much smaller as it takes away 8′ of the total 35′ feet. This works out to being just shy of 25% of the total width of the yard; however, optically the yard feels bigger because of the unused space.

The yard feels like an isolated retreat that is surrounded by a small garden. The garden also acts as a border so none of our furniture is sit 4′ from the garden meaning that we're 8′ from the wall.

I really like the green space because it provides some interesting textures and colors.
Wrapping up
So that's our 8 ways to make your small backyard feel like a much larger outdoor space. What was your favorite? Do you have a small backyard that you've made some changes to make larger? Ultimately, we love hearing from members of our community.
Last Updated:September 12, 2023