Complete guide to bistro lights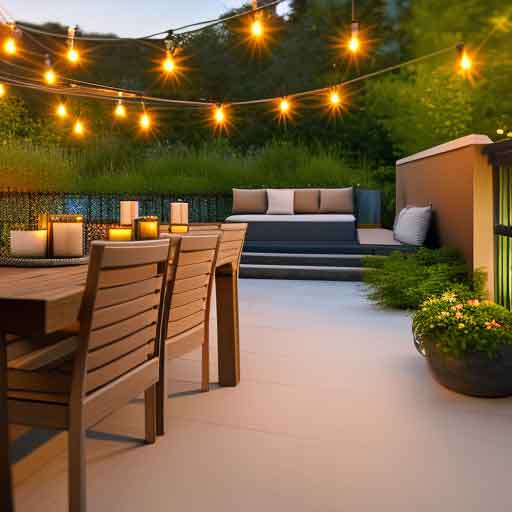 Bistro lights are a great, budget friendly way to brighten up a backyard or patio. They are an easy DIY project that most homeowners can do without hiring an electrician.

They also come in a variety of bulb colors, styles lengths and sizes.

Due to their popularity on HGTV renovation shows, they've become very popular and trendy for makeovers throughout the country.

In this post, we'll cover everything you want to know about bistro lighting and answer the webs most popular questions.
What is a bistro light?
Bistro lights are string lights that normally placed outside on patios and backyards. They are also very popular for weddings or graduation parties to quickly add ambient light without needing an electrician.

In a nutshell, they are simply a long wire that has a bulb every foot or so. The bulbs are usually 40 or 60 watt.

They also come in a variety of colors, and we prefer warmer tones. We find these work best for pictures whether that be larger group images for Instagram or more close up image of people, the warmer lights work best.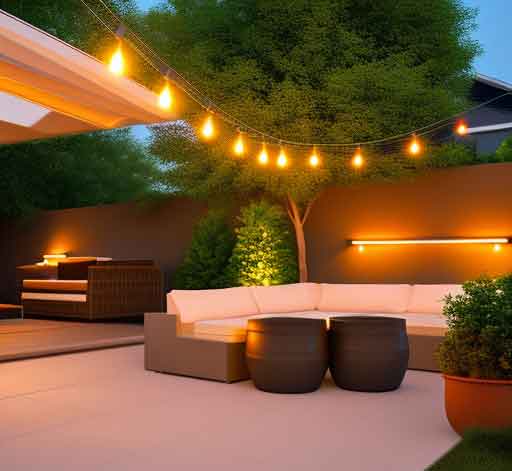 How high should you hang Bistro lights?
We recommend hanging bistro lights between 8-10 feet . The bulbs will hang down which will lose a couple inches. Also, the wire may sag a little too. For these reasons, we feel 8′ is the absolute lowest we'd install them.
Can you cut bistro lights to length?
There are a lot of posts that say it's ok to cut and reconnect electrical wires, but we recommend against it. The lights are connected to a 120v electrical outlet, and this isn't something to be toyed with.

Reconnecting the two ends of the wire incorrectly can lead to a fire or someone getting shocked. Ultimately, in our opinion the risk simply isn't worth the cost of using a different string of lights. Remember, lights come in different lengths ranging from 10′ to 50′ so you should be able to get to almost any desired distance.

Remember that lights can be strung if different patterns as well which will provide many options.
What is the voltage of bistro lights in the US?
Bistro lights in the US are 120v which is the same as standard electrical appliances like TVs, lamps, or DVD players.
How do you shorten bistro lights?
As we mentioned before, this is a very popular questions, and we strongly recommend not cutting and reconnecting two ends of the wire. This can be dangerous leading to fires or someone getting shocked.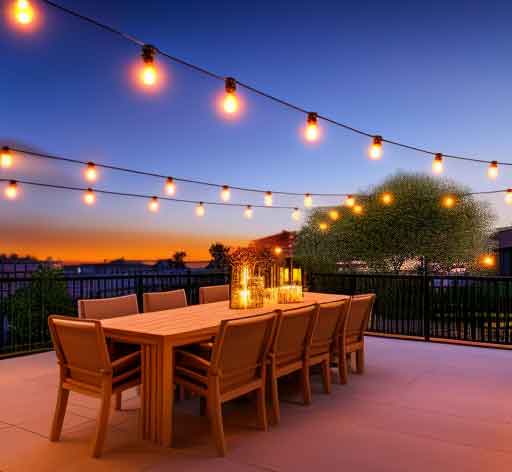 It's far better to simply buy a shorter string of bistro lights.
Can you splice LED sting lights?
Yes, you can splice LED tape lights. There are many specifically designed connecters and manufactures who have lights specifically for this purpose.

We've included a great video of someone demonstrating how to splice a string of LED tape lights.


Do LED lights need special wiring?
No, LED lights don't need any specially wiring. They work with a standard 120v circuit. If you enclose them, you may need to ensure they don't overheat which could cause damage.
What are disadvantages of LED lights?
LED lights are currently more expensive than other lighting options per lumen. They also haven't been standardized yet the way other types of lighting in the US have.

This shouldn't be a huge deal if you are just wiring up a small area, but if you are looking at a larger area, you may want to make sure that you're buying from a reputable manufacturer who will be around in 10 years.

You don't want to wire up your area only to find out that the LED strips you used are not compatible with what's available on the market, and the original company is now out of business.
Are LED lights brighter?
Yes, LED lights are significantly brighter than traditional incandescent or halogen bulbs. They also only use about 15% of the electricity to create the same luminosity.

As an example a 100 watt halogen bulb can be replaced with a 15 watt LED bulb, and the amount of lumens produced will be identical.
When should LED lights not be used?
LED bulbs don't do well in enclosed spaces. They can overheat which will cause damage to the entire strip.

You will want to make certain there is adequate airflow around the LED strips when putting up any form of LED lights.
How much light do 40watt, 60 watt and 75 watt bulbs produce?
Traditional 40-watt bulbs: 450 Lumens
Traditional 60-watt bulbs: 800 Lumens
Traditional 100-watt bulbs: 1100 Lumens
LED 6-watt bulbs: 450 Lumens
LED 10-watt bulbs: 800 Lumens
LED 15-watt bulbs: 1100 Lumens
Can you use a 60w bulb in a 40w fixture?
A 60w bulb will work in a 40w fixture, but we don't advise it. Light fixtures in the US are all 120 volt. A 60 watt bulb will fit in a fixture designed for 40 watt bulbs, but 60 watt bulbs produce more heat.

A fixture designed for 40 watt bulbs, may not be able to handle the extra heat generation which can lead to bulbs burning out. The term for using a bulb of higher wattage than recommended is called overlamping, and it can also possibly lead to wiring damage in the fixture.
Can you use a 40w bulb in a 60w fixture?
Yes, you can use a bulb with lower watts in a fixture. The only drawback is that lower wattage bulbs produce less light measured in lumens. A traditional 60 watt bulb produces 800 lumens compared with a 40 watt bulb producing only 450.
How do you set up bistro lights?
Instead of a written guide, we've included a YouTube video that does an amazing job of walking you through the whole process.


How many bistro lights do I need?
When measuring the area you need lighting, you can just measure the distance between the posts or connection points. From there add, 2′ per 10 foot of bistro light to provide some slack in the line.

As example, you would want 12′ string lighting for a 10′ gap. You would want 28′ feet to cover a 25′ gap, and 60′ feet of string light for a 50′ gap.
Where to buy bistro lights?
We really like Amazon for string lighting. They have a huge selection of lengths, styles and bulb types. There are even options that will let you choose different colors.

Here's a link to our favorite bistro lighting:


Including 18 Edison Bulbs: Each strand contains 15 hanging sockets, provided with 18pcs S14 incandescent glass bulbs . The distance between bulbs is approximately 3.11FT. This Heavy-duty light is bright enough and ideal illumination anywhere.
Weatherproof & Heavy-duty: This outdoor string lights are UL listed weatherproof commercial. The insulation material can protect the strand from hot winter, sun, wind, rain, snow and damp. Flexible heavy-duty cord withstands the wear of indoor and outdoor use.
Dimmer Compatible to Set The Right Mood: For greater mood lighting flexibility and a soft glow, a dimmer switch【not included】 to create the perfect atmosphere for a birthday party, family reunion, or wedding reception. It adds flair to bistro deck porch patio garden backyard terrace pergola café restaurant malls for wedding BBQ party banquets, also suitable for tree-lighting like Christmas tree.
Smart Installation: Each socket has hanging hook above, makes it easy for hanging with hooks, guide wires, or zip ties. It can connect with another simply use grounded cord plugs into any standard outlets. Link up to 5 strands.
Satisfaction Guaranteed: Your satisfaction is first. If you are not fully satisfied for any reason, please contact us.
Can you rent bistro lights?
Yes, bistro lighting can be rented from party rental companies. We haven't found them to be that cost effective to rent the bistro lights compared with just buying them.

We found the cost for a 5 day rental to be about 66% the cost of simply purchasing them outright. As such, you'd be far better off just buying the string lamps
Wrapping up
So that's our guide to bistro and string lights. We hope we've answered all your questions.

Outdoor lighting is a new topic for our site. We'll add more posts over time, and remember our goal is to help DIY homeowners with projects around their home.

If you have any suggestions for projects or posts, we'd love to hear from you. We're just amateur home improvement enthusiasts who love writing about the cool projects we've done around the home.
Last Updated:November 07, 2023