10 Creative Small Sunroom Ideas on a Budget

If you're looking to add some extra living space to your home without breaking the bank, a small sunroom may be the perfect solution. With a bit of creativity and some DIY skills, you can create a cozy and inviting space that brings the outdoors inside. Here are 10 creative small sunroom ideas on a budget that will help you get started.
1. Choose the Right Location
When it comes to creating a small sunroom on a budget, choosing the right location is key. Look for a spot in your home that gets plenty of natural sunlight, but also provides some privacy. One great option is to convert an existing porch or deck into a sunroom, as this can save you money on construction costs.
2. Consider a DIY Kit
If you're handy with tools and enjoy a good DIY project, a sunroom kit might be the way to go. These kits come with everything you need to build a sunroom, including instructions. With a bit of patience and some basic construction skills, you can save a significant amount of money on labor costs. If you're considering a DIY kit, be sure to read reviews carefully and choose a reputable company. Some kits are easier to work with than others, and you want to be sure that you're getting a quality product that will stand up to the elements.
3. Use Indoor/Outdoor Furniture
Furnishing your sunroom can be one of the most expensive parts of the project. However, you don't need to spend a fortune on brand new furniture. Consider using indoor/outdoor furniture that can withstand the elements, such as wicker or rattan chairs and tables. You can also repurpose existing furniture by giving it a fresh coat of paint or reupholstering it with outdoor fabric. This will help you save money and give your sunroom a unique and personalized look.
4. Hang Some Curtains
Curtains can add a touch of elegance and privacy to your small sunroom, and they don't have to be expensive. Look for affordable options at home decor stores or even make your own with some fabric and a bit of sewing know-how. In addition to providing privacy, curtains can also help regulate the temperature in your sunroom. On hot days, keep them closed to block out the sun's rays, and on cooler days, open them up to let in some natural light and warmth.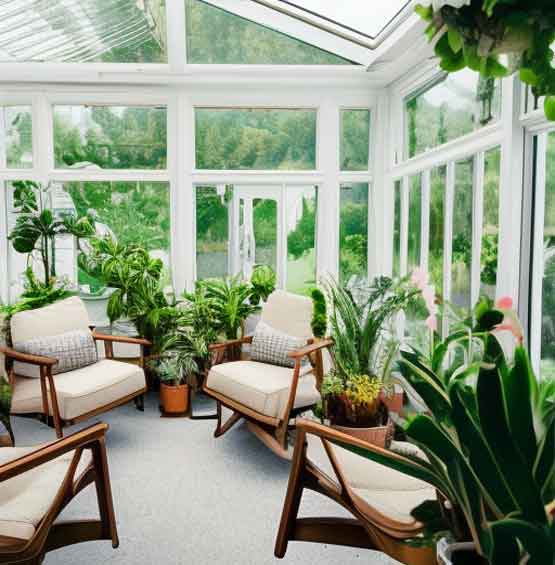 5. Add Some Plants
Plants are a great way to bring some life and color to your sunroom, and they don't have to be expensive. Look for affordable options at your local nursery or even online. Some great choices for a sunroom include succulents, ferns, and flowering plants like begonias and geraniums. In addition to adding visual interest, plants can also help purify the air in your sunroom and improve your mood. Just be sure to choose plants that can handle the amount of sunlight your sunroom receives.  This is so popular among our readers we have a complete page dedicated to turning your sunroom into a garden room.
6. Use Natural Elements
Incorporating natural elements like stone, wood, and wicker can add warmth and texture to your sunroom, and they don't have to cost a fortune. Look for affordable pieces at thrift stores or even repurpose existing items. For example, you could use an old wooden ladder as a display shelf for plants or incorporate some natural stone into your flooring or walls. These touches will help create a cozy and inviting space that feels connected to the outdoors.
7. Install Some Shelves
Shelves not only provide storage, but they can also add visual interest and give you a place to display decorative items. Look for affordable options at home decor stores or even make your own with some wood and brackets. addition to providing storage and display space, shelves can also help break up the walls of your sunroom and create a more open and airy feel.
8. Paint the Walls
A fresh coat of paint can do wonders for any room, and your small sunroom is no exception. Consider using bright, cheerful colors to create a welcoming space that feels connected to the outdoors. When choosing paint colors, think about the overall mood you want to create. If you want a calming space, consider shades of blue or green. If you want a more energetic space, consider shades of yellow or orange. You can find affordable paint options at your local home improvement store.
9. Use Lighting
Lighting can make a big difference in the overall feel of your sunroom. Consider adding some string lights or a floor lamp to create a cozy atmosphere that's perfect for relaxing or entertaining. You can find affordable lighting options at home decor stores or even online. Look for options that are designed for outdoor use or that can handle the humidity and moisture levels in your sunroom.
10. Add Some Personal Touches
Finally, don't forget to add some personal touches to your sunroom. Hang some family photos, add some artwork that you love, or incorporate some decorative items that reflect your personal style. These small touches will make your sunroom feel like a true extension of your home and will help create a cozy and inviting space that you'll love spending time in.
Conclusion
Creating a small sunroom on a budget is easier than you might think. With a bit of creativity, some DIY skills, and a willingness to repurpose and recycle, you can create a cozy and inviting space that brings the outdoors inside. Whether you're looking for a quiet spot to read a book, a sunny spot to enjoy your morning coffee, or a cozy spot to entertain friends and family, a small sunroom is a great option. So why wait? Start planning your sunroom project today and get ready to enjoy your own little slice of outdoor paradise.

Last Updated:June 07, 2023