Residential Awnings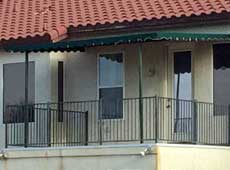 When you are seeking an awning for your home, you have a lot of decisions. These can cost significantly less than their commercial counterpart. There is also a far greater desire to have removable awnings that can easily be taken down for the winter or before a storm. Fixed awnings are usually very small in nature and used only for design elements over windows or doorways. The larger awnings designed to cover patios should always be either standalone or retractable so that future owners can remove them or easily change the color if it doesn't fit with their style.
Locations
There are three popular locations for awnings for the home. The first is a smaller design that is over a door or other primary entryway. This is an easy item to add that will change the appearance of the house. This can also be used to provide a bit of cover in rainier environments before entering the residence for homes that don't have a fully built out porch or patio. The second design has a larger footprint and usually covers an outside area. The final design is a standalone unit that is sometimes called a canopy. These are ideal when you are trying to shade an area that is not adjacent to a large building, and you don't have access to a load bearing wall.
Material
The most popular material is a coated cotton fiber. This is a lightweight fabric that is both water and fire resistant that is reasonably priced for the personal consumer. Most residents have steered away from PVC as it simply doesn't have the desired aesthetic for a residence. Another key factor to consider is the UV protection. Most manufacturers will list this in the details so that consumers are informed, and we recommend only purchasing a fabric that provides some UV protection.
Warranty
When evaluating products, the warranty is usually divided into three different terms. The first is the underlying metal frame which is it between 10 to 15 years. The second is the fabric which will have a warranty between 5 and 10 years, and finally, a motor will have a warranty between 2 to 5 years. When reviewing the requirements it's important to understand if there are any limitations as some companies will void parts of the warranty if it is installed by the homeowner instead of an installer who is certified by the manufacturer. If you are getting a professional install then you will also want to understand how their work is guaranteed as well.
Installation
A professional installation is recommended for most homeowners. The job is easiest performed in a team of two people. Before the awning is hung the brackets are mounted to the wall. The intervals between the brackets will vary based on the manufacturer. Once the brackets are securely attached the underlying metal framework will be attached to this. It is best done by having one person atop a ladder fastening it with the second person responsible for handing the tools and parts to the climber. With the frame in place, the outer material can be securely attached.

If you are confident in your building skill and considering this as a DIY activity, it's important to find a manufacturer which has a lot of instructions online. For the self-install, it is greatly suggested to purchase an off the shelf mass market awning rather than getting a custom design. The mass market is packaged with the necessary parts to fit a variety of building layouts as well as use industry standard couplings that can be purchased at a home improvement store in case any components are misplaced or damaged during the install.
Free Standing Awnings
These are often called canopies, and they can be an amazing option for a variety of issues. First canopies are far cheaper than the traditional model. Because they do not utilize the underlying metal framework the cost can be 1/4 to 1/3 of the traditional models. Additionally, they are easily installed by a single homeowner who feels comfortable climbing a ladder. The braces are attached first and then after each one is in place, a rope can be used through the eyelet to pull it to the bracket. The final major advantage of the standalone model is that it can be moved between different areas or even completely taken down. This provides a great deal of flexibility for someone who wants a large cover when they are hosting a party, but may want a smaller area or even none.
Motorized vs. Manual
There are three common types of retractable awning. The first is the model which has a cassette that can be unrolled with the braces that extend out from the wall to the edge. These usually have a solid metal bar down the length of the edge that provides support and a means of attaching the crossbeam supports.The second model using a spring loaded crossbeams that cause the fabric to be folded up. The final model uses a motor to move the awning between it's open and closed positions. Motorized awnings have more moving parts as they can require a power source and can support a lot more moving components. A motorized awning should always be professionally installed and great care should be taken to ensure the warranty is not violated as changing a motor may require replacing the entire unit.
Author:
Marcion Albert

Date Published:
1/6/2017

.